Choosing The Best AR Pistol Grip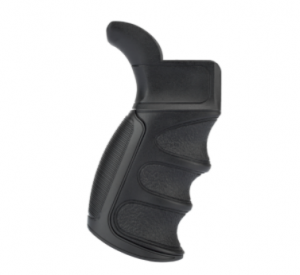 When building an AR-15, one of the primary considerations is selecting a pistol grip, one of the first things an owner will choose to upgrade on his rifle or pistol. The purpose of any pistol grip is simply to orient your hand forward, allowing you to operate a weapon in a safe and stable manner. 
At any given moment, there is a wide array of high-quality parts available on the market. It is good to have options, but the countless products available also makes choosing the best pistol grip a bit of a challenge. Luckily, most of the leading pistol grip manufacturers offer front of the line build quality, impressive ergonomics, and aesthetics. This means that for the most part, you can't really go wrong. 
The grip you choose will likely be based off of personal taste, perhaps a particular brand you know and love. However, there are a few aspects that are important to keep in mind when selecting an AR pistol grip. For your reference, let's break down which factors you should pay close attention to when browsing your options.
Because there are so many high-quality AR-15 pistol grips available from reputable manufacturers now-a-days, durability has almost become an afterthought. The majority of pistol grips are constructed using durable polymers or reinforced fiber glass, and tend to be able to withstand a considerable amount of wear and tear. 
However, durability is still an important thing to keep in mind when evaluating your options. The important thing is to focus on getting a grip that is rugged enough to match your intended use. Pistol grips do not tend to be overly priced, but you should also keep your budget in mind when making your final selection. 
Equally important factors to consider when selecting your grip are comfort and ergonomics. Of course your grip should be suited for your intended use, but it should also feel right to you. You might consider the hand size and orientation, grip angle, build material, texturing, and finger to trigger positioning.
 Regardless of what specific features stand out to you, at the end of the day you just want to choose something you are comfortable with. Now that you are familiar with important aspects to consider, let's review a comprehensive list of some of our favorites!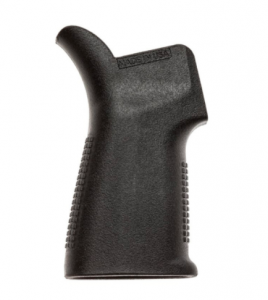 The Reptilia CQG grip is specifically designed to enhance ergonomics and performance of compact sized short-barreled rifles, AR15 pistols, pistol caliber carbines, and PDWs. It supports a wide range of hand sizes and weapon configurations, featuring a more pronounced vertical grip angle, anti-slip front and rear texture, and an enhanced beaver tail design. This front of the line pistol grip encourages the shooter's hand to be positioned higher on the grip, for greater control and improved comfort.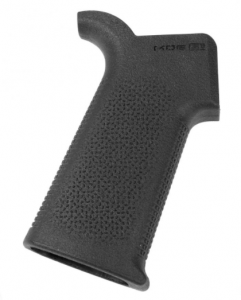 The Magpul MOE SL Grip, also known as the Slim Line, is a drop-in upgrade for AR15/M4 pistol grips with a more vertical grip angle optimized for short LOP weapons. This grip is optimized to bring the primary hand in closer to the shooter's body. With an aggressive TSP texture for positive weapon control along with excellent ergonomics, the SL Grip provides a slightly smaller size and slimline feel. This adjusted thickness helps optimize comfort, making stable operation of the weapon a breeze.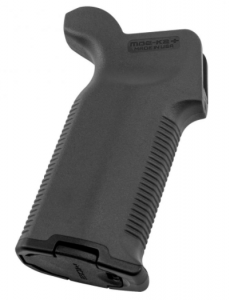 The MOE-K2+ Grip combines reinforced polymer body construction with comfortable, wrap-around rubber overmolding for maximum weapon control in adverse environments. It is a drop in upgrade for AR15/M4's that offers a more vertical grip angle, but in a full-size grip design. The steeper vertical grip angle is optimized for personal defense weapon configurations. The grip also improves comfort and control on short LOP rifles that bring the primary hand in closer to the shooter's body. 
With the rubber overmolding for positive weapon control, compatibility with optional Storage Cores for gear stowage, and a unique backstrap design for proper trigger finger placement, the K2+ brings modern styling, ergonomics, and comfort to the AR platform. 
Clearly, there are many impressive pistol grips available on the market, manufactured by a variety of reliable vendors. You may be overwhelmed by the amount of options, but the good news is that it is hard to go wrong! 
With front of the line innovations improving the comfort, durability, aesthetic, and ergonomics of the grips at a range of reasonable prices, you will surely find the pistol grip that is right for you. Consider your intended use, budget, and personal preferences when shopping around. If you are having a hard time choosing, consider our three favorites we just reviewed!