COMPATIBILITY
CORv2 is compatible with Light Control System (LCS) for Surefire, the Light Control System (LCS) Streamlight, Surefire SR-07, Surefire DS-07. The B.E. Meyers MAWL and the Steiner DBAL can also be mounted in the recess, should you want to lower those systems as well.
Compatible with low-profile gas blocks.
Compatible with both carbine-length gas systems (Direct Impingement) and pistol-length gas systems (Direct Impingement).
Not compatible with piston-driven operating systems of any kind.
MATERIALS
Material: Certified 6061-T6 aluminum
Plating: Type III "Hard-coat" anodized to Mil-Spec standards.
FEATURES
Hand guard thickness: .100 which is thicker than any other we've found. That means it dissipates heat well and it means it's significantly stronger than the competition.
M-LOK® compatible with nearly all universal accessory mounting hardware.
Hand guard length: 9.55" – Optimized for 10.3" and 10.5" barrels. Works just fine with longer barrels.
Two QD sling mounts integrated into the rail, on both sides for versatility.
Utilizes the Bravo Company USA patented barrel nut assembly, providing a rock-solid lock-up to the receiver with anti-rotation tabs.
Made in the USA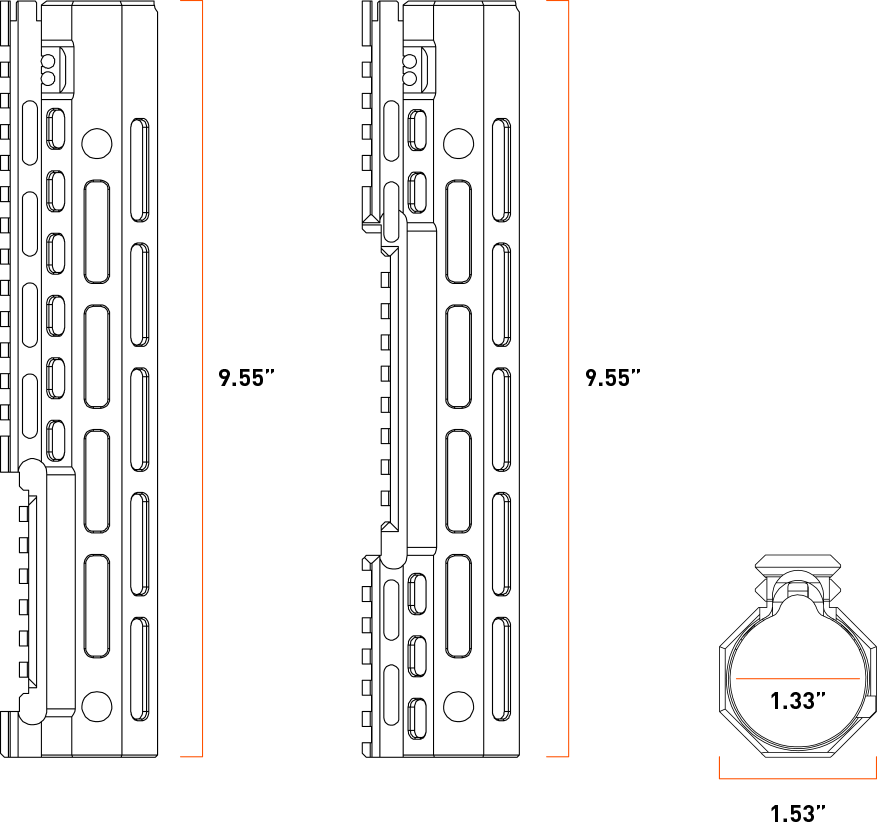 OUTER DIAMETER: 1.53″
INNER DIAMETER: 1.33″
LENGTH: 9.55″
WEIGHT: CORv2 (LCS, Surefire, Streamlight variant) Weight with barrel nut 9.15 oz.