REIN is the most powerful and most configurable weapon light ever made. And now, it's even better. With reduced size, reduced weight, more capability, and more head options, nothing comes close. It's smaller, lighter, and brighter. Everything you wanted it to be.
REIN still ships standard with a Picatinny Rail mount. Cloud Defensive offers a full line-up of Torrent mounts for different mounting needs. And of course, REIN is fully compatible with existing Scout Light® mounts on the market.
Proprietary military-grade (MIL-PRF-13830B) optical lens coating producing a now-optimized 5200k light temperature. Run-time standards per ANSI/PLATO-FL1. The ANSI/PLATO-FL1 standard for runtime is: The amount of time until the light reaches 10% of its original output. Run-time at 100% power is industry-leading, as the latest generation of REIN is now even more efficient electrically.
High Candela (HC) Light Head: 63,000 Candela/950 Lumens/50 minutes
You asked. They listened. And true to Clouds form, they were not subtle with the updates. With a substantially smaller 1.2" bezel diameter and lower mounting lug height profile, it sits tighter to your gun than ever before. With a much smaller profile. And with a shorter length, the already-shortest-in-class REIN system got even smaller. REIN Micro Length: 4.75″
Ounces do matter. The Next-Generation REIN numbers speak for themselves. The REIN Micro Weighs with Remote Switch and Battery: 6.25oz
The next-generation REIN also features meaningful remote switch updates. Specifically, it has reduced side plate profiles that have ergonomic benefits. Cloud also listened to you and adjusted the ND protection around the switches. By removing some material in the right places, the switch is now far easier to activate and the ND protection is still everything it needs to be. And yes, several new switch options are planned for 2022 release. And yes. Cloud warranty their switches because they are that good.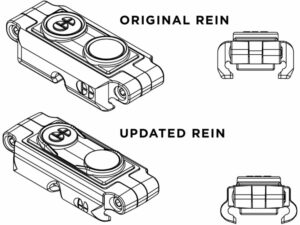 POWER:
A USA-made, state-of-the-art electrical system using the best components that money can buy. That gives us the output, efficiency, and run-time that makes REIN the class leader.
Uses a single 18350 battery. No CR123 batteries are allowed. Use of CR123 batteries VOIDS your warranty. Included a branded 18350. Please note that, unlike its peers, REIN will produce usable light for multiple hours.
Accepts ALL protected and unprotected 18650 batteries. Accepts both button-top and flat-top batteries. NOTE: Various battery sizes will require the use of the provided Battery Jack feature.
Run-time standard per ANSI/PLATO-FL1 = 130 minutes for the full-size REIN. The ANSI/PLATO-FL1 standard for runtime is: The amount of time until the light reaches 10% of its original output. Run-time at 100% power is industry-leading, as the latest generation of REIN is now even more efficient electrically.
FEATURES:
Modular 3-piece design. With a superior electrical system and remote switch, REIN has always been upgradeable as subsequent generations are released. As such, all parts of the 1st generation REIN are fully compatible with the 2nd generation REIN.
IPX-8 waterproof rating. Fully submersible to 100 ft for 24 hours. Fully-potted remote switch included.
Strongest-in-class lens. The glass on the REIN is 3mm thick. It can take multiple hits from 5.56mm Simunition rounds, at contact distance.
Patented Battery Jack feature. This allows you to properly tension the battery inside the system to avoid battery bounce. This lengthens the life of your system and increases reliability substantially.
Patented tail-cap cartridge is easily replaceable and allows for "clocking" so you can minimize cable exposure, without removing the tail of the light. The attached remote switch utilizes a cable exit from the tail cap that is perpendicular to the bore axis. This allows your cable to be protected from potential snags and impact.
The Patented remote switch, offers both momentary and constant-on functionality. The remote switch is electrically isolated from the push-button switch located on the tail cap. If your remote switch suffers a catastrophic failure, your REIN still works via the tail cap button.
The now-updated remote switch is housed in a 4th Generation Light Control System. Available only for the REIN and REIN Micro. It offers unprecedented cable management possibilities never before available even with prior generation LCS units.
The exposed cable for the remote switch is 5" long.
Shockproof. Dustproof. The most durable weapon light made. Period.
Lifetime Warranty – with only a few exceptions. Please see warranty info for full details.
Made in the USA. As always.