5 Underrated Gun Parts For Armed Forces and Police
For anyone in the armed forces or police force, having the best weapon build is an essential part of your work. While it is easy to focus on the latest and greatest barrels, stocks, and triggers, and forget about some of the more underrated AR accessories and handgun parts, you are definitely missing out on what could be some great additions to your weapon and benefits to your performance. Let's go over some of our top picks for AR accessories and handgun parts that can help make an immediate difference.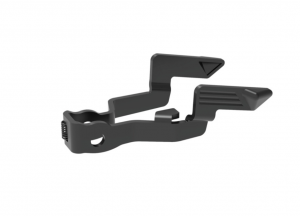 For every advanced shooter, having the right grip is an essential part of how you do your job. As shooting proficiency grows, so does the way a shooter grips the gun. Using the standard slide release presents certain limitations that can hinder performance and ability for more advanced shooters. The KAGWERKS slide release for Glock GEN 5s offers a unique advantage to trained shooters with a proper higher-position grip. As far as reliability goes, KAGWERKS is known for their outstanding quality, and at $50 this item is a great deal. Reduce slide stop override with this awesome slide release from KAGWERKS, and you'll notice the difference right away.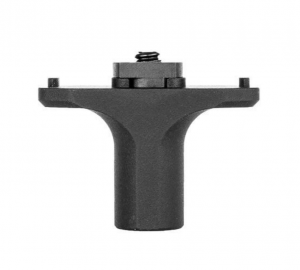 For those experienced with a finger stop, this product from Arisaka Defense is a great option. If you haven't used a finger stop before, you might want to consider trying one out. Why? Unlike a hand stop, which most people position at the rear of their support hand, the Finger Stop has a rounded profile which is ergonomically designed to be located between your index and middle fingers.
This typically places it further forward on the handguard, which also means it doesn't get in the way when transitioning to kneeling or prone shooting positions, where most people move their support hand towards the rear. Additionally, the Finger Stop functions well as a forward limit to prevent your hand from slipping off shorter handguards onto a hot barrel or suppressor, and as a barricade rest.
These reasons make this Arisaka Defense hand stop a great option for those in the police or armed forces, where fast decision making is critical, especially when having to move positions quickly or fire from prone positions.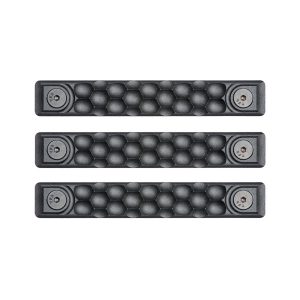 Having the right rail covers is essential for a great weapon build. Without it, you lose heat protection and added grip, which can be a huge detriment when you need it most. What's great about this rail cover from Railscales, which is a very reputable company known for their high quality rails, is that it takes the same quality and application from its more expensive models and applies it to this model for a great price. At only $30, there's no reason to skip over this rail cover and save yourself from unnecessary troubles.
The HTP Scales are made from the same patented textures and hardware as the machined G10 line of rail scales, but in a more affordable heat-stabilized nylon. RailScales are nearly impossibly thin, coming in at only 0.125 of an inch, which is only 43 percent of the thickness of their competitors.
This is achieved by their proprietorially designed and manufactured KeyMod nuts. Railscales designs their scales and hardware in conjunction with each other to achieve the thinnest, most functional rail covers on the market. If you're looking for new rail covers you can rely on for a great price, this is the best option you'll find.
If you're a fan of Cloud Defensive and Streamlight and looking for a great deal that lets you use both, look no further. The Cloud Defensive LCS / HLX Kit is a popular bundle option for those looking to pair the Light Control System with Streamlight's ProTac HL-X weapon-light. The kit gets you the picatinny version of the LCSmk2, and the 1000 lumen Streamlight ProTac HLX (Rail Mount Version).
This bundle has some great features for convenience and ease, like the "Early Exit" feature, which allows the user to route the cable into the LCS and then exit the mount early if you need  more cable slack for your given setup.
In addition, its Unique Patent-Pending design utilizes a slot that ensures a snug, perfect friction-fit for the tape switch. Once installed, it's not coming out unless you want it to. For the best in durability, ease, and functionality, definitely check out this Cloud Defensive LCS and Streamlight HL-X ProTac Rail Mount bundle.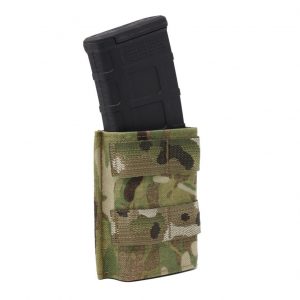 We recommend the Esstac KYWI to anyone who's looking for a massive upgrade in their pouches. Its straight forward, user friendly and highly intuitive design makes the single KYWI mag pouch unbeatable.
With its hybrid kydex and nylon design, you get all the rigidity you would expect from a kydex pouch and the lack of noise you want from a nylon pouch. These pouches feature a kydex wedge insert (KYWI) that provide the needed retention to secure your magazines without the need for bungee cord for rapid mag changes. With this pouch, you can say goodbye to snagging cords and messy mag changes. These pouches are the best for speed and efficiency, and are super durable and long lasting.
Final Thoughts – AR Accessories and Handgun Upgrades
This wraps up our selection of underrated, yet highly important handgun and AR accessories for all of those currently serving in the armed forces or police.
With these simple upgrades, you can make a big difference in the performance of your rifle or handgun. All of these AR accessories and handgun options can be found in our store here at Milspec Retail, so if you have any questions, feel free to get in touch with our team and we'll help you make your perfect weapon build today.