TAPS (Tactical Augmented Pressure Switch) from TNVC and Unity Tactical is a complete one point command and control system for all weapon-mounted electronics. It provides low profile, dual-device control for lights and lasers. TAPS mounts directly to any industry standard rail, including M1913 Picatinny, KEYMOD, and M-LOK. No third party rail adapters are needed, keeping the weapon lighter and sleeker. It features two on-board buttons and two accessory leads.
Available in 4 button configurations, TAPS SYNC utilizes a patented double pole dome switch to fire both devices simultaneously on isolated circuits to protect your devices.
This TAPS switch comes standard with a Surefire Light lead and MIL-Standard / Crane Laser Lead that fits NATO standard lasers from Insight Technology, Steiner, B.E. Meyers, and others. TAPS is waterproof to 1 meter for 30 minutes when properly installed on a rail, and features more durable buttons than many competing pressure switches on the market. Its hardened housing will keep TAPS standing up to the rigors of the battlefield
TAPS SYNC allows the user to fire two devices simultaneously with one button, and is available in 4 button variations:
Variant 1 – Button 1: Light | Button 2: Light + Laser
Variant 2 – Button 1: Laser | Button 2: Light + Laser
Variant 3 – Button 1: Light + Laser | Button 2: Light
Variant 4 – Button 1: Light + Laser | Button 2: Laser
Mode(s): Momentary Only
Weight: 2.25oz w/hardware
Waterproof: 1 meter for 30 minutes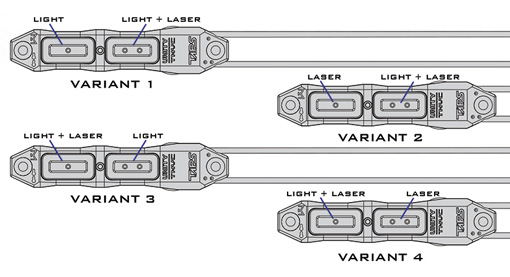 Technical Information
| | |
| --- | --- |
| Color / Pattern | Black, Flat Dark Earth (FDE) |
| Leads | SureFire / Laser, 9" |
Exactly What I Needed
I ordered this to have for a night vision course as it was going on a build that has an IR laser and Surefire M300V. When I received it, the leads were scraped up and the internal wires were exposed. I immediately sent Customer Support a request hoping to get a replacement before the night vision class that weekend. The Support team not only replaced the SYNC but sent it next day so that I would have it before the class. Absolutely excellent Customer Service and the current TAPS ran great during the course and continues to run strong. I will continue to order from Milspec Retail as long as they have the products I need in stock haha.
Perfect solution
I'm running an ir laser with no built in illuminator. Running this switch with my laser and M952v allows me to fire off my laser and illuminator at the same time while also being able to fire off the the light by itself to use its white light function while not under nods. Love the set up.
Awsome
Having both the ability control my light/laser and laser by itself on the same pad is very convenient. Quality switch that's easy to move around without having to slide it down the rail. The only problem I ran into is having to move things around on the top rail to fit everything on it. I have a front sight, switch, mawl, red dot, and a rear sight on an SBR. If your running a standard length rifle I don't think it will be an issue. That said I would definitely recommend this switch and will buy more if this one ever breaks.
Perfect for my needs
I use it with a surefire scout and holosun laser. Works perfect for what I was looking for. Variant 3 keeps the light and laser slaves together when I'm running IR and the light only is perfect when I switch to white light.