The Low Profile Carry Clip fits many tactical flashlights and provides a discrete, reliable way to carry your flashlight while facilitating fast deployment and enhanced retention.
Thyrm developed the Low Profile Carry Clip (LPC Clip) to give your flashlight everything it needs, including less visual signature around town. The clip height is designed to minimize exposure, while still allowing you to index & draw your flashlight quickly in all conditions and positions. Subtle control surfaces on the sides enhance traction and facilitate alternate grip techniques.
The LPC Clip features:
Pocket clip with optimized retention force (also MOLLE compatible).
Side grip texture and winglets for no-slip handling.
Lanyard hole for additional retention options.
Durable, non-conductive polymer construction that won't scratch surroundings.
Designed and made in the USA.
Leave o-ring(s) that come with your flashlight on the light. Unscrew the flashlight's tailcap, then add the LPC Clip with the o-ring and/or aluminum washer before reattaching the tailcap.
Note that different lights require different installations as shown in the diagram. For instance, SureFire lights with click tailcaps should need neither the o-ring nor the aluminum washer.
The Low Profile Carry Clip is compatible with many one-inch diameter lights. Here is a compatibility table of compatible lights.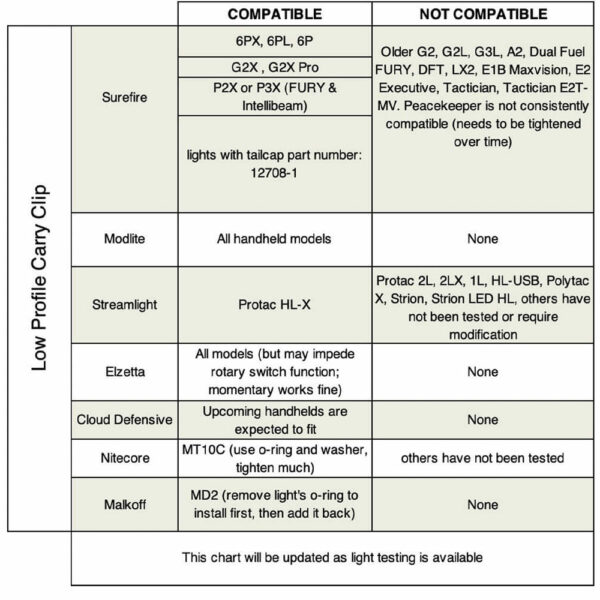 Installation Diagram and Directions: