The Best AR Accessories & Parts for Affordable Prices
When looking to upgrade your AR setup, you might be discouraged by the sometimes high prices these products can cost. While for a lot of them, the price is justified by the great quality and performance you get, it's not easy to afford. That's why we wanted to take a look at some great AR 15 parts & accessories you can get today that won't break the bank.
Best Gun Accessories Under $200
When looking for a product that can really make a big difference at a low price point, this is an excellent option. The Unity Tactical Hot Button is a revolutionary control device for weapon-mounted electronic accessories. What does that mean? It means that how you set up your lights and lasers has changed forever. Unity Tactical's innovative hot button product takes weapon ergonomics to another level. They've specifically designed this out of a need to conserve rail-estate, improve actuation ergonomics, and mechanically integrate with weapon fore ends, Hot Button has successfully reinvented how you interface with your lights and lasers. Let's dig into how exactly that is.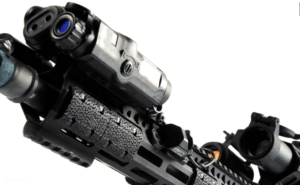 What first stands out about the hot button is its angle compared to other remote tape switches. The usual legacy remote tape switches feature a flat pad that forces users to strain their thumbs in an unnatural angle to apply consistent pressure to activate a momentary function. This not only makes things more uncomfortable over time, it can seriously impede your performance. The Hot Button deals with this problem by placing the activation button at a 45-degree angle for a much more comfortable press. 
This is especially important when activating the button under pressure. You don't have to worry about accidental activation, either. A raised, crenelated bezel protects the button from this happening, while also providing a tactile index point for the user's thumb. The overall footprint of the Hot Button is much smaller than factory OEM pressure pads. Not only does this clean up rails on traditional weapons, but it greatly increases the accessory layout options on smaller SMG and PDW's.
With the Unity Tactical Hot Button, you get a ton of incredible innovation at an even better value.
The Unity Tactical FAST Micro Mount is an excellent AR accessories option for anyone wanting more customization. Unity Tactical's top quality makes them a contender in every product round up, and for good reason. FAST is a series of optic mounts and platforms that provide end users with a quicker sight picture than standard height mounts. We all know how important it is to be able to pick up a target faster, and easier. Its 2.26" optical centerline height provides faster/easier reticle acquisition while wearing electronic earpro/communications headsets, night vision goggles and gas masks.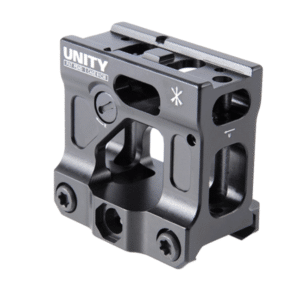 This allows for more rapid visual processing of the battlefield by promoting a heads-up posture. A heads-up posture also helps users maintain a neutral spine position which is more comfortable while wearing helmets, plate carriers, and other heavy gear. To recap, the Unity Tactical FAST Micro Mount will not only help you pick up targets faster, it'll keep you more comfortable by promoting a more neutral posture. All in all, this micro mount has some of the best value we've ever seen, so we definitely recommend it to anyone looking.
Best Gun Accessories Under $100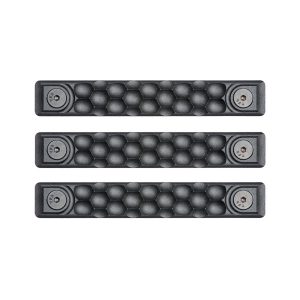 Rail covers are an excellent option to upgrade when working on a budget, because a little can go a long way. Having the right rail covers is essential for a great weapon build. Without it, you lose heat protection and added grip, which can be a huge detriment when you need it most. What's great about this rail cover from Railscales, which is a very reputable company known for their high quality rails, is that it takes the same quality and application from its more expensive models and applies it to this model for a great price. At only $30, there's no reason to skip over this rail cover and save yourself from unnecessary troubles. This makes it an awesome gift for the holidays!
The HTP Scales are made from the same patented textures and hardware as the machined G10 line of rail scales, but in a more affordable heat-stabilized nylon. RailScales are nearly impossibly thin, coming in at only 0.125 of an inch, which is only 43 percent of the thickness of their competitors.
This is achieved by their proprietorially designed and manufactured KeyMod nuts. Railscales designs their scales and hardware in conjunction with each other to achieve the thinnest, most functional rail covers on the market. If you're looking for new rail covers you can rely on for a great price, this is the best option you'll find.
Even when working with a budget for AR accessories, you shouldn't have to compromise. Esstac has been making quality gun accessories like pouches at a great price point for a long time. In addition, they do so with unparalleled attention to detail and performance. Their most well known product is the KYWI pouch. With its straight forward, user friendly and highly intuitive design, the KYWI mag pouch is like no other.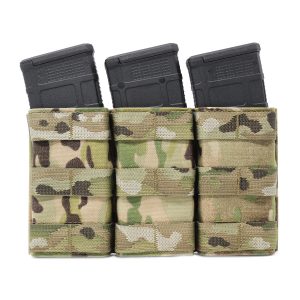 Utilizing a hybrid kydex and nylon design, you get all the rigidity you would expect from a kydex pouch and the lack of noise you want from a nylon pouch. These pouches feature a kydex wedge insert (KYWI) that provide the needed retention to secure your magazines without the need for bungee cord for rapid mag changes. These features make the Esstac KYWI's performance unmatched, and our favorite pouch on the market for anyone.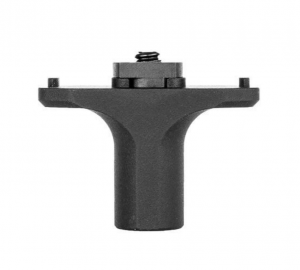 For those experienced with a finger stop, this product from Arisaka Defense is a great option. If you haven't used a finger stop before, you might want to consider trying one out. Why? Unlike a hand stop, which most people position at the rear of their support hand, the Finger Stop has a rounded profile. This makes it ergonomically designed to be located between your index and middle fingers.
This typically places it further forward on the handguard, which also means it doesn't get in the way. This is important when transitioning to kneeling or prone shooting positions. In these positions, most people move their support hand towards the rear. Additionally, the Finger Stop functions well as a forward limit to prevent your hand from slipping off shorter handguards. This helps to stop your hand landing onto a hot barrel or suppressor, and as a barricade rest.
These reasons make this Arisaka Defense hand stop excellent for all those looking for an intriguing upgrade on a budget.
Conclusion
Even when on a budget, you should expect quality and performance from all your AR accessories you buy. These ones listed above are excellent options for all, and we hope you enjoy whichever ones you try!