The Best Weapon Lights for Hunters
For hunters, having the right weapon light is absolutely essential. When looking at a light, you need to consider some of these important factors and decide what's most important to you. For example, do you care more for battery life or light reach, or durability or price point? There's a lot to consider when purchasing a new light for hunting, so let's take at some of these top options that offer unique and exceptional benefits for all hunters.
This light is an excellent choice for hunters. The ultra-compact Mini Scout Light® Pro is the next generation in SureFire's trusted Scout Light WeaponLights. Featuring SureFire's new Low-Profile Mount (LPM), the Mini Scout Light Pro delivers unprecedented versatility by allowing the user to optimize the light's position relative to the handguard and the laser aiming device (if installed). Rugged and reliable, the LPM can be easily and securely attached to any MIL-STD-1913 (Picatinny) or M-LOK rail, and every Scout Light Pro model includes mounting cleats for both rail styles. The Mini Scout Light Pro's recoil-proof, premium LED generates an impressive 500 lumens from a single 123A battery. Focused through SureFire's proprietary TIR lens, it produces a far-reaching, high-intensity beam with ample surround light. This is another product to look out for!
Cloud Defensive is known for their top tier quality, and their lights are renowned for their high power and reliability. The REIN is no exception, and offers a massive leap over the competition in both performance, and critical features that hunters need and rely on. With its 60,000 Candela output at 1,400 lumens, it's one of the most powerful weapon lights on the market. In addition, it's available in multiple configurations, which makes it adaptable to your needs.
It goes without saying that if you're shooting at night or low light situations, having a super powerful light is very important. Not only that, but you'll also need a light that's reliable and long-lasting.
This is where the REIN is truly special. With its patented remote switch, it offers both momentary and constant-on functionality. The remote switch is electrically isolated from the push-button switch located on the tail cap. If your remote switch suffers a catastrophic failure, your REIN still works via the tail cap button.
The REIN provides usable light for at least 6 straight hours. Talk about reliability! Not only that, but it's super light weight, coming in at 5.3oz without the battery and 6.9oz with. Besides all of that, it's got some incredible features that shouldn't go unmentioned. Let's start with the Patented Battery Jack Feature.
This allows you to properly tension the battery inside the system to avoid battery bounce. This lengthens the life of your system and increases reliability substantially. The patented tail-cap cartridge is easily replaceable and allows for multiple configurations without removing the tail of the light.
Lastly, let's look at the Proprietary Field-Serviceable Lens System.The glass on the REIN is 3mm thick, which is the thickest in the industry. It can take multiple hits from 5.56mm Simunition rounds. Also, the end-user can now replace the glass lens themselves. When looking for ultimate night time accuracy, this light is your best bet!
The Cloud Defensive OWL (Optimized weapon light) is one of the most popular lights on the market for hunters, and for good reason. It is an extremely versatile weapon light, with some innovative features, including integrated switching. This feature helps prevent cables snagging together. Additionally, it makes using super easy with no remotes to mount. The Cloud Defensive OWL is a one-piece light that focuses on ease of use. Beyond this, it has a highly-intuitive head/tail disconnect system. Using their patented lug system, there are no threaded components on the OWL. The OWL is ambidextrous, perfect for weak/transition side shooting which makes it super useful in real life situations.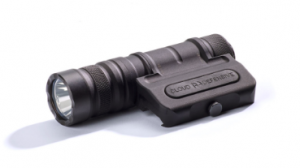 It is also reversible, which works in just about any situation that calls for it. Simply put, the Cloud Defensive OWL can do things other weapon lights cannot do. Its warmer light temperature LEDs penetrate photonic barriers better, and it's more usable to your eyes. Coupled with their custom electroformed reflector and power supply, you have a level of performance never before possible on a production weapon mounted light. If you're interested in upgrading to one of the best weapon lights on the market, and one that works wonders for hunters in low light situations, this is the one for you.
The Haley Strategic Thorntail Scout Light Offset Mount has a specific design that shows why it performs so well. It allows you to extend the weapon light several inches beyond the end of the forend or rail system. This helps with allowing the shooter to place the support hand farther forward on the weapon. Ultimately, this leads to improving the shooter's control, speed and accuracy. In addition, it helps with increasing usable space for attachments like lasers and grips.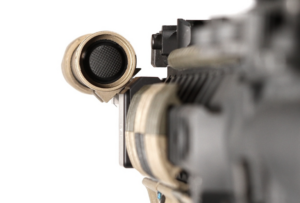 The Haley Strategic Thorntail attaches to any 1913 Picatinny rail, and is fully ambidextrous. It can provide 8 different mounting solutions on a single rail system. Additionally, the cantilevered mounting design places the bezel of the Surefire M300 or M600 weapon light above the barrel. Not only that, it places it in front of the front sight base, which eliminates shadows in critical situations. Beyond the awesome features offered by this offset mount, each Thorntail comes complete with the necessary instructions, tools and hardware required to attach your light to your weapon.
If you have a Benelli shotgun, this is the optic mount for you. Its cutting edge design enhances the effectiveness of your shotgun. It does this by enhancing the speed and precision of a red dot sight, all while maintaining its factory shooting ergonomics. Additionally, it allows for perfect placement of your Trijicon RMR. This allows for a super precise, ideal shooting position.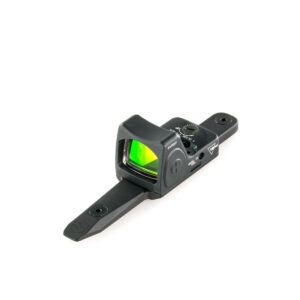 Additionally, it features a proprietary internal Key-Slot mounting system. This system allows for side impacts spread across 4 anchor points, making it super convenient to use. Not only this, but it's also constructed with 7075-T6 billet, which has vastly superior mechanical properties to 6061-T6, and is used where ultimate strength and durability outweigh cost considerations. Moving onto the weight, it features one of the lightest designs available, without sacrificing any durability. Overall, this is an excellent optic mount for anyone owning a Benelli shotgun.