4 Amazing Modlite Products
Modlite is a world famous gun parts brand that delivers consistently high performing goods. However, with so many options to choose from, how do you know which to choose? In this article, we'll cover 4 of our very favorite accessories from Modlite, all of which serve unique purposes and can be used at any skill level.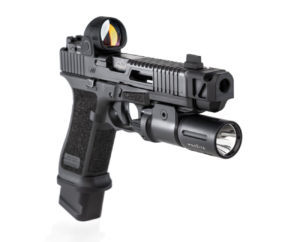 With this light package from Modlite, you're getting some awesome features. Starting with the numbers: 5000 Kelvin color temperature, 1500 Lumens, and 29,000 Candela. Let's break that down. With the 5000 Kelvin temperature, you're getting a warmer color that's easier on the eyes during indoor/urban use. Additionally, it provides more flood light than other models. These specific features make it very specialized, and very useful in city/urban or indoor situations. Its modular design makes it compatible with all Modlite heads, allowing for total customization for specific needs.
It also includes a full set of PHLSTER ARC enhanced WML Switches. This also lets the end-user tailor the light to fit their hands and shooting methods. The PL350 is compatible with current and future Modlite heads, ensuring long life and future upgrade paths. If you find yourself needing a less taxing Kelvin color, and could use more flood output, this is the light package for you.
One of Modlite's top products is the Modbutton. ModButton is an integrated momentary only switch and offset Scout mount design, that provides a simple clean mount in one convenient package.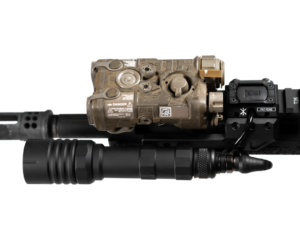 The ModButton is developed for the power delivery needed by high output weapon lights. With its Surefire compatible lead, it is fully compatible with all Surefire, Arisaka, and Modlite Scout bodies. This is one of the factors that makes it extremely versatile, and useful for anyone interested. Since most switches used today cannot pass the needed current for common lights, it can be difficult for light heads to run fully. ModButton fixes this by using an updated plug design. This allows it to output at full power, so you get the most out of your light.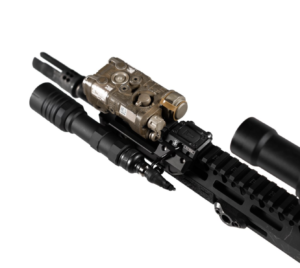 Moving onto some other features, the ModButton is waterproof to 1 meter for 30 minutes. In addition, it features more durable buttons than many competing pressure switches on the market. The offset mount allows for use with any Scout type mounting system. Additionally, ModButton is compatible with the Unity FUSION LightWing adapter. This adaptor is designed to extend the light out to clear lasers, or help push the light out in order to help reduce or eliminate shadow from suppressors. Overall, with the ModButton you're getting a ton of value that simply isn't other competitors simply don't offer as well.
Let's say you are pointing two lights, an OKW and a PLHv2, at a tree. The OKW will light up one big spot on the tree from far away, while the PLHv2 will light up the entire tree. Overall, the PLHv2 works great as a general purpose light. It has a great output, shining 1,350 lumens at around 54,000 candelas. If you're less concerned about throw (but still want great capabilities) and are looking for a great balance of spill and throw, this light is a perfect choice.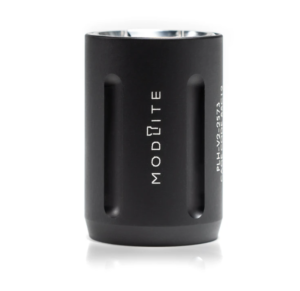 When we talk about having great accuracy, we don't just mean during the day in perfect light and weather conditions, we're also talking about low light conditions in which visibility is impaired. In these situations, you'll need a great light that is reliable and performs well consistently. The Modlite PLHv2 light package is a great option for anyone looking to improve their light setup in one package. The Modlite PLHv2 light package contains the PLHv2-light head, 18350 body, tail cap, a single KeepPower 1200mAh 18350 battery, and an XTAR MC2 charger.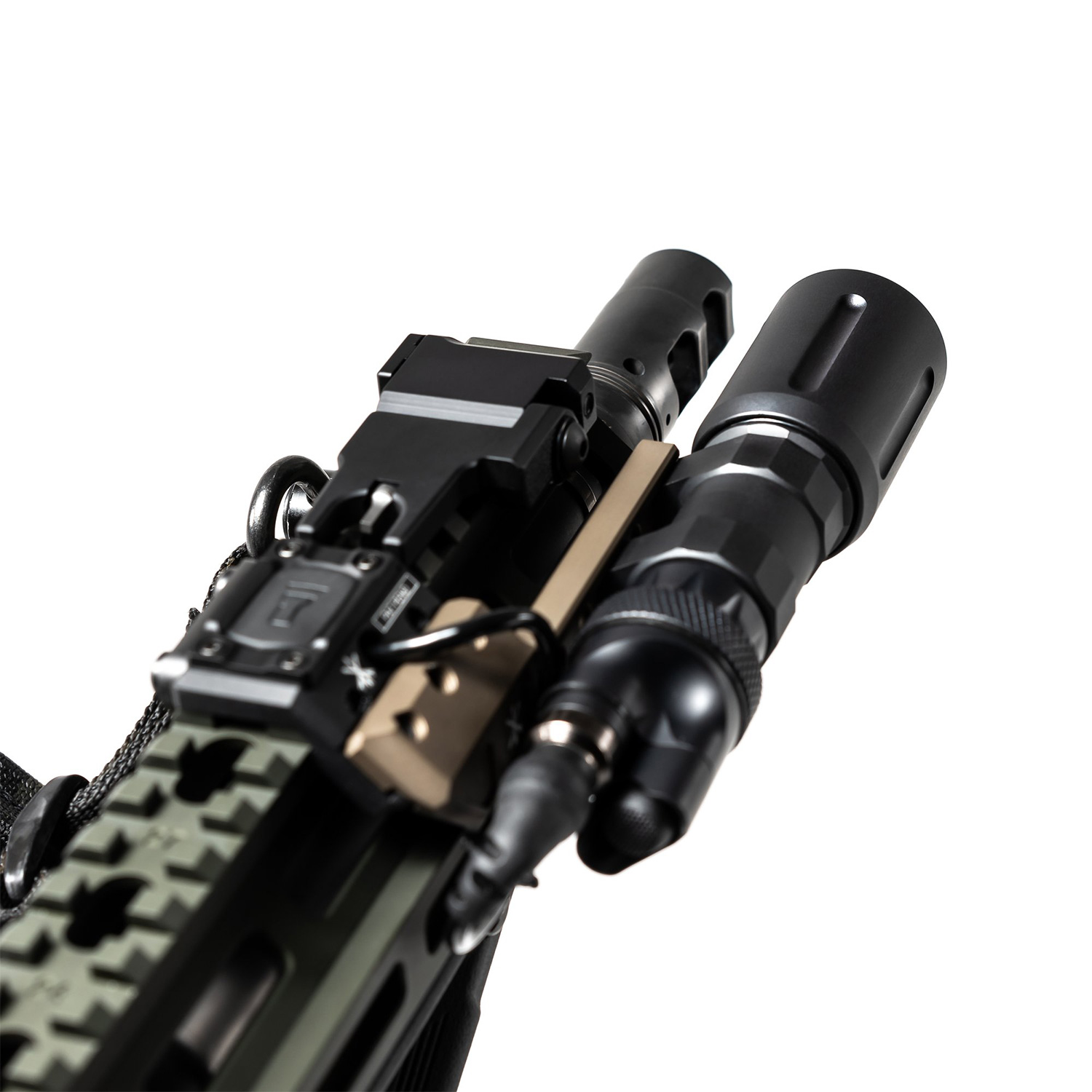 Light Output
Revisiting the kind of light output you will get, while lumen output with this light is similar to the Surefire M600DF head, the throw is much better suited to a rifle mounted application, at more than three times the amount of throw than the M600DF. This light is a large step forward from the PLHv1 light. Simply put, it is the best balance of flood and throws available.
Modlite Systems ModButton Lite – SureFire/Modlite Plug
The Modlite ModButton Lite is a smaller, lighter-weight cousin to the original ModButton. It features the same high power cable and switch from ModButton, but in a slightly smaller package. This time, you'll get the same great features without the integrated mount. This switch is incredibly durable. It's made from injection molded plastic, and fully potted to provide extra degree of protection in harsh environments, and ensures a durable long lasting switch. Modlite's ModButton Lite utilizes a patented Unity Tactical design. You'll love this feature, as it supports power delivery needed by the next generation of high output weapon lights.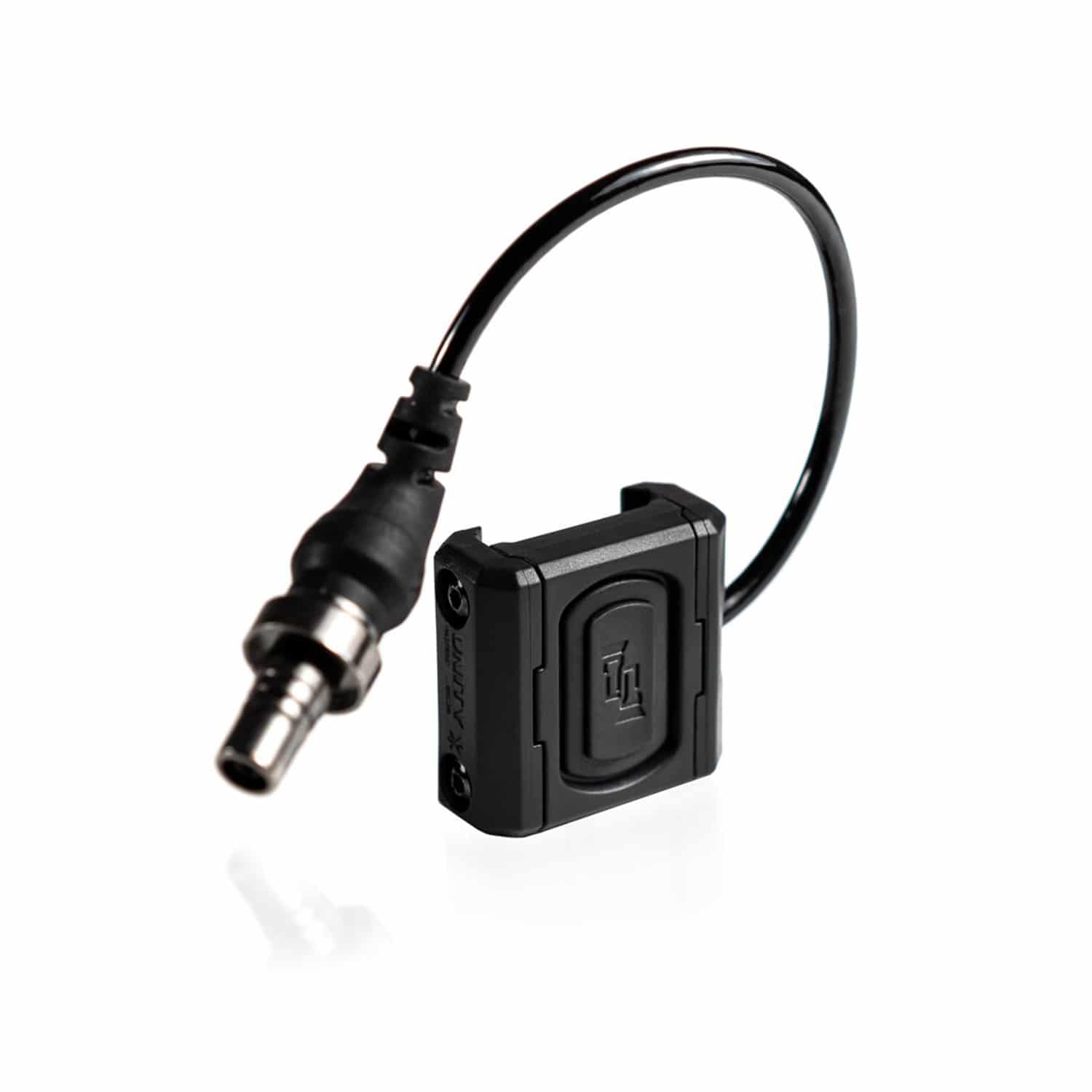 Asides from its high performance and durability, it's also highly versatile. The Unity built Surefire compatible cable lead allows ModButton Lite to be backwardly compatible with all Surefire, Arisaka and Modlite Scout bodies as well as Surefire UE and DS00 tail caps. One problem that exists today is older legacy switches are not able to pass the current needed to run current and future generation lights. 
These older switch designs do not allow Modlite light heads to run at full power. Typically these switches reduce output by 15-20%. ModButton Lite utilizes an updated plug design as well as improved electronics that allow the ModButton Lite to output at full power so all the lumens and candela can work efficiently. This Modlite ModButton Lite performs at a great level, and is super reliable.
Conclusion
When you combine innovative design and performance, you get Modlite. Are they deserving of all the hype they get? 100%! Between their OKW and PLHv2 lights, as well as their ModButton and other products, you get tons of value. No, they aren't always the cheapest brand, but you know that you're getting top tier quality with all of their products. Whether you're a rookie or a vet, Modlite can make a big time difference in your performance.