5 Top Summer Upgrades For All Gun Parts
Whether you've just finished your current weapon build or are actively looking to buy new parts, it's fun to see what's out there, right? With summer underway, it's time to take a look at some of the best AR-15 and gun accessories and parts you can buy. We've included a good range of both tactical accessories and gun parts, so that whatever you need, you've got it.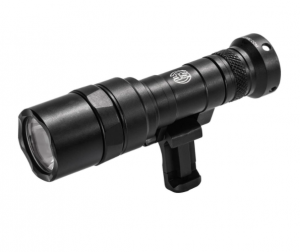 If you've used SureFire before, you know how reliable and high performing their lights are. The ultra-compact Mini Scout Light® Pro is the next generation in SureFire's trusted Scout Light WeaponLights. Featuring SureFire's new Low-Profile Mount (LPM), the Mini Scout Light Pro delivers unprecedented versatility by allowing the user to optimize the light's position relative to the handguard and the laser aiming device (if installed). Rugged and reliable, the LPM can be easily and securely attached to any MIL-STD-1913 (Picatinny) or M-LOK rail, and every Scout Light Pro model includes mounting cleats for both rail styles. The Mini Scout Light Pro's recoil-proof, premium LED generates an impressive 500 lumens from a single 123A battery. Focused through SureFire's proprietary TIR lens, it produces a far-reaching, high-intensity beam with ample surround light. This is a great product to look out for!
When upgrading our weapons, one of the biggest priorities we have is safety. Dealing with concussive blasts is an extremely important part of any weapon build, and the Surefire Warden Blast Regulator is an amazing tool for this problem. The SureFire Warden Blast Regulator for 5.56 and 7.62 mm weapons is engineered to direct the concussive blast of the fired round forward of the weapon system without venting gas to the side, as seen with standard muzzle brakes. This aids in reducing the overpressure felt by others immediately to the left and/or right of the shooter's firing position. It also limits any dust signature from the weapon when fired from a prone position.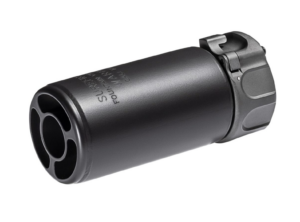 This version of the Warden quickly and easily mounts to any SureFire SOCOM Fast-Attach® 5.56 or 7.62 muzzle device through the same patented system found on SureFire SOCOM Fast-Attach® Series suppressors. Unlike sound suppressors, Wardens are not NFA devices and are available wherever SureFire products are sold, without any of the restrictions associated with suppressors. The Surefire Warden is one of our favorites, and an amazing deal for this month, because not only is it super effective, it's also incredibly reliable. The Warden features  rugged stainless steel and a durable Cerakote finish. Overall, it's a versatile, easy to use and mount, super safe and reliable piece that any AR user can appreciate.
Why make life and gun parts more difficult, if you can have a holster that accepts almost every pistol? The Floodlight is a universalized holster that can accept nearly any service grade pistol capable of attaching a Surefire X300U A/B weapon light. How does it do this? PHLster uses a super innovative design that makes any features smoother and more regularized. This helps to accommodate the different shapes, sizes, and dimensions of this wide array of firearms. Additionally, it includes adjustable retention, which allows the user to increase or decrease the friction retention on the body of the WML. This makes it super adjustable to anyone's personal draw preference.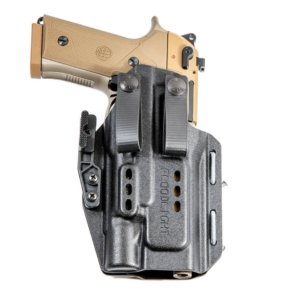 You can also turn the screws attaching the ModWing grip-tucking hardware to dial the retention to your preference. In order to ensure the best possible fit and retention across the widest variety of pistols, the Floodlight is a two-piece design, like the Skeleton holster. The difference between these, though, is that the Floodlight features adjustable slide contact. By shortening or lengthening the shock cord connecting the two halves, users can reduce or eliminate play, rattle, and slop. This is definitely helpful, especially when switching between guns that have different slide dimensions.
The Floodlight, like the Skeleton, is ambidextrous and can be worn AIWB or strong-side IWB, using either soft loops or clips. It also features reduced, lower-profile ergonomic molding. This improves comfort in a variety of carry positions, and provides an ideal attachment point for your choice. Like all of PHLster's holsters, the Floodlight accommodates muzzle devices, suppressor height sights, and slide-mounted optics.
Overall, the versatility and flexibility the PHLster Floodlight offers makes it an excellent choice, and definitely has people excited about it.
Want a quick, and super effective upgrade to your mount set up? The Haley Strategic Thorntail Scout Light Offset can make a truly huge difference right away. Its unique design extends the weapon light several inches beyond the end of the forend or rail system. This adjustment allows the shooter to place the support hand farther forward on the weapon. This improves the shooter's control, speed and accuracy, while increasing usable space for attaching IR devices, lasers, grips, and more. The Haley Strategic Thorntail attaches to any 1913 Picatinny rail and is fully ambidextrous. In addition, it provides 8 different mounting solutions on a single rail system.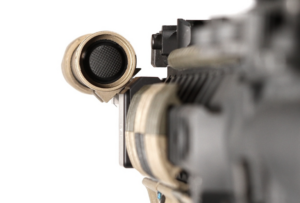 The Thorntail's cantilever mounting design places the bezel of the Surefire M300 or M600 weapon light above the barrel and in front of the front sight base. This lets you eliminate shadows in critical low or no light shoot or no shoot situations. Haley Strategic stands by their products 100%, which is why we always recommend them. The Thorntail features super high durability, ultra lightweight materials, and is long lasting. Each Haley Strategic Thorntail comes complete with the instructions, tools and hardware required to attach your light to your weapon. If you're looking for great light offset mount gun parts, this choice from Haley Strategic can't be beat!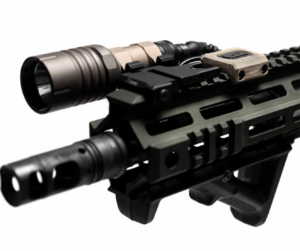 The Modlite ModButton Lite is a smaller, lighter-weight cousin to the original ModButton. It features the same high power cable and switch from ModButton, but in a slightly smaller package. This time, you'll get the same great features without the integrated mount. This switch is incredibly durable. It has injection molded plastic, and fully potted design to provide extra degree of protection in harsh environments. Modlite's ModButton Lite utilizes a patented Unity Tactical design. You'll love this feature, as it supports power delivery needed by the next generation of high output weapon lights, like Modlite. 
Conclusion
It's summer time, and there's no better time to upgrade your gun parts. Whether it's a new offset mount or weapon pouch, there's always room to improve. We hope you enjoy this list, and find what you're looking for next at MilspecRetail.com!