5 Must Have Gun Flashlights
Looking for an upgrade on your flashlight, but not sure where to start? We've got you covered! Stay out of the dark with these amazing flashlights, all catered to different needs & uses. There's a variety of different options you can go with, and for most people this depends on the situations and times you'll be using your light. If you're a hunter, you'll need a different light than someone who's invested in a weapon for self defense. In addition, some lights have better battery life than others, so if you need to have your light reliable, highly effective, and long lasting, you can't go wrong with any of these choices.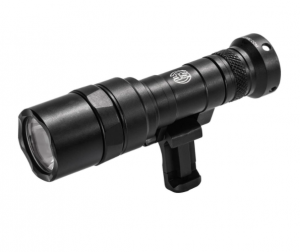 Starting off with Surefire, this brand is one of the most high performing and reliable out there. The ultra-compact Mini Scout Light® Pro is the next generation in SureFire's trusted Scout Light WeaponLights. Featuring SureFire's new Low-Profile Mount (LPM), the Mini Scout Light Pro delivers unprecedented versatility by allowing the user to optimize the light's position relative to the handguard and the laser aiming device (if installed). Rugged and reliable, the LPM can be easily and securely attached to any MIL-STD-1913 (Picatinny) or M-LOK rail, and every Scout Light Pro model includes mounting cleats for both rail styles. The Mini Scout Light Pro's recoil-proof, premium LED generates an impressive 500 lumens from a single 123A battery. Focused through SureFire's proprietary TIR lens, it produces a far-reaching, high-intensity beam with ample surround light. This is a great product to look out for!
Moving onto this great light from Cloud Defensive, the REIN 1.0 Weapon Light is a top-of-the-line light for experienced shooters. It features a modular 3-piece design that makes it upgradeable over time, as well as a push-button-only configuration located in the tail cap for easy momentary-on operation. With over 60,000 Candela at 1,400 lumens, it's one of the most powerful weapon lights on the market, making it an ideal choice for self-defense or tactical applications. Made in the USA from high-quality materials, the REIN 1.0 is sure to provide years of reliable use. Choose from multiple configurations to find the perfect setup for your needs and get the edge you need.

Another light from Cloud Defensive, this flashlight is one of the best for optimal ergonomics and offers a one-piece integrated solution that is easy to use. With 1,250 lumens of focused light, the Cloud Defensive Owl is one of the brightest flashlights on the market. It also has a runtime of 85-110 minutes, so you can be confident that it will last when you need it most. Quick-disconnect feature allows you to easily remove the light head and tail-cap without having to thread them back on. With its patent-pending Lug-Lok technology, the Cloud Defensive Owl is a flashlight that you can rely on.

With this light package from Modlite, you're getting some awesome features. Starting with the numbers: 5000 Kelvin color temperature, 1500 Lumens, and 29,000 Candela. Let's break that down: With the 5000 Kelvin temperature, you're getting a warmer color that's easier on the eyes during indoor/urban use. Additionally, it provides more flood light than other models. These specific features make it very specialized, and very useful in city/urban or indoor situations. Its modular design makes it compatible with all Modlite heads, allowing for total customization for specific needs.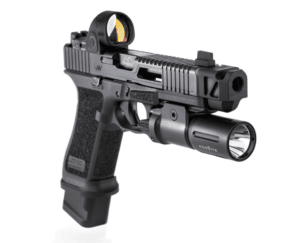 It also includes a full set of PHLSTER ARC enhanced WML Switches. This also lets the end-user tailor the light to fit their hands and shooting methods. The PL350 is compatible with current and future Modlite heads, ensuring long life and future upgrade paths. If you find yourself needing a less taxing Kelvin color, and could use more flood output, this is the light package for you.
The Modlite PLHv2 light package is a great option for anyone looking to improve their light setup in one package. The Modlite PLHv2 light package contains the PLHv2-light head, 18350 body, tail cap, a single KeepPower 1200mAh 18350 battery, and an XTAR MC2 charger. 
To better understand the output on this light, this light is an excellent choice for a wide spill that covers a large target, while being slightly shorter in throw. Overall, the PLHv2 works great as a general purpose light. It has a great output, shining 1,350 lumens at around 54,000 candelas. If you're less concerned about throw (but still want great capabilities) and are looking for a great balance of spill and throw, this light is a perfect choice.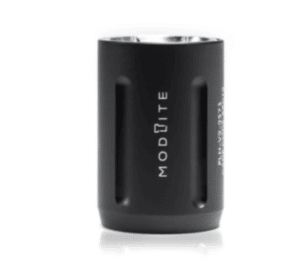 Revisiting the kind of light output you will get, while lumen output with this light is similar to the Surefire M600DF head, the throw is much better suited to a rifle mounted application, at more than three times the amount of throw than the M600DF. This light is a large step forward from the PLHv1 light. Simply put, it is the best balance of flood and throws available.
Conclusion
Overall, there's plenty of different directions you can go with a gun flashlight. Depending on your level and experience, you may require a very specific amount of throw versus spill ratio, or you may be searching for the best light that offers all, on a certain budget. Either way, when you level up to one of the lights mentioned on this list, you're getting an excellent product that guarantees exceptional performance and value.