How to Choose The Best Trigger For You: Top 3 Picks
Choosing the right trigger for you can be a difficult process. As you become more experienced and familiar with your weapon, or have been using a specific one for a long time, you may have a better idea of what features you look for in it. Some base their preferences on qualities like fast response or texture that allows for increased accuracy. In any case, these selections below make for a great choice no matter your level or experience.
Geissele Automatics Single Stage Precision (SSP) M4 Curved Bow Trigger
One of the most popular products Geissele has to offer is their SSP option. The Single-Stage Precision (SSP) is Geissele Automatics' first true single-stage trigger for the AR Platform.  What stands out about this one? You'll notice that it has no take-up and a super clean break. Additionally, the reset is short but distinct, which gives excellent feedback during target engagement. Combining these two capabilities provides the shooter with the confidence necessary for when you need precision and accuracy most.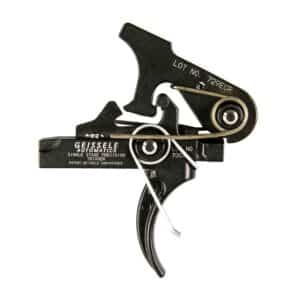 Let's take a look at the build quality. The SSP features superior materials, as well as the most modern manufacturing techniques. The SSP trigger features S7 Tool Steel and precision machining from the latest wire EDM technology.  Not only that, all parts have durable corrosion-resistant black oxide. The Geissele SSP is a precision trigger, with maximum reliability and repeatability while engaging targets at long distances. It's simply one of the best triggers, whether it's for active duty, hunting, or target shooting.
Geissele Automatics Government Super Semi-Automatic (SSA-X) Trigger
The SSA-X Government trigger is a two-stage trigger that has some pretty amazing features. First, a Nanocoated wide-body trigger and Nanocoated Hammer, with a special Chrome Nitride disconnect. These combine advancements in coating design to bring about the next evolution of the venerable SSA. These coatings dramatically enhance wear and corrosion resistance. Additionally, it helps keep the trigger running smooth and breaking clean, even after heavy use with minimal lubrication. The SSA-X Government trigger is a non-adjustable trigger with a familiar M4 bow.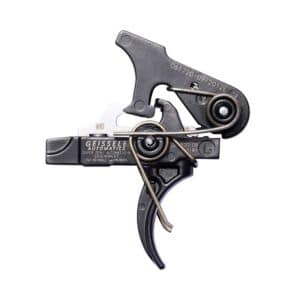 This allows the trigger to be light enough for accurate and precise shots, but also forgiving enough for dynamic close-in work as well. While the SSA-X Government Trigger comes assembled with a heavier Mil-Spec pull weight, Geissele is also including a lighter trigger spring to bring the 1st stage down to 2.75 – 3 lbs., and the overall pull weight down to 4.25 – 5.0 lbs. if so desired.
Looking for something beyond the stock experience? If you're an experienced shooter, you've probably noticed the issues with clunky stock triggers. The Velocity Glock Trigger provides a noticeably smoother pull with reduced creep and a positive reset, all without sacrificing safety or reliability. The flat trigger blade provides a stable and textured surface for better purchase and improved control. The Velocity Trigger features precision manufacturing from the highest quality materials and is made in the USA. An everyday carry trigger never felt so good!

For our bonus pick, we'll be taking a comprehensive look at this spectacular set from Bravo Company. This pick not only includes an excellent trigger, but offers an entire lower parts kit. What makes BCM one of the best in the business? To start, they feature all American made parts. Compared to some other vendors, this offers an automatic step up in quality and durability. Overall, BCM quality, with their modern manufacturing processes and aerospace coatings, combine to ensure parts last a lifetime, while performing far beyond requirements established nearly six decades ago. 
Starting with the trigger: The BCM PNT Trigger and PNT Hammer have a Mil-Spec AISI8620 investment casting per the USGI TDP (Mil-Spec) for the M16/M4 family of weapons. The trigger's construction begins with 156/157 holes honed to assist in perfect alignment and a smooth trigger pull. 
Afterwards, the BCM PNT Trigger and PNT Hammer then go through a 3 step heat treat and case hardening process for optimal grain structure alignment, yielding a stronger and more wear resistance product.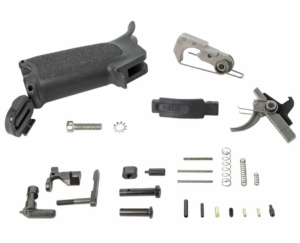 Moving on to the texture: The sear engagement surfaces are ground, but then hand polished for an increased smoothness up to 300% beyond the Mil-Spec. An electroless nickel finish is applied for a smoother pull with less grit and reduced felt creep. This material also provides a long-lasting finish that will not corrode, rust, or discolor due to oxidation. Additionally, teflon particles are embedded in the nickel, further reducing the friction of the interface and ensuring a long-lasting coating. This is done on both the BCM PNT Trigger and Hammer in order to provide the maximum benefit allowed by the nickel coating, by augmenting the low friction and corrosion resistance.
This assembly also includes BCM's impact-resistant trigger and hammer pins. These parts have a fine finish and superior tolerance, all to ensure compatibility with all MIL-SPEC lower receivers built per the USGI TDP. The BCM Disconnector then goes through stamping with a 1070 material and fine blanked for cleaner edges, double disc ground to a precise size. All hammer engagement surfaces work great for a super clean reset. The processes and tolerances match with the BCM PNT Trigger Assembly to create a system better than the sum of its parts. Bolt Catch and Safety Selector: The BCM Bolt Catch and Safety Selector are a Mil-Spec AISI8620 investment casting per the USGI TDP for the M16/M4 family of weapons.
The Selector and Bolt Catch are machined to the Mil-Spec, then goes through a 3 step heat treat and case hardening process for optimal grain structure and wear resistance. Has a phosphate finish for corrosion resistance. BCM Magazine Catch: The BCM Magazine Catch Assembly (plate and the post) has precision machining Mil-Spec AISI8620 material per the USGI TDP for the M16/M4 family of weapons.
Conclusion:
The best option is the one that matches all of your preferences. All of the above options feature start of the art engineering, and individual characteristics that make them unique. Overall, you can't go wrong with one of these weapon triggers!