What Are The Most Important Gun Accessories For Pistols?
With any weapon, you need to have it work the way you want it to. Whether for sport shooting or home defense, you need to be able to rely on your weapon for optimal safety, performance, and durability. What about pistol users? There's often a lot of confusion over what makes a pistol build good. At the end of the day, the most important gun accessories for pistols come down to how you use your weapon. If you're a sports shooter, you might be interested in the extended magazines. If you rely on your pistol for home defense, having a pistol with an upgraded light would be highly beneficial. Let's break down some of our top picks for the best gun accessories for any pistol users, and how to decide which is best for you.
Having extra rounds available in a pinch can be both a lifesaver, and incredibly convenient. Not only will you feel safer with it, but choosing one like this Magpul PMAG guarantees durability and reliability. The Magpul PMAG 10 GL9, Glock 17 is perfect for flawless reliability and durability over thousands of rounds. They provide the same quality and performance of the proven Magpul PMAG series of Glock magazines, while also providing a viable product solution to those in locations and situations where a 10-round capacity restriction is required or desired.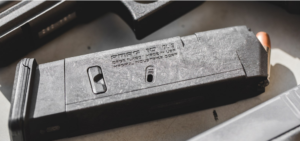 It includes a high visibility controlled-tilt follower, a stainless steel spring, an easily removable floorplate for cleaning, paint pen dot matrix for mag marking, ridged floor-plate edges for better grip, and 10-round indicator windows.  Additionally, the magazine drops free when loaded or unloaded. These features make this magazine one of the best in the market, and we highly recommend this to all those wanting to upgrade their magazine.
This slide release is one of the most important upgrades for any advanced pistol user. One of the most common issues that shooters encounter as their proficiency grows is grip changes. As you become more advanced, especially in law enforcement circumstances, you may find that the standard slide release doesn't work as well. The standard slide release has innate limitations that can hinder performance. Though this doesn't apply to everyone, if you do find that grip changes are uncomfortable with the standard slide release, you might want to consider an extended one. That's where Kagwerks steps in, and they've made an excellent, important part here for both law enforcement and home defense.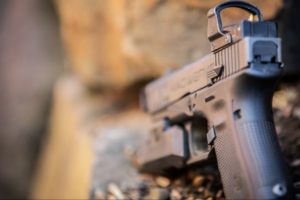 Their extended and raised slide release offers a unique advantage to trained shooters with a proper higher-position grip. This slide release makes it more comfortable using a higher grip, and thus helps reduce slide override. As you become more experienced, you'll notice the performance difference with this grip, big time. This is an excellent upgrade for the more advanced shooters who want a more comfortable grip.
If you're a sport shooter, you know how important reducing muzzle rise and recoil is.The ZEV V2 PRO Compensator was designed to enhance the performance of your Glock pistol by doing just that, reducing muzzle rise and felt recoil. The V2 improves upon the original PRO Compensator with contoured porting, an enlarged guide rod channel, and a new mounting system which permits secure installation and removal without the need for thread locking compound.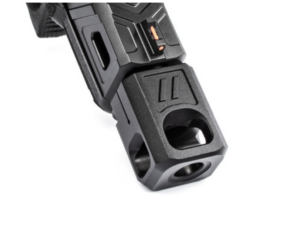 The ZEV V2 PRO Compensator works best on the G19 but will fit and function on all 9mm Glock models with a corresponding threaded barrel. Due to its compact size, when installed on a G19 with ZEV threaded barrel, it has the same overall length as a G34 slide and is compatible with most G34 holsters. The V2 PRO Compensator will generally function with standard power 9mm ammunition and factory recoil assemblies but best performance will be obtained through matching the recoil spring weight to your particular pistol and ammunition.
As we mentioned earlier, having a high quality magwell is a super important factor in any pistol build. Let's talk about the Reptilia Black Hole™ Polymer Magwell for GLOCK® pistols. First off, it's super durable. Its reinforced polymer build is very reliable and lightweight. Looking at the Black Hole's enlarged magazine well opening, you'll notice it helps facilitate more efficient reloads. It does this even without adding unnecessary bulk to your carry or duty sidearm, which is super handy. It's compatible with 9mm & .40-caliber GLOCK pistols, and even utilizes a unique rear spacer to ensure seamless fit and compatibility with both Gen 3 & Gen 4 frames. Between this magwell and the Magpul magazine listed above, these are some excellent options to choose from for an important part of your pistol.

With any Glock, you need to make sure your barrel is in top shape. Using exceptionally high-grade material and precision machining every feature in one proprietary process, Killer Innovations barrels deliver unparalleled accuracy and performance. Every barrel features a 11° target crown for greater accuracy. Additionally, it is coated with high-quality finishes, ensuring the most accurate, reliable barrels available on the market today. These are "Mod 2" barrels with the Threaded versions made to pair perfectly with the Velocity Glock Compensator. If you're looking for a barrel upgrade, this is an awesome choice.

Conclusion: What Are The Most Important Gun Accessories For Pistols?
As we can see, the most important gun accessories for pistols depend on how you use your pistol. If you're an advanced user, you'll need a tool like the slide release from Kagwerks to help meet your proficiency. If you're concerned about the quality of pistol parts, the threaded barrel from Killer Innovations is an excellent choice. Overall, you can't go wrong with any of these parts listed above. Even better, you can find all of them available at Milspecretail.com.