Best Weapon Pouches Ever? Esstac, Blue Force Gear
When it comes to gun accessories, there's definitely a lot of options. Whether you're wanting to upgrade your red dot sight or change grips, there's a lot to choose from. While we know that these accessories can have a direct impact on your performance, there's some other gear that also can play a big factor. This includes things like pouches, slings, and holsters. Some companies, like Esstac, have made some significant innovations to regular accessories like these that are definitely worth paying attention to. If you're someone who wants a seamless experience from start to finish, you'll need more than a great weapon build. You'll also need some exceptional AR & pistol gear, and M4 accessories. 
Pouches
If you've used a bad pouch, you'll be familiar with all of its symptoms, including tangling, heavy weight, and lousy durability. This can be a huge detriment when you're needing to quick draw, and don't have the time to sit down and sort out all the different cables and parts on a pouch. Enter Esstac, famous for their KYWI pouches, they've made some outstanding products that take care of these problems.

One of the biggest reasons we love Esstac and have written about them before, is their super intuitive, user friendly design. For straight forward, reliable performance, this mag pouch is difficult to beat. What makes Esstac truly unique is their KYWI design, which features a hybrid kydex and nylon materials. With these materials, you get all the rigidity you would expect from a kydex pouch, as well as the lack of noise you want from a nylon pouch. 
Combining these two features makes for a super useful pouch that goes beyond traditional thinking. Not only that, but these pouches provide the needed retention to secure your magazines without the need for a bungee cord for rapid mag changes. The KYWI design makes Esstac stand out, and their attention to detail and quality makes them truly last.
Is Blue Force Gear an Esstac challenger in terms of quality? We like to think of them as both top dogs in the weapon pouch category. Let's take a look at what makes this pouch from Blue Force Gear special. Starting off with the user-friendly design, the High Rise M4 Belt Pouch combines the combat-proven Ten-Speed® military-grade elastic with a belt attachment system that anyone can use. The High Rise M4 Belt Pouch works great for stealth situations, as it holds one M4 magazine or similar sized item higher up on the belt for maximum concealability.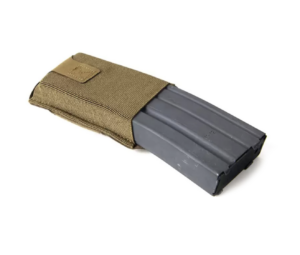 It's super versatile as well, as it can attach to the belt on regular everyday pants, rigger's belts, or duty belts with a hook and loop attachment system. The attachment system is split so the pouch can be attached on both sides of a belt loop to keep the pouch from rotating. Additionally, the hook and loop attachment can be removed so the pouch can be mounted horizontally on the belt. Overall, this is another great pouch that would be ideal for M4 users in particular.
Blue Force has really taken dump pouches to the next level with their Ultralight Dump Pouch.
The Ten-Speed Ultralight Dump Pouch is extremely compact, only taking up a 2 x 2 MOLLE field. This means the bag portion stays folded under Ten-Speed elastic when not in use. When needed, simply pulling on the bottom tab will deploy a bag large enough to hold 10 M4 magazines. This automatically makes for more convenient storage and usability. The stowed pouch design eliminates bulky bags flopping around, which can pose a snag hazard. Not only that, but the pouch is small enough for mounting behind larger pouches or on-duty belts.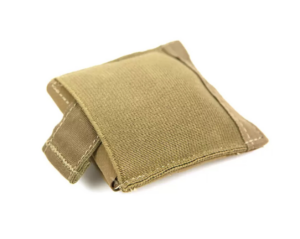 Additionally, a cinch cord at the top of the bag can be closed with one hand to secure the contents of the Dump Pouch. This works great in times where you're focusing on moving fast, and not able to use two hands in a pinch to close the pouch. Next, The Ten-Speed Ultralight Dump Pouch works great in several different capacities. One, as a traditional magazine dump pouch. Two, as a temporary supplemental pouch for breaching charges, provisions, SSE items, trash, spent casings, or extra water bottles during infill. Moving on to the other parts, the ripstop nylon bag is perfect for foraging for food or kindling. You could even use it as an emergency water filtration component. As far as size, the stowed dump pouch is 3" x 3.5" x 1". 
Compatibility wise, the Patented Helium Whisper® attachment system is compatible with all MOLLE platforms. Not only this, it has a combat-tested, high-performance laminate that reduces weight up to 60%. All of this, while equaling or exceeding the durability of 1000D Cordura. Overall, the latest material innovation of the Ten-Speed pouches has been modified for optimized retention and greater durability. Finally, as is the case with all Blue Force Gear, it's USA made and carries a limited lifetime warranty. If you're an M4 user, this is an awesome choice, along with the Blue Force high rise pouch.
Conclusion
These 3 pouches can make a big difference in your performance today. Whether you are a pistol or M4 user, these accessories will help you have a more streamlined, reliable experience with your weapon.