Want Better Accuracy? Check Out These 5 Easy Gun Mods
If you're looking to improve your accuracy with your firearm, you may want to consider doing some simple modifications. There are a number of different mods that can be done to help increase accuracy, and in this blog post, we will discuss five of them. We'll also provide suggestions for products that you can use to complete these mods. So whether you're a novice shooter or an experienced marksman, read on for some tips that will help you hit your target every time!
1. Muzzle Brakes / Compensators
First, adding a muzzle brake or compensator is an excellent way to improve accuracy. It reduces recoil and muzzle rise, making it easier for you to stay on target during rapid fire. We recommend products like the Killer Innovations Velocity Glock Compensator.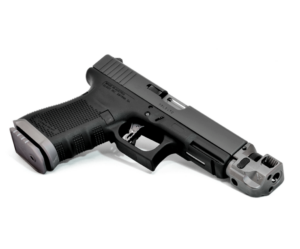 This recoil-reducing and muzzle-climbing compensator uniquely attaches in a new way that sets it apart from other models available. This attachment system has a few advantages over the traditional methods. First: It can be installed and removed without using tools when using their Velocity Mod 2 barrel. This means of course, cleaning your Glock just got easier. When used with other brand barrels, you may need tools to add or remove the compensator, but accuracy will not be affected. 
Secondly, the compensator can be screwed back until it reaches the point where the threads start to become shallower. This provides a more accurate bore alignment than other comps that are set screws or clamped to the threads before they reach this point. This accurate bore alignment ensures that the bullet is passing directly down the center of the comp with no air gaps around the bullet. When there is an equal air gap around the bullet, it eliminates the instability caused by air pressure pushing to one side.
With months of adjustments and tuning, Killer Innovations is confident that this is the flattest shooting comp on the market. Professional shooters agree! With its reliable cycling and 13lb spring, this comp is perfect for anyone looking for a flat shooting experience. Look no further than this compensator– it's extremely accurate and simple to install in comparison to other models on the market!
2. Upgraded Grips
Second, upgrading your grip can make a big difference in improving accuracy. A good grip provides better control when firing, allowing you to stay on target more easily. For this we recommend the Magpul MOE+ Grip.
The MOE+ Grip is created with a reinforced polymer body construction and wrap-around rubber overmolding to provide maximum weapon control during tough circumstances.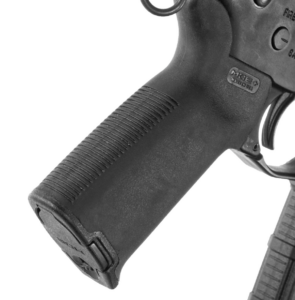 This AR15 / M4 drop-in design is basically the same shape as a 'medium' sized MIAD, with a hard polymer bottom edge which reduces potential grip damage or equipment snags. The MOE+ grip comes with a basic grip cap and has the option to add storage cores to store gear.
3. Lightweight Triggers
Third, a lightweight trigger can help reduce pull force to improve accuracy and make shooting easier for beginners. We suggest the Geissele Super Dynamic 3 Gun Trigger. The Geissele Super Dynamic 3 Gun (SD-3G) trigger is the variation of the Geissele Super 3 Gun (S3G) trigger that has a flat trigger bow. 
The SD-3G has a shortened pull length and quick reset, giving it a hybrid trigger pull that is between a two-stage and single-stage. This allows for a unique trigger-pull that is both safe and robust. 
Additionally, the SD-3G's flat trigger bow not only enhances the trigger's performance by reducing the apparent pull weight, but it also improves thetrigger's tactile feedback to the operator. This makes it perfect for 3 Gun competition shooting. This trigger is an excellent option for both beginners & experienced marksmen.
4. Red Dot Sight
Fourth, adding a scope or red dot sight is an easy way to increase accuracy when aiming at longer distances. We recommend optics like the Vortex Optics Razor HD Gen II 1-6×24 Riflescope or Trijicon MRO 2.0 Red Dot Sight for this purpose. The Trijicon Miniature Rifle Optic is designed for close-in targeting on rifles, carbines and shotguns. 
The product is used with both eyes open in order to allow the operator to be aware of their surroundings.The large aperture and tapered light path in this small optic maximizes the viewing area, allowing for quick target engagement – especially from non-standard shooting positions. Advanced lens coatings and electronics produce a clear, bright red dot. The brightness control dial on the MRO can be used by both right and left-handed people. The mid-adjustment "off" position and eight brightness settings make this dial quick, ergonomic, and versatile.
5. Bipods
Fifth, using a bipod is an important step for anyone looking to increase accuracy and precision. We recommend the Magpul Bipod for 1913 Picatinny Rails.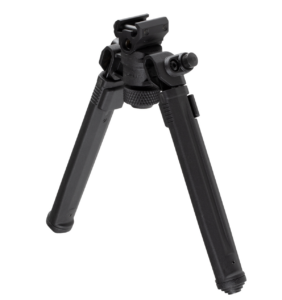 The Magpul Bipod for 1913 Picatinny Rail offers serious strength and versatility at a price that provides unmatched value. The lightweight Mil-spec hard anodized 6061 T-6 aluminum and injection-molded polymer bipod is rich with important features, bringing innovation in ergonomics, functionality, strength and value together. The sleek design of this product is both stylish and durable, able to withstand any wear and tear. The bipod is designed to be quickly and quietly adjusted with one hand, so you can transition between configurations without making any noise. The Magpul Bipod includes many features that you would normally find on bipods at a significantly higher cost.
Conclusion
By making these five simple modifications, you will be sure to see a noticeable improvement in your accuracy and performance. We hope that this article has been informative and helpful as you look for ways to increase your accuracy! Happy shooting!