Modlite Review: Accessories For True Enthusiasts
Chances are if you're a fan of AR-15 accessories, you've heard of Modlite Systems. Even for fans of other weapons, Modlite is a consistent name that shows up for top brands. They are some of the top leaders in innovative approach to weapon functionality, and they don't skimp on quality.
You might be wondering if Modlite works for beginners or pros, or both? The answers is no matter who you are, Modlite Systems most likely has something for you. Especially if you're in the market for a new light.
What makes them so special? Let's dive into what makes Modlite stand out from the crowd, and what products of theirs to look out for.
Modlite Modbutton
One of Modlite's top products is the Modbutton. ModButton is an integrated momentary only switch and offset Scout mount design, that provides a simple clean mount in one convenient package.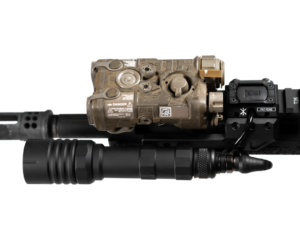 The ModButton is developed for the power delivery needed by high output weapon lights. With its Surefire compatible lead, it is fully compatible with all Surefire, Arisaka, and Modlite Scout bodies. This is one of the factors that makes it extremely versatile, and useful for anyone interested. Since most switches used today cannot pass the needed current for common lights, it can be difficult for light heads to run fully. ModButton fixes this by using an updated plug design. This allows it to output at full power, so you get the most out of your light.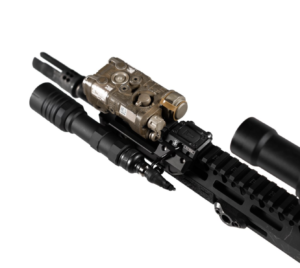 ModButton is waterproof to 1 meter for 30 minutes. In addition, it features more durable buttons than many competing pressure switches on the market. The offset mount allows for use with any Scout type mounting system. Additionally, ModButton is compatible with the Unity FUSION LightWing adapter. This adaptor is designed to extend the light out to clear lasers, or help push the light out in order to help reduce or eliminate shadow from suppressors. Overall, with the ModButton you're getting a ton of value that simply isn't other competitors simply don't offer as well.
Modlite OKW
In situations where you need extreme throw, you need the right light. The OKW is the perfect light for these situations, and though its lumen is relatively low (680), the throw makes up for it. Compared to the M600DF, the OKW's throw is about 400% greater. This light head is a direct replacement for the Surefire M600DF head. You can use this with the Modlite 18650 body or the smaller Modlite 18350 body.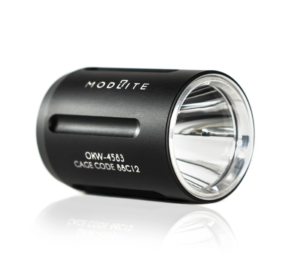 Range Optimized
When it comes to light brands, each one offers something different. If you're looking for a more flooded light, then Surefire might be your best bet. On the other hand, if you're looking for extreme throw and little spill, Modlite is king.
Power Supply & Battery Life
At first glance, it might seem like the battery life is a bit disappointing. However, with its dual fuel OKW head, you can get additional battery life. Currently, the OKW has a runtime of 75 minutes, which is still a very fair amount.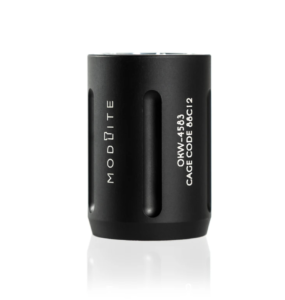 Overall, we love the Modlite OKW. Its design offers a lot for those looking for extra throw, and its overall durability and battery time makes it a super reliable, high performing weapon light.
Let's say you are pointing two lights, an OKW and a PLHv2, at a tree. The OKW will light up one big spot on the tree from far away, while the PLHv2 will light up the entire tree. Overall, the PLHv2 works great as a general purpose light. It has a great output, shining 1,350 lumens at around 54,000 candelas. If you're less concerned about throw (but still want great capabilities) and are looking for a great balance of spill and throw, this light is a perfect choice.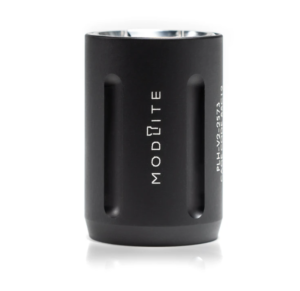 When you combine innovative design and performance, you get Modlite. Are they deserving of all the hype they've gotten in recent years? In our minds, 100%! Between their OKW and PLHv2 lights, as well as their ModButton and other products, you get tons of value. No, they aren't always the cheapest brand, but you know that you're getting top tier quality with all of their products. Whether you're a rookie or a vet, Modlite can make a big time difference in your performance.