Top AR-15 Accessories for August 2021
Looking for the latest edition of our top AR-15 Accessories? For this month, we've selected a variety of accessories that are both popular and less widely known. Whether it's new optic mounts, light heads, or anything else that can help your AR-15 experience, we've got you covered.
The Radian Talon™ ambidextrous safety selector is a modular design that can be installed as a standard 90° or as a 45° short throw, by simply rotating the shaft 180° inside the lower receiver. You may have wondered about switching to a 45° short throw, but never knew it would be this easy.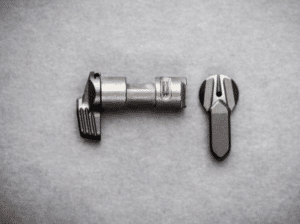 The Selector levers operate by using a precision machined dovetail interface with spring-loaded retention stud to lock the lever in place, meaning no screws to come loose or break. This is an awesome tool for anyone who's looking to install a modified safety selector, and the Radian Talon is a safety selector perfect for both experienced shooters and novices. 
Now you might be asking yourself, what's a hot button? Let us explain. The Unity Tactical Hot Button is a revolutionary control device for weapon-mounted electronic accessories. What does that mean? It means that how you set up your lights and lasers has changed forever. Unity Tactical's innovative hot button product takes weapon ergonomics to another level. They've specifically designed this out of a need to conserve rail-estate, improve actuation ergonomics, and mechanically integrate with weapon fore ends, Hot Button has successfully reinvented how you interface with your lights and lasers. Let's dig into how exactly that is.
What first stands out about the hot button is its angle compared to other remote tape switches. The usual legacy remote tape switches feature a flat pad that forces users to strain their thumbs in an unnatural angle to apply consistent pressure to activate a momentary function. This not only makes things more uncomfortable over time, it can seriously impede your performance. The Hot Button deals with this problem by placing the activation button at a 45-degree angle for a much more comfortable press.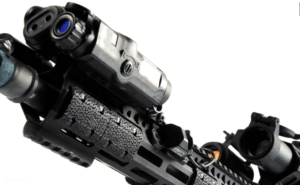 This is especially important when activating the button under pressure. You don't have to worry about accidental activation, either. A raised, crenelated bezel protects the button from this happening, while also providing a tactile index point for the user's thumb. The overall footprint of the Hot Button is much smaller than factory OEM pressure pads. Not only does this clean up rails on traditional weapons, but it greatly increases the accessory layout options on smaller SMG and PDW's.
Separate Hot Button Versions
Finally, Unity Tactical has also designed two separate versions of Hot Button. These separate versions can attach directly to either Mil-Std M1913 Picatinny or the M-LOK rail interface. Hot Button secures to these rails with hardware, so you can say goodbye to Velcro, 100mph Tape, or Zip Ties. This secure attachment method ensures your switches stay on the gun (in the location you placed them) regardless of battlefield abuse. Surefire models are half press for momentary and full press for constant. Laser models are pressed for momentary and double tap for constant. Overall, this sneaky accessory from Unity Tactical is a complete game changer, and we highly recommend you check it out!
When it comes to scope mounts, there's one company that's leading the charge. That company is Scalarworks, and their LEAP scope mount is an industry leader for a reason. It's perfect for shooters who want the lightest, most rigid, easiest to use, and least obtrusive quick-detach scope mount possible. What makes the LEAP stand out is how it's able to combine durability, functionality, and innovation without having to compromise anywhere. It's hard to find any flaws with the Scalarworks LEAP, and we believe it's truly one of the best on the market.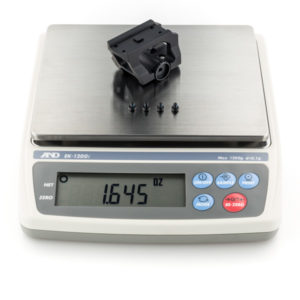 It's extremely durable, featuring super high strength build materials and  long lasting construction. In addition, it's incredibly light. With their lean, ergonomic design, Scalarworks made the LEAP for the efficient shooter. We love this mount, and whether you're a beginner or seasoned vet, the LEAP is an awesome choice.
The Modlite Systems PLHv2 Light Head is a great choice for someone looking for a new light head. This light head is a direct replacement for the Surefire M600DF head, and can be used with the Modlite 18650 body, the smaller Modlite 18350 body, or Modlite handheld light bodies. While lumen output with this light is similar to the Surefire M600DF head, the throw is much better suited to a rifle mounted application at more than three times the amount of throw than the M600DF.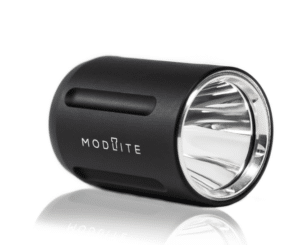 This is what makes this Modlite PLHv2 light an awesome choice, considering just how far it can reach. Lumen output is about the same but throw is much higher performing. It is the best balance of flood and throw available. If you're looking for the best overall output and throw, this is the light package you'll want to get.
We've talked about the FAST micro mount series from Unity Tactical before, and we'll happily mention them again! Unity Tactical's top quality makes them a contender in every product round up, and for good reason. FAST is a series of optic mounts and platforms that provide end users with a quicker sight picture than standard height mounts. We all know how important it is to be able to pick up a target faster, and easier. Its 2.26" optical centerline height provides faster/easier reticle acquisition while wearing electronic earpro/communications headsets, night vision goggles and gas masks.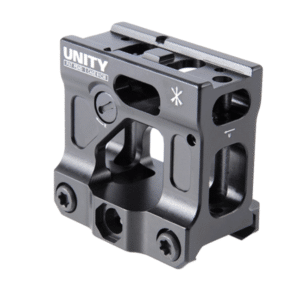 This allows for more rapid visual processing of the battlefield by promoting a heads-up posture. A heads-up posture also helps users maintain a neutral spine position which is more comfortable while wearing helmets, plate carriers, and other heavy gear. To recap, the Unity Tactical FAST Micro Mount will not only help you pick up targets faster, it'll keep you more comfortable by promoting a more neutral posture. All in all, this micro mount has some of the best value we've ever seen, so we definitely recommend it to anyone looking.
It's been an awesome summer so far, and we've got plenty of products for you to try. Check out the rest of our products and if you have any questions, feel free to ask! We'd be happy to help you find your next AR-15 Accessories.