AR-15 Tactical Accessories For Optimal Comfort & Accuracy
When you're needing to use your AR15 for extended periods of time, you can experience a ton of fatigue. Having to carry your weapon and use it with precise accuracy reliably can be a challenge, so it's important to have the right parts that'll guarantee optimal comfort for longer sessions. Let's dive into some AR-15 tactical accessories that will help you shoot more accurately, and allow for optimal comfort the entire way.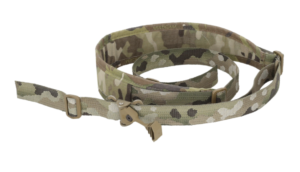 The Ferro Concepts Slingster is arguably the most modular rifle sling on the market. When you look at it, you'll notice the rapid-adjust rubberized pull tab. This allows you to quickly transition your weapon from securely slung to combat-ready. In addition, the no-hole design and enhanced ribbed grip offer greater traction with or without gloves. As far as its build quality, it features an injection-molded flexible rubber base material.
This helps maintain a ready position for quick adjustment of your Slingster. With these practical functions in mind, let's take a look at what it does for comfort. It features an adjustable pad that you can change to your liking. In addition, you can use it in one point or two point configurations. All of these features make this sling from Ferro Concepts one of the most popular in the market, and for good reason. We highly suggest checking this Ferro Concepts sling if you're looking for an upgrade!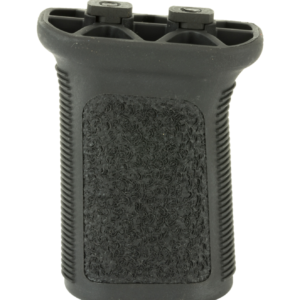 If you've experienced fatigue from using your AR-15 in longer sessions, you should definitely consider a vertical grip. Using a vertical foregrip can change your grip so that you aren't overworked. In addition, a vertical foregrip can help steady horizontal recoil. In a combat type situation, a vertical foregrip is essential in close quarters. For these reasons, we suggest that if you're looking for a change in comfort and performance, you should consider a vertical foregrip.
This M-LOK foregrip from Bravo Company (BCM) is an excellent choice, as its design has some great comfort features. Its low profile length makes for increased mobility, and decreased "snag". Its forward angle increases rigidity, and provides a natural wrist angle. In addition, you can mount it in a reverse angle to increase handguard control. This BCM foregrip is an awesome choice if you're looking to increase your comfort and performance with a vertical foregrip.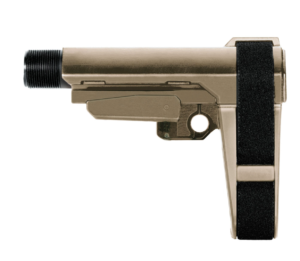 If you use an AR pistol, you need a great brace to keep it stabilized. The SB Tactical SBA3 Pistol Brace does just that. The SBA3 brace works on all platforms capable of accepting a mil-spec carbine receiver extension. In addition, the SBA3 is 5-position adjustable which dramatically enhances versatility, and features a minimalist design with an integral, ambidextrous QD sling socket. One of the best features of this brace is its versatility, and it comes in clutch when you need to adjust on the fly. On the range, you'll notice how convenient this brace is. With its full adjustability, it's super easy to mold to your liking, and it's collapsable, making for easy transport and use.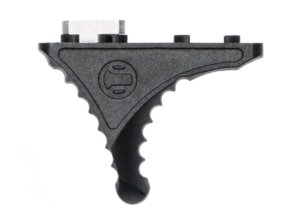 As we all know, the grip you choose makes a big difference in how comfortable you'll be on long sessions. You need the parts that let you do your job comfortably. The Railscales Karve M-LOK hand stop is perfect for just that. This hand stop is a specific High Temp Polymer version. Railscales designed their Karve handstop to be reversible, which allows for either a "push" or "pull" style grip. Focusing as much attention on the contoured front surface as well as the jimped rear, the Karve handstop allows for numerous shooting positions and styles in a compact ultralight package. You can choose between M-LOK or KeyMod hardware for easy attachment to your AR 15's rail system. In addition, the Karve hand stop is available in four popular colors for easy matching with most color schemes.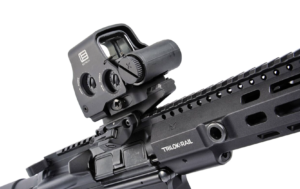 When focusing on accuracy, you need to be able to see your target as fast as possible, with no obtrusions. Unity Tactical's FAST™ is a series of optic mounts and platforms that provide end users with a quicker sight picture than standard height mounts. This riser series from Unity Tactical is increasingly popular because it simply makes life easier for the user. A 2.26" optical centerline height provides faster/easier reticle acquisition while wearing electronic earpro/communications headsets. In addition, it also works with night vision goggles and gas masks.
This riser allows for more rapid visual processing of the battlefield by promoting a heads-up posture. A heads-up posture also helps users maintain a neutral spine position which is more comfortable while wearing helmets, plate carriers, and other heavy gear. This is the perfect accessory for someone who needs it in real life situations, and having to deal with heavy gear. Not only does it allow you to see your target faster, it helps maintain a neutral spine position that benefits you short term, and long term.
Conclusion
Overall, there are a ton of great AR 15 tactical accessories at Milspec Retail that can help your accuracy and comfort. Afterall, whether using your AR-15 in combat situations or on the range, you need to be able to rely on your weapon. These accessories, from vertical grips to risers, can make a huge positive impact on your AR experience.