Top Killer Innovation Accessories for Experienced Users
If you're an experienced handgun user, chances are you're looking to upgrade beyond the regular stock builds you'll find on most handguns. Whether you're looking for specifically home defense, law enforcement, or any other needs, there's great accessories out there from Killer Innovations that'll help you find exactly what you're looking for.
What makes Killer Innovations one of the leading brands out there? They completely conceptualize, design, engineer and develop many products not just for their own brand, but also their partners as well. In fact, it's likely you own and use many of their products and don't even know it! Killer Innovations brings not only state of the art manufacturing to the table, but a turnkey package that delivers unique and innovative product designs. They're newer to releasing their own products under their own label.
However, they've been focusing in on the long-range precision shooting. Additionally, they've expanded into the precision pistol and carbine markets. Their designs are simply revolutionizing these industries with solutions that not only improve accuracy, but look amazing without breaking the bank.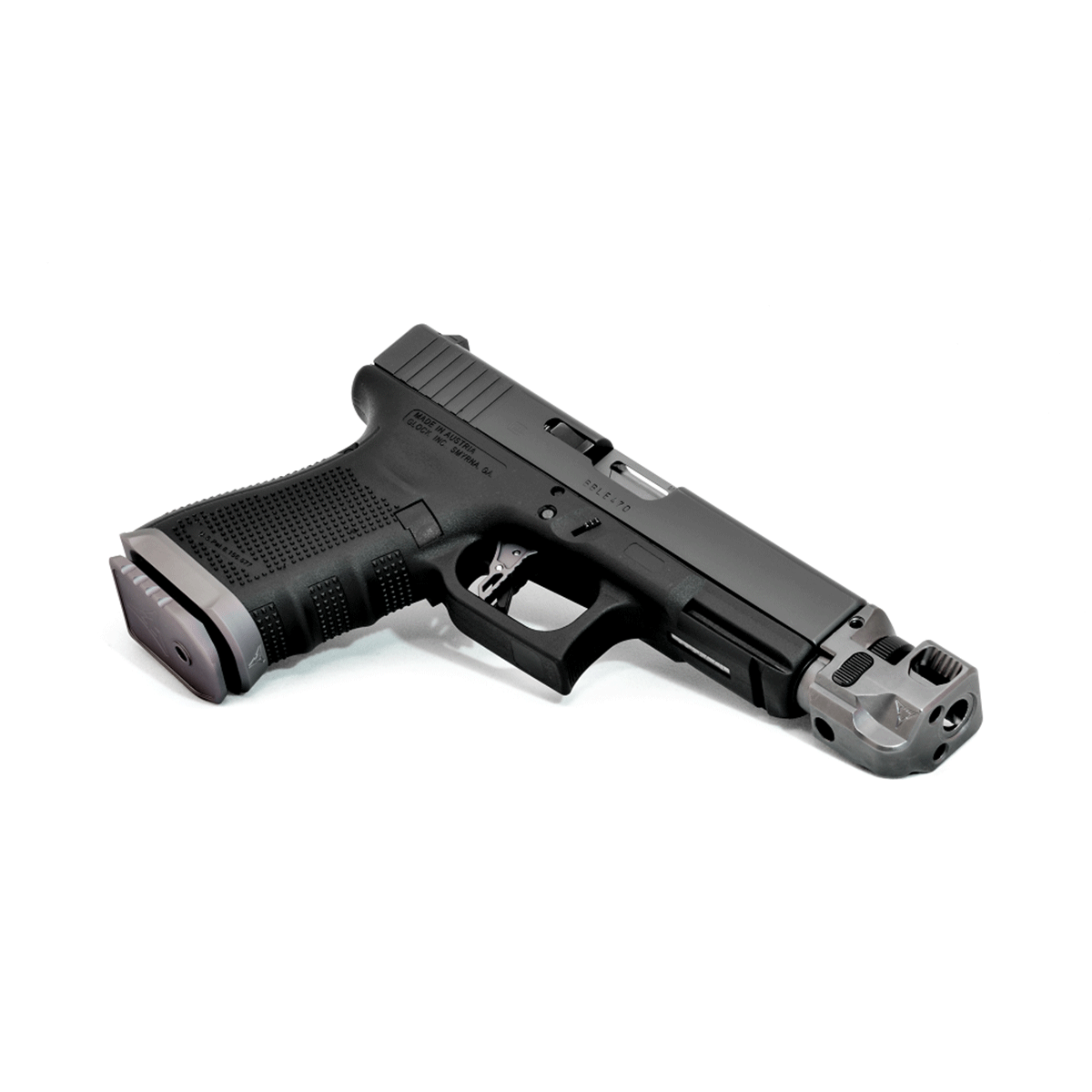 Killer Innovation is one of the best handgun accessories brands out there. They are one of the leading brands in quality and innovation. The Velocity Glock Compensator is no exception. What makes this compensator stand out? For one, it significantly reduces recoil and muzzle climb. Not only that, it attaches in an innovative new way that is completely different from any other compensator on the market.  It also features some key advantages over the traditional methods.
First: You can install and remove it without using tools when using their velocity Mod 2 barrel.  If you're using it with other brand barrels, tools will be required to add or remove the comp, but accuracy will be maintained. Second: The compensator pushes all the way back to the thread shoulder when installed.
Superior Bore Alignment
This provides a superior bore alignment to other comps that are timed short of the shoulder, then set screwed or clamped to the threads. This bore alignment accuracy ensures the bullet is passing directly down the center of the comp with equal air gap around the bullet. This equal air gap eliminates the air pushing to one side and wobbling your bullet. Accuracy down range is the ultimate goal!
Many professional shooters who've used this compensator during testing said this was the flattest shooting comp they've ever shot. If you want a compensator that is extremely accurate and installs easier than any other comp on the market, look no further than the Velocity Glock Compensator.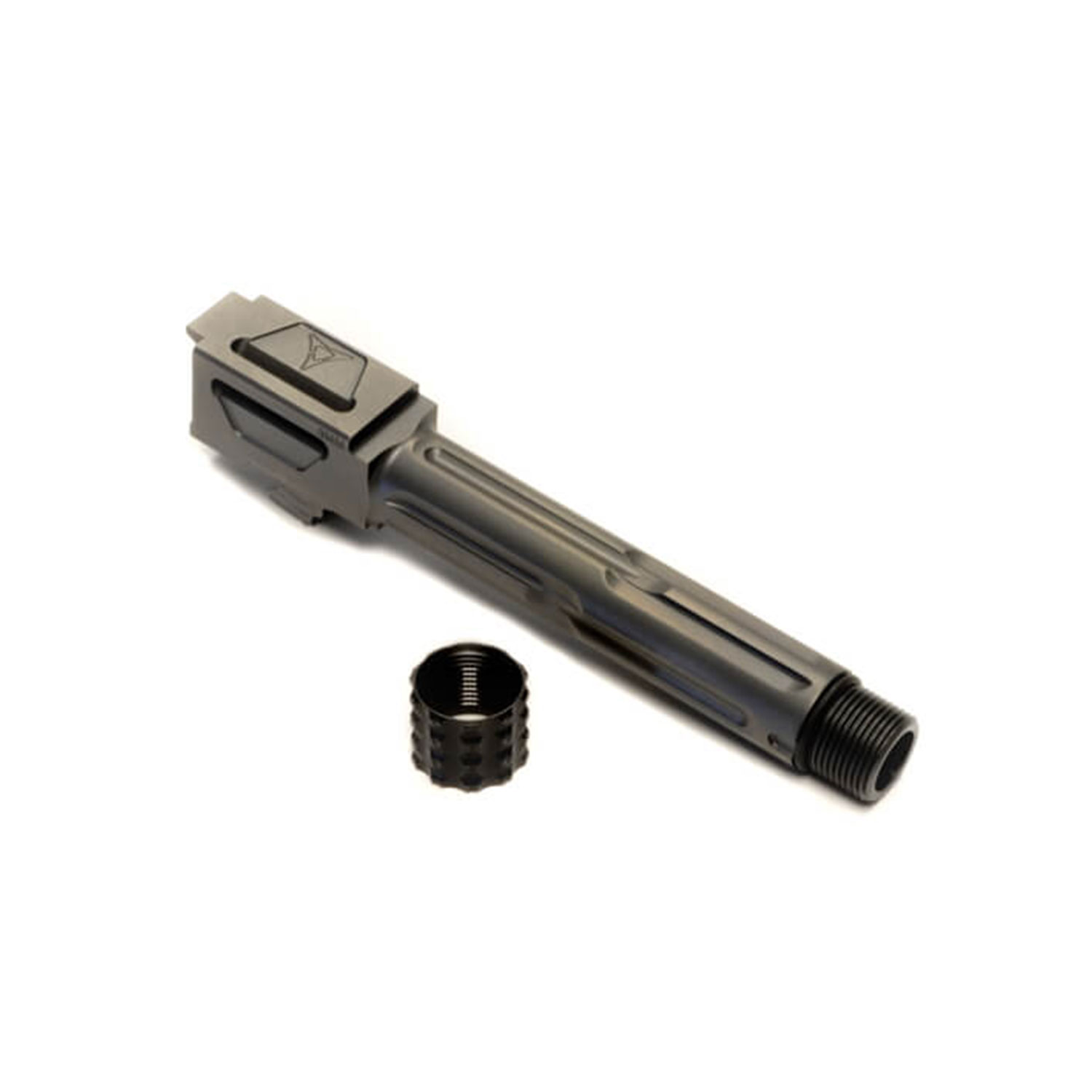 Upgrading your barrel can be a super effective upgrade for your pistol. The Killer Innovations Velocity Threaded Barrel is a great option, compared to stock barrels. Using exceptionally high-grade material and precision machining every feature in one proprietary process, Killer Innovations barrels deliver unparalleled accuracy and performance. Their barrels are machined with an 11° target crown for greater accuracy. Additionally, they are coated with high-quality finishes, ensuring the most accurate, reliable barrels available on the market today.
Killer Innovations Velocity Glock Trigger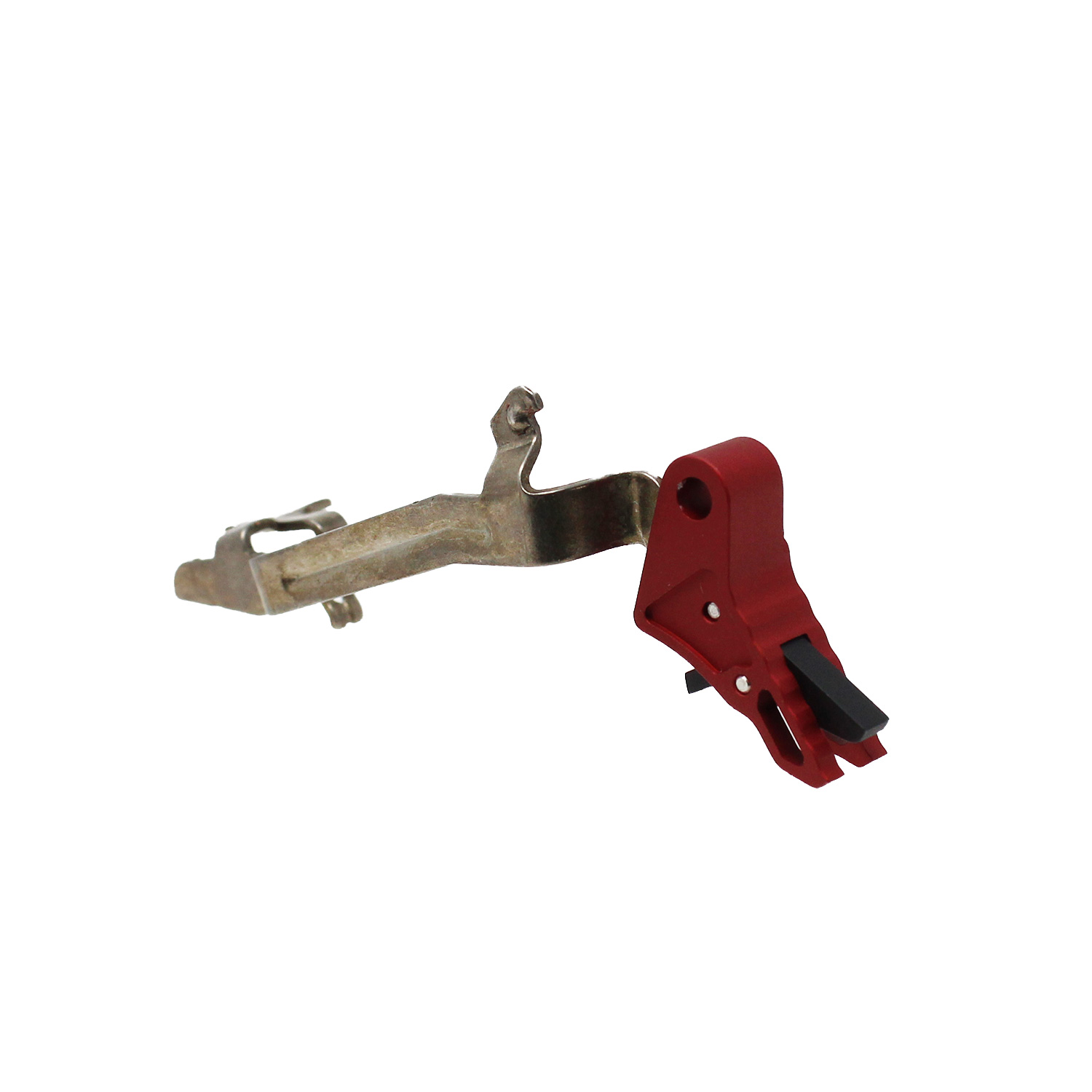 Looking for something beyond the stock trigger experience? If you're an experienced shooter, you've probably noticed the issues with clunky stock triggers. The Velocity Glock Trigger provides a noticeably smoother pull with reduced creep and a positive reset, all without sacrificing safety or reliability. The flat trigger blade provides a stable and textured surface for better purchase and improved trigger control. The Velocity Trigger is precision manufactured from the highest quality materials and is made in the USA. An everyday carry trigger never felt so good! Important to note, due to differences in metal composition and finishing processes, Killer Innovations cannot guarantee exact color matches among their accessory items.
Killer Innovations Glock 17 Velocity Enhanced Mag-Well
Having an enhanced mag-well is a very important feature to have. However, you don't want to have to deal with some heavy, cumbersome mag-well. This is where Killer Innovations steps in. Their enhanced mag-well for Glock 17 has a slim enough profile to be concealed but is carefully balanced with enough flare to provide excellent grip control and aid in guiding your magazine into the frame with confidence and ease. This model easily accepts the factory glock backstraps provided with your pistol with no modification required. Made from precision machined, high-grade billet aluminum, the Velocity Magwell is plenty strong enough for the most demanding user. As with all of their products, the Velocity Magwell is made right here in the USA. When it comes to Mag-wells, we can't recommend this one enough.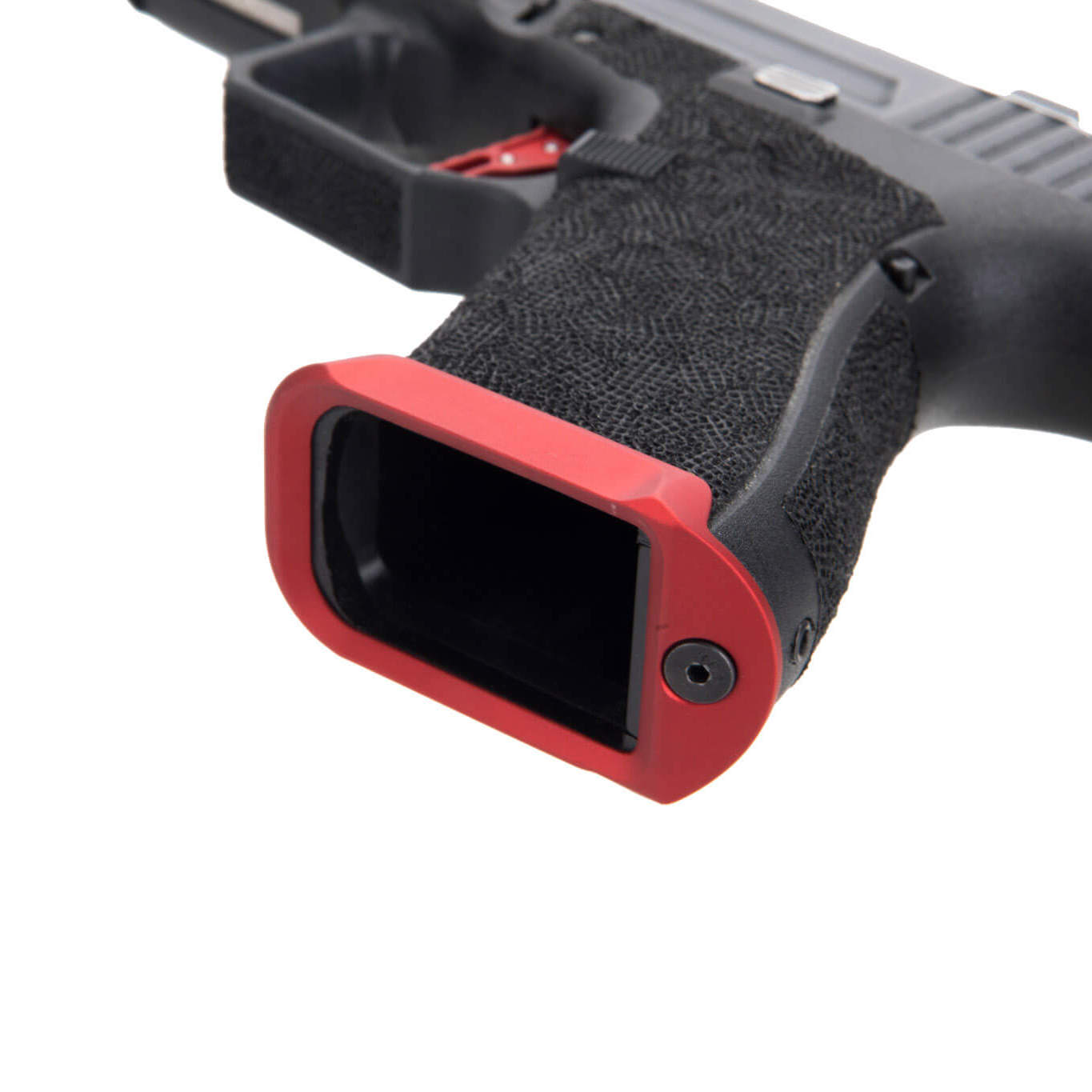 Killer Innovations V1 Velocity Slide for Glock 19 Gen 3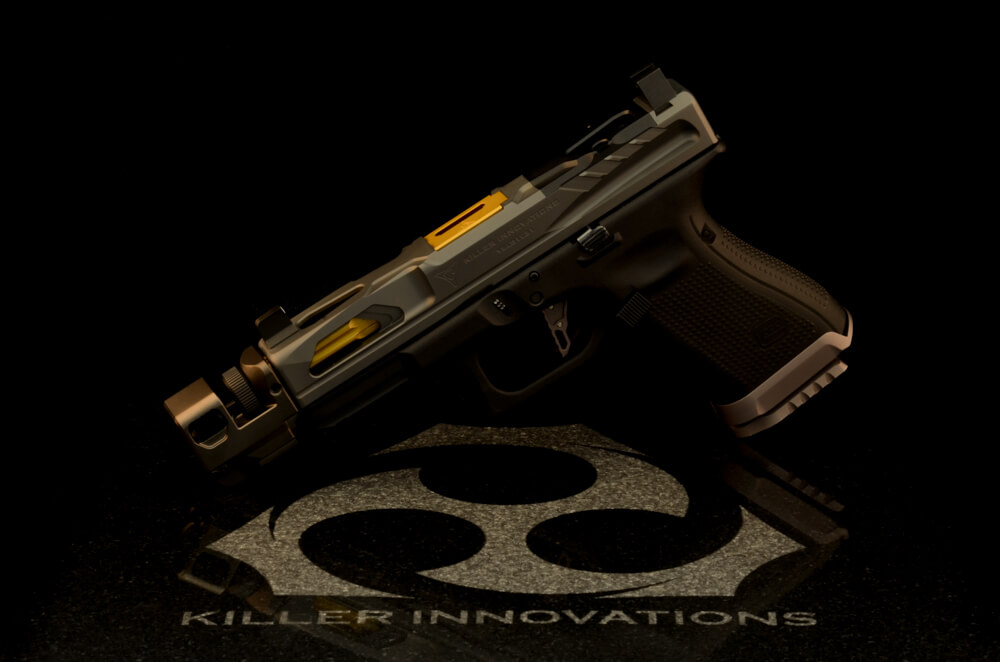 Lastly, we'll be taking a look at the Killer Innovations V1 Velocity Slide for Glock 19 Gen 3. The all-new Velocity Glock Slide "Enhanced Grip Feature" stands out right away. This feature's cuts will simply put change the way you rack your firearm. Enhanced Grip Feature cuts provide a positive wall. This helps you for pushing against when racking your slide, instead of relying only on traditional serration cuts. Enhanced Grip Feature cuts are located at the front and back of the slide. This way, however you prefer to rack your firearm, a perfect grip is always there. This is an awesome feature to have for both experienced, and newer shooters. You can never underestimate the importance of a good grip. This is why the Killer Innovations V1 Velocity Slide for Glock 19 Gen 3 is one of our top accessories we recommend.
Conclusion
Simply put, with Killer Innovations you know you're getting top quality at a great price. We love the innovation they've taken with their products. Not to mention the years of proven quality they've demonstrated with products for other brands. We hope you enjoy this selection of Killer Innovations products. Whether you're a seasoned shooter looking for ways to improve, or someone with a practical need for an accessory change, they have the perfect products that'll make a world of difference for you.