Why You Should Invest in A New Weapon Pouch.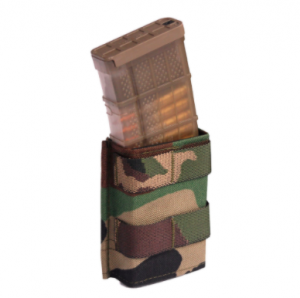 Many Americans are stuck at home during the Coronavirus Pandemic, however, with stay at home order restrictions slowly being lifted, there has never been a better time to invest in new accessories for your firearms. While you may be thinking of accessories like a new pistol light, a new grip, or new barrels, you may be overlooking an essential part of the full sportsman's experience – the pouch.
Why Do Pouches Get Overlooked?
AR-15 users often overlook the importance of having a great weapon pouch. As a platform to which a seemingly endless array of accessories can be added, an AR-15 is a truly personalized firearm that can easily be matched to the shooter's unique shooting style and preferences. Most AR-15 parts are easily attached to rails and handguards incorporated into the AR-15's upper and lower receiver, resulting in increased shooting comfort, accuracy and enjoyment. 
Certain AR 15 attachments are more commonly thought of, but AR 15 parts like weapon pouches are just as important, yet often overlooked because they do not directly impact the performance of the rifle itself. 
What Are The Uses of a Weapon Pouch?
People use weapon pouches for a variety of reasons. Some of the reasons include to store more ammo, to use for medical purposes, or just simple convenience. Weapon pouches help manage the user's experience so they can focus on the other aspects of shooting. Weapon pouches prevent wasted time and dealing with clutter, and parts lost. Regardless of the purpose, ESSTAC has a weapon pouch for you. From their humble beginnings in a garage on Camano Island, this company has continued to put out some of the best nylon gear in the world. 
Our Recommendations
Especially impressive is the ESSTAC KYWI series of pouches, which has become synonymous with minimalist design and superior function. At Milspec, we are proud to stock a wide array of ESSTAC pouches! Here are some of our favorites. 
This weapon pouch by ESSTAC has a straight forward, user friendly and highly intuitive design. The single mag pouch utilizes a hybrid kydex and nylon design. It has all the rigidity needed to perform, and also the lack of noise you want from a nylon pouch. 
These Esstac pouches feature a kydex wedge insert (KYWI) that provides the necessary retention to secure your magazines without the need for bungee cord for rapid mag changes. This pouch is like no other!
The DStac Med pouch is another of our favorites by ESSTAC. This tear away weapon pouch can carry a CAT/SOFTTW and up to a 6 inch Isreali bandage, with additional storage inside the pouch for small items. 
The pouch features Velcro for extra security, as well as a buckle closure, and the top flap has loop Velcro for attachment of medical patches. If you are looking for a pouch for medical purposes, this is the one for you!
Our final honorable mention from ESSTAC is this Side By Side KYWI Pouch. The design is very similar to the single mid length KYWI pouch we mentioned above, but with added storage. 
Right handed or left handed shooters can use this pouch with ease. Simply take the kydex wedge inserts out, turn the pouch around, and reinsert the kydex wedge inserts. 
As a versatile firearm, an AR-15 lets you create a completely customized gun suited to your shooting style preferences. While weapon pouches are not usually one of the first AR 15 parts that come to mind, they are important!
 Clearly, there are many impressive pouches available on the market. Next time you are looking to accessorize your rifle, we highly recommend checking out ESSTAC for some new pouches.