Weapon Lights: Are They Worth It?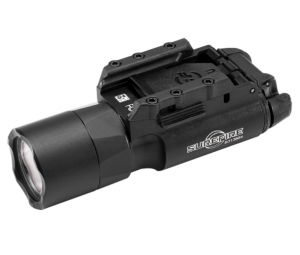 It would seem to be a natural assumption that when operating a gun, proper light could only be a good thing. However, the weapon-mounted light remains the subject of some controversy. Many people believe that a weapon mounted light is simply not a necessary gun accessory, and discussions of weapon lights often become a debate of weapon lights versus handheld lights.
Before we address this topic, it is important to understand what a weapon light is and why it is used. A weapon light is used in conjunction with a firearm to aid low-light target identification, allowing a person to simultaneously aim a weapon and illuminate the target. 
Who Uses Weapon Lights?
For law enforcement purposes, such as by SWAT, police, or military, the benefits of a weapon light are evident. They allow the officer to use a two-handed grip on their pistol, which is superior in accuracy and mechanical functioning to the lone grabber option. However, weapon lights are useful not only for law enforcement purposes, but also in everyday circumstances. The question is, for an everyday user, are weapon lights worth it? 
To answer this question, you must consider the pros and cons of using a weapon light with your firearm. One main application of weapon lights where the benefits are readily apparent is in self defense situations. You never know where home defense situations might arise. What if you are in a position where you have to defend yourself in less than optimal light circumstances?
Pros and Cons
 In cases like this, a weapon light would be very advantageous! The light will help determine whether there is a legitimate threat before pulling the trigger, and could also disorient a potential attacker, giving you potentially life-saving extra time.
 Moreover, shooting with a weapon mounted light allows for far greater speed and accuracy than using a handheld light. The weapon light also acts as a counterweight, allowing for faster follow up shots. If you are ever faced with a home invasion, a weapon light might make the difference between life and death.
Safety Precautions
Although there are clearly many advantages to using a weapon light in conjunction with your firearm, there are drawbacks. A primary concern with a weapon mounted light is that whatever is lit by the light is also covered by the muzzle.
Essentially, the concern is that you cannot use a weapon light without pulling out a gun, raising the risk of pointing a gun at illegitimate threats. Remember that weapon-mounted lights are a supplement to, not a replacement of, a handheld flashlight. 
You can still use your handheld flashlight to survey the area before pulling out your firearm. Also, you could point your weapon mounted light at the floor to identify a potential threat before pointing your gun at them. 
Other concerns revolve around the heavier weight of weapons with mounted lights, yet with a proper amount of training this concern is also not as glaring as it may appear at first glance. 
Final Verdict
So what is the verdict? The way we see it, weapon lights are definitely worth it. The greatest attribute of a weapon mounted light is that it allows for a normal two-handed grip on the pistol, allowing for greater speed and accuracy and keeping officers and everyday users more safe.
Though we recognize the concerns with a weapon mounted light, they are greatly diminished when you consider the fact that a weapon mounted light does not need to replace a handheld. With proper training, a weapon mounted light can be the perfect supplement to your firearm, allowing for increased speed, accuracy, ease of use, and safety. With all these benefits, they are surely worth the investment and adjustment. 
Now that we have explained the importance of weapon mounted lights, let's discuss our recommendations. SureFire is the best flashlight brand, for both automatic rifles and handguns. The SureFire name has become synonymous with excellence in hand-held light tools, telling a story of what can be accomplished with light. They have a vast array of incredible products, but here are our top picks.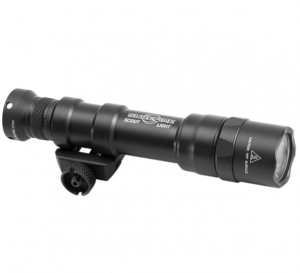 The M600DF Ultra Scout Light is a lightweight, compact WeaponLight featuring an ultra-high-output LED that delivers 1,200 lumens of blinding white light with 123A batteries and 1,500 lumens of light with the SF18650A rechargeable lithium-ion battery.
A proprietary Total Internal Reflection (TIR) lens shapes the recoil-proof LED's light into a beam with plenty of reach but enough surrounding light to accommodate peripheral vision, making the M600DF ideal for medium to long range applications.
 The rugged M600DF attaches quickly and securely to any MIL-STD-1913 rail via its integral thumbscrew clamp. A slight press of the Z68 tailcap switch will activate the momentary-on, while fully depressing the tailcap until it clicks will activate constant-on.
Constructed of lightweight aerospace aluminum, with a Mil-Spec Hard Anodized finish, and O-ring sealed to keep out the elements, the tough M600DF will endure combat-like conditions without any sacrifice in weapon maneuverability
This is one of the best weapon lights on the market.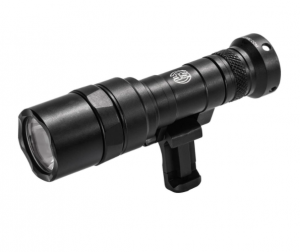 The ultra-compact Mini Scout Light® Pro is the next generation in SureFire's trusted Scout Light WeaponLights. Featuring SureFire's new Low-Profile Mount (LPM), the Mini Scout Light Pro delivers unprecedented versatility by allowing the user to optimize the light's position relative to the handguard and the laser aiming device (if installed). Rugged and reliable, the LPM can be easily and securely attached to any MIL-STD-1913 (Picatinny) or M-LOK rail, and every Scout Light Pro model includes mounting cleats for both rail styles. The Mini Scout Light Pro's recoil-proof, premium LED generates an impressive 500 lumens from a single 123A battery. Focused through SureFire's proprietary TIR lens, it produces a far-reaching, high-intensity beam with ample surround light. This is another product to look out for!
The innovative, highly versatile SureFire X300V boasts white-light and infrared output capability from its all-LED V-Series head. This light also securely mounts to most handguns and railed long guns. Switch easily between modes by pushing and twisting the knurled self-locking bezel selector.
By now you have seen the importance of weapon mounted lights. When used in conjunction with a firearm, a weapon mounted light will aid low-light target identification, allowing a person to simultaneously aim a weapon and illuminate the target. In doing so, the light aids in convenience, speed, accuracy, and safety.