AmeriAs we all know, having a great, high performing charging handle is extremely important. While it's tempting to spend big on other AR accessories, focusing on your charging handle can reap big time benefits the next time you need your AR. No matter what your needs are, there are some great options when it comes to charging handles, and in this article we'll be covering our top 3 picks for AR owners of any level.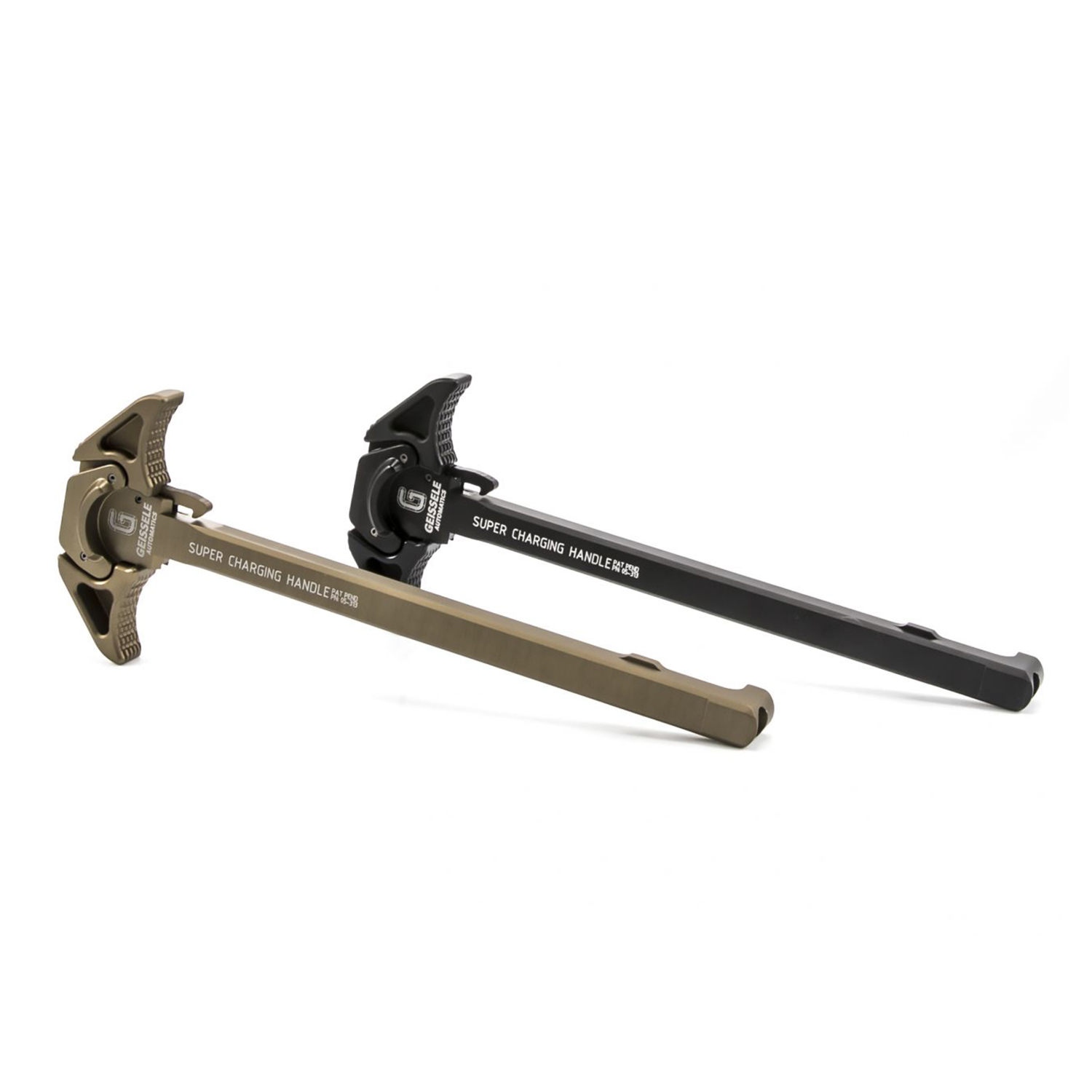 We love Geissele not just for this product in particular, but for the workmanship and quality they put into all of their products. Geissele was created in 2004, and has been working closely with both the military and law enforcement to make top quality products like triggers and charging handles. The Geissele Super Charging Handle is no exception when it comes to features, durability, and quality.
The Super Charging Handle is 3D machined from a solid block of aircraft-grade 7075-T6 aluminum. For both lefties and righties, its ambidextrous design allows for seamless operation from either side of the weapon. The levers are dual contoured similar to that of the charging handle of an M14, where not only the x-axis but also the y-axis receive radius cuts. It features a ton of great features as far as usability. Its checkered handling level surface adds a textured grip that aids when operating with gloves.
The heightened rear lip of the SCH also aids in mitigating gas blowback to the shooter when shooting with short barreled and suppressed weapon systems. All parts are available in black and DDC (Desert Dirt Color). This charging handle is a great choice for those looking to upgrade, especially at a great price.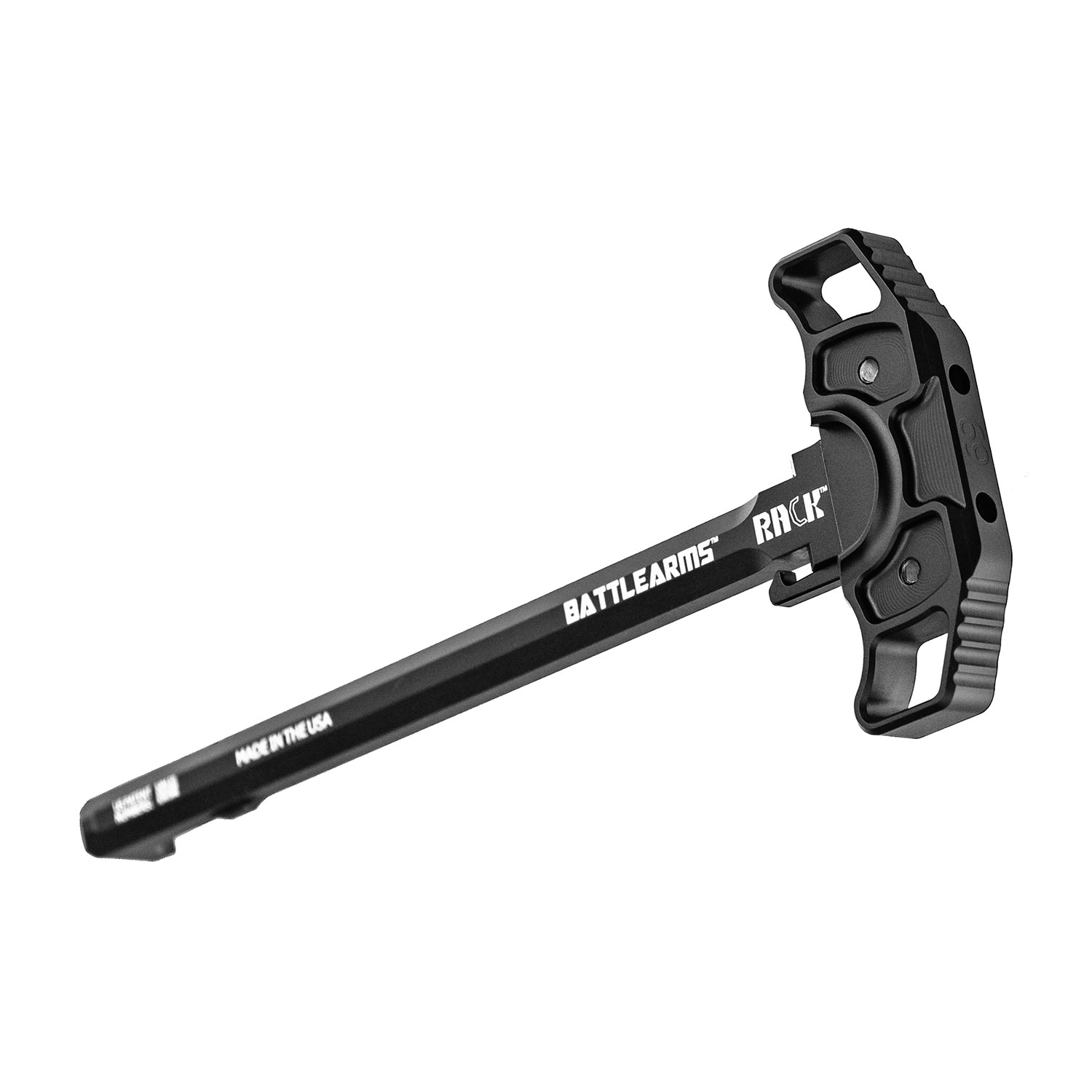 What Battle Arms Development has done with their RACK Charging Handle is truly original. Their patented design has some incredible features that make this charging handle super underrated and a great choice for anyone. The RACK features no weak roll pins, which takes out the inconvenience of when roll pins typically fail on other builds. In addition, the Rack features are a smooth sliding latch that slides parallel with the receiver notch for slick, and quick release.
This not only ensures a faster, more efficient process, but helps minimize wear and tear. Its asymmetric charging handles left or right with ease, and performs with consistent and positive assurance. Finally, the RACK features a monolithic modular handle, machined from one piece of aluminum for optimal strength. The USA made Battle Arms Development RACK Charging Handle features top durability and performance.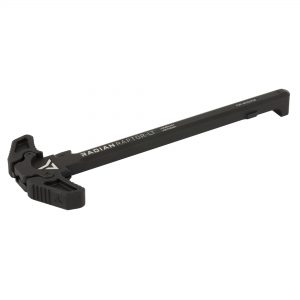 Radian's top reputation comes from their highly innovative and superb quality products. They've revolutionized many parts of the industry with their forward thinking, including with this product, the Radian Raptor LT Charging Handle. Many have mistakenly confused this charging handle for being plastic or polymer, however that is not the case. This charging handle is made from super high strength 7075 MIL-SPEC aluminum, like all other Raptor models.
The truth is, this model of the Raptor has even more strong durability with its fiberglass reinforced polymer on top. Compatible with AR15/M16 or AR10/SR25-pattern rifles, the Raptor-LT is available in black, flat dark earth, and grey, all designed to match standard Magpul color offerings. Like all Radian products, the American Made Raptor-LT comes with a limited lifetime warranty.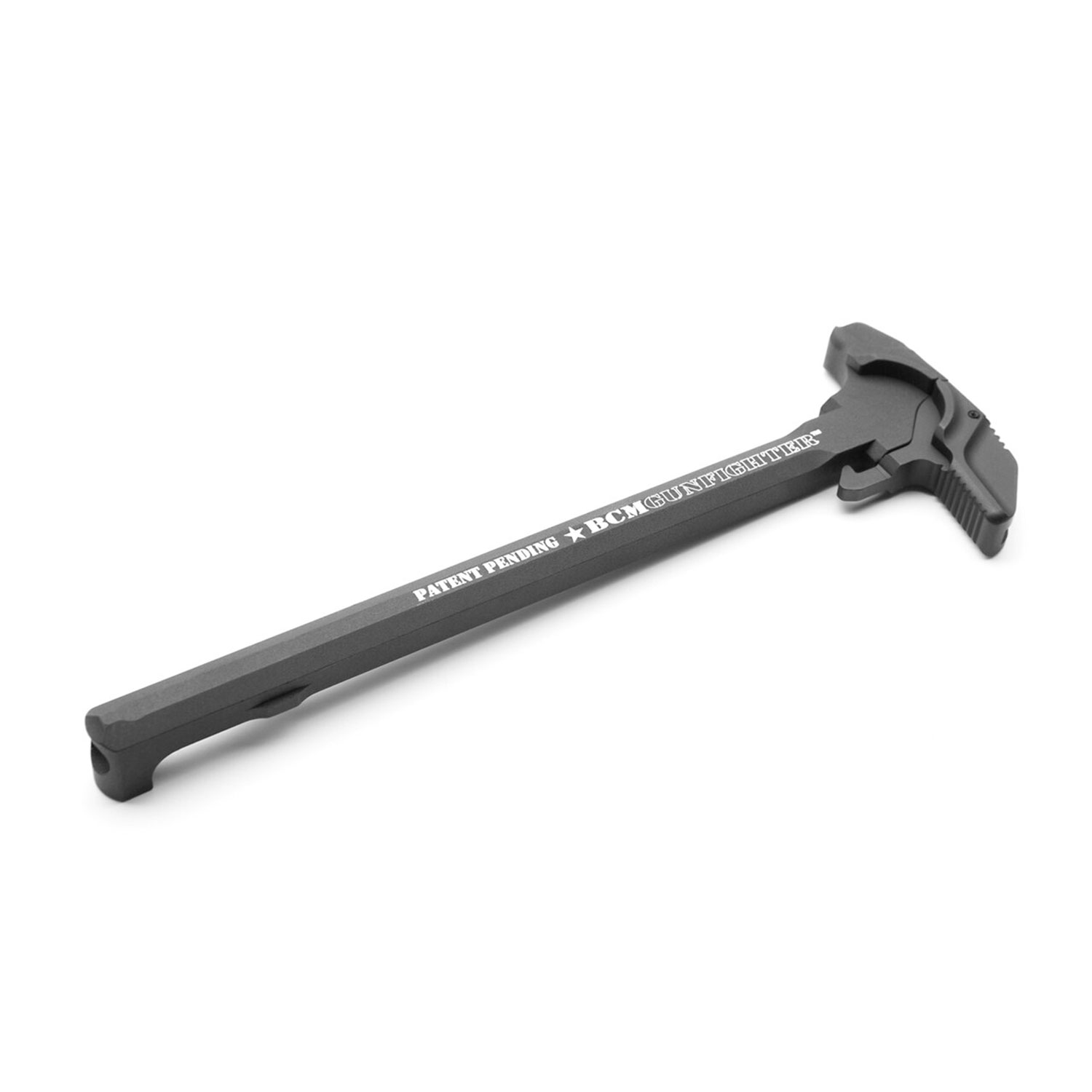 Designed with feedback in mind from real-world combat operations, BCM has made continual refinements and structural improvements to their charging handles to address the current manual of arms for the weapon system. This means that with all of the constantly evolving tactics used in real world combat situations, the BCM Gunfighter charging handle is up to the task. The most noticeable features on this charging handle are the latch and release. The latch is perfect for reliable durability, and you won't have to worry about any flimsiness with this model.
The rear of the latch makes for a perfect fit with the back of the handle. This helps redirects all force onto a one handed rack in the centerline. What this results in is a very traditional control pull feel that can be made faster and more seamless with just one hand. The range of BCMGUNFIGHTER Charging Handles is available with both ambidextrous and MIL-SPEC controls. In addition, its design eliminates the load on the pivot pin (like the USGI handle fitted with an extended latch). The BCM GUNFIGHTER Charging Handles provides a larger uninterrupted engagement surface with a smaller silhouette.
Conclusion
Overall, there's a ton of great options to choose from if you're looking to upgrade your current charging handle. When you're dealing with something that helps you chamber rounds, clears a weapon, helps eject stuck rounds, it's important to put the value to the cost and fully check out your options before settling on one. No matter what you decide to go with, Milspec Retail features great options, and we can help you get started today, so check out our inventory today!