Top 3 Most Overlooked AR 15 and Pistol Accessories

A Brief overview of the AR 15
The AR-15, derived from ArmaLite's original military rifle, is extremely popular across the United States. One of the main reasons for its popularity is the fact that the AR is extremely versatile. If you are looking for home protection, or a fan of hunting, you're going to want the best accessories for your gun. 
However, it is easy to get overwhelmed with the great amount of of accessories available. Let's discuss three of the most overlooked AR 15 and pistol accessories that you should take a look at today, as well as the companies that produce them! 
The first company we'll take a closer look at is Haley Strategic, which produces one of our favorite mounts. Haley Strategic started with Travis Haley, a veteran Force Reconnaissance Marine with 15 years of dedicated experience including combat tours in the Middle East, Africa and Central Asia. 
After leaving the military, he partnered with Magpul as founder and CEO of their training division, Magpul Dynamics. Mr. Haley then went on to serve as CEO of Magpul Industries, before finally moving on to the endeavor that would become Haley Strategic Partners.
 Haley Strategic Partners strives to push the boundaries of understanding in order to allow each individual to grow from within, rather than through methods. They offer training courses, as well as hard goods, soft goods, and lifestyle gear. Though all of Haley Strategic's products are impressive, one product in particular stands out to us!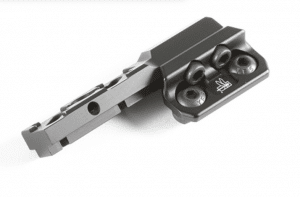 IWC Haley Strategic Thorntail: The Thorntail2 M-LOK SBR is an amazing collaboration between Impact Weapons Components and Haley Strategic weapon light mount. This three position laterally adjustable mount provides a quarter inch of light adjustment, moving the light closer or farther from the bore to accommodate BUIS, Laser Aiming Modules, and more! 
This product features a box construction design of the light mounting pocket, which increases strength while simultaneously reducing overall weight. By using the Forward Cantilever Design to move the light in front of the rail, you are able to create more usable space on your hand guard. This light mount directly attaches to any M-LOK compliant rail system, and is also ambidextrous with 6 total mounting solutions on a 6 sided M-LOK compliant rail system. 
Another company that deserves more recognition is Scalarworks. Scalarworks is a shooter driven company that designs and makes high performance firearms accessories for military, law enforcement, and civilian use. Their primary mission is to enhance the capabilities of law abiding shooters through superior sighting. 
This company's products have a great mix of form and function, making them valued by customers all over! Though they have an impressive list of products, there is one we'd like to introduce specifically.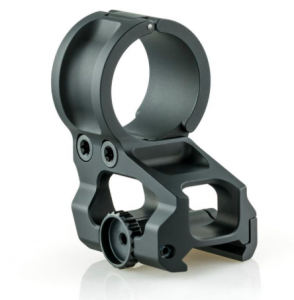 Scalarworks LEAP / PRO Quick Detach Mount: This Scalarworks product is a state of the art Aimpoint PRO mount. This mount holds and returns to zero under any condition! Its engineering quality also makes it the lightest AImpoint PRO QD mount. 
Despite being the lightest of its kind, this mount does not compromise an ounce of strength! In fact, the Leap is the strongest Aimpoint PRO Quick Detach mount we have ever tested. With no protruding levers or knobs, the mount is incredibly sleek. If you are a shooter who wants the most compact quick-detach optic mount possible, this is the design for you!
The final company we want to touch on is Kagwerks. Kagwerks is a veteran owned company including a team of individuals with decades of design and engineering experience. The Kagwerks team is dedicated to the core values of integrity, innovation, and professionalism. 
Kagwerks continues to translate real-world experience into intuitive ergonomics and premier design. Let us introduce a product that is the perfect example of their forward thinking design.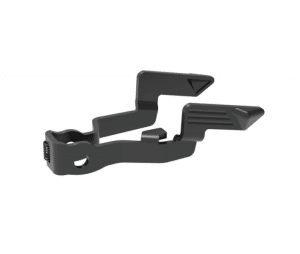 Kagwerks Extended and Raised Slide Release: As shooting proficiency grows, so does the way a shooter grips the gun. Using the standard slide release presents certain limitations that can hinder performance and ability for more advanced shooters. 
This extended and raised slide release offers a unique advantage to trained shooters with a high position grip. If you are beginning to notice yourself leveling up in shooting proficiency, consider using this product! It is compatible with a variety of Glock Models. 
Final Thoughts: The AR 15 and Accessories
The AR-15 is America's rifle largely because of its accessories. Countless brands offering various accessories are constantly available on the market, allowing you to customize your firearm to your liking. We highly recommend you check out some of the companies and their leading products. You'll never overlook them again!