Understanding AR-15 Parts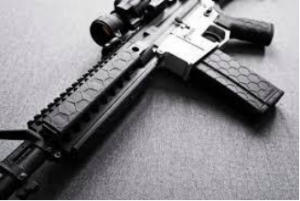 The AR-15 is extremely popular across the United States, in large part due to its versatility. With just a few accessories, you can quickly alter the rifle's purpose. The adaptable nature of this rifle makes it suitable for a variety of uses, from self defense to hunting to recreation and more. We'll get into all the components that are a must have to build your dream AR-15, but first let's get familiar with how the AR-15 became America's rifle.
History of the AR-15
The letters "AR" come from the name of the gun's original manufacturer, ArmaLite, Inc, though many assume that "AR" stands for "automatic rifle." In the late 1950's, ArmaLite developed the AR-15 as a military rifle. When they did not meet immediate success, Armalite  sold the design to Colt several years later. In 1963, Colt was selected by the US Military to manufacture a particular version of the automatic rifle, known as the M-16.
This version eventually became the standard issue for US troops, so Colt took the opportunity to produce a semiautomatic version of the M-16 to market to the public, marketing it as the AR-15. When their patents expired, many other manufacturers seized the opportunity to make similar models. Though each manufacturer gave the weapon their own names, the already well-known AR-15 became a generic term for all different types of AR-15-style rifles.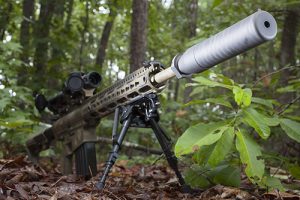 Now that we've covered the AR-15's popularity, let's discuss what parts make up the famous automatic rifle. On a basic level, an AR-15 is composed of an upper receiver and a lower receiver. The upper receiver group is the portion that consists of the upper receiver, barrel, forend, bolt carrier group and charging handle, as well as other AR-15 upper receiver components.
This device attaches to your rifle's lower receiver to form your fully-functional weapon. Some of the most common parts include charging handles, rail guards, and rifle stocks. All of these gun attachments serve their own distinct functions, and bring different advantages to your shooting experience. Let's talk a bit more about what specific function each of these popular parts accomplishes. 
AR-15 Charging Handles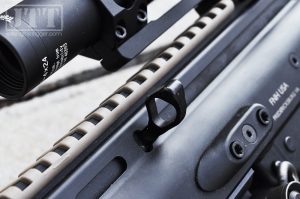 A charging handle may appear small at first glance, it serves a huge role. Appearing like nothing more than a thin, rod-shaped object, a charging handle is actually an essential upper receiver part. It cocks the hammer and moves the bolt into the ready position. This allows you to move the bolt to the rear while cocking.
It also allows you to eject unfired cartridges from the chamber and clear malfunctions. A properly functioning charging handle is essential to the efficacy of your rifle! 
There are many charging handles on the market, but there are certainly some frontrunners. Made in the USA, The Radian Raptor is revolutionary in design & function. As an ambidextrous handle with rapid palm "blading" or finger thumb charges, it allows for fluid and fast charging from either hand. It is MILSPEC anodized and made from only the finest aircraft grade aluminum. If you are on the market for an ambidextrous charging handle, this is one of the best.
Another one of our favorites is Geissele Automatics' Super Charging Handle which is 3D machined from a solid block of aircraft-grade aluminum. With an ambidextrous design, this handle allows for seamless operation from either side of the weapon.
The handling surface of the lever is checkered, which adds a textured grip to make operation with gloves easier. The heightened rear lip of the SCH mitigates gas blowback when firing with shorter barreled or suppressed weapon systems. This handle is simply one of the best.
AR-15 Rail Guards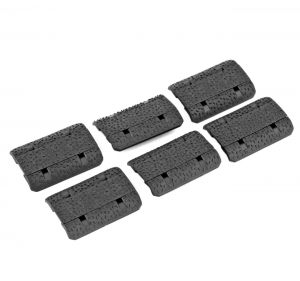 With repeated firing on the range, the barrel of your rifle can get hot very quickly. That's where rail guards come in! They protect your hand from this heat, offering superior grip and allowing you to enjoy a comfortable shooting experience.
Rail systems and handguards are also the areas on the firearm that allow for AR-15 parts and accessories such as lasers, flashlights, optics, grips, sights and bi-pods, which allows you to customize your rifle according to your intended use! Like any AR-15 accessory, there are many products available on the market. We recommend Railscales, which single-handedly innovated the machine scale concept and remain at the forefront today!
One of Railscales' top products is the High Temp Polymer Rail Scales. These scales use the same patented textures and hardware as their machined G10 line of rail scales, but in a more affordable heat-stabilized nylon.
This product adds texture, grip, and heat protection to your KeyMod or M-LOK rails. By utilizing high temperature, heat stabilized, and glass filled nylon, Railscales achieves almost the same heat-resistant properties as the more costly G10. If you haven't already, you should definitely check these out. 
Gun Stocks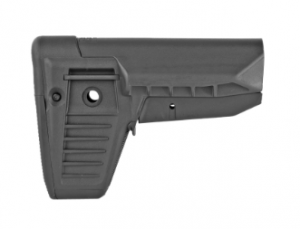 Another essential part of an automatic rifle is the rifle stock. This portion of the AR-15 provides structural support, and attach the barrel, action, and firing mechanism. The rifle stock allows the shooter to brace the gun while aiming, placing it against the shoulder.
This increased stability allows for easier aim, which improves shooting precision. The stock also transmits recoil straight into the shooter's body, helping to counter the muzzle rise. Overall, the stock is necessary to have a comfortable shooting experience, while also ensuring you can effortlessly aim. 
One of our favorite rifle stocks is the Bravo Company BCM Gunfighter SOPMOD Stock – Mod. This rifle stock is strong and lightweight for your mil-spec receiver extension! It features a more pronounced cheek weld for optimal repeatable accuracy. The stock has a snag free design, with no sharp edges to prevent tangling of the rifle with other components.
It also contains a sling tab that interfaces with the shooter's riggers' band or bungee in order to secure the shooter's sling against the stock when the carbine is not being used. The rifle stock also includes two different types of ambidextrous sling mounting options, a storage compartment, and a built in rubber butt pad for secure shoulder placement. You simply cannot go wrong with this rifle stock.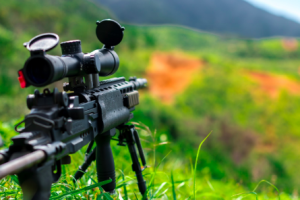 There are many parts that make up the impressive and popular AR-15, but there are definitely some attachments that you cannot pass up! Each different part of the firearm, particularly those we just discussed, have the ability to aid in comfortability, accuracy, and functionality. Investing in some quality parts can vastly improving your shooting experience, so consider looking into some of these upgrades today!