The Best AR-15 Upper & Lower Part Kits
If you're just getting started with your AR-15 build, having an upper or lower parts kit ready to go can save you time and money. Let's break down a few of our favorite upper & lower part kits from trusted brands like Bravo Company, Arisaka Defense, & more.
You might be looking at some accessories that can help out in more subtle ways. Instead of a new optic sight, why not check out something like a buffer kit? What stands out about this buffer kit is the carrier support extensions. These fully support and guide the bolt carrier group into the buffer tube after firing rounds, preventing carrier tilt and unnecessary wear on key components.
The Carrier Support Extensions also extend on either side of the buffer retaining pin, securing the pin in place while simultaneously preventing the buffer tube from backing out under recoil. Next, let's take a look at the super helpful Position Guide Drain Holes. Each position guide features a drainage hole that removes water from the system in marine environments. During routine operation, smoother cycling happens by allowing additional air to escape during the compression cycle of the rifle. Next up, the Ramped Tube Design.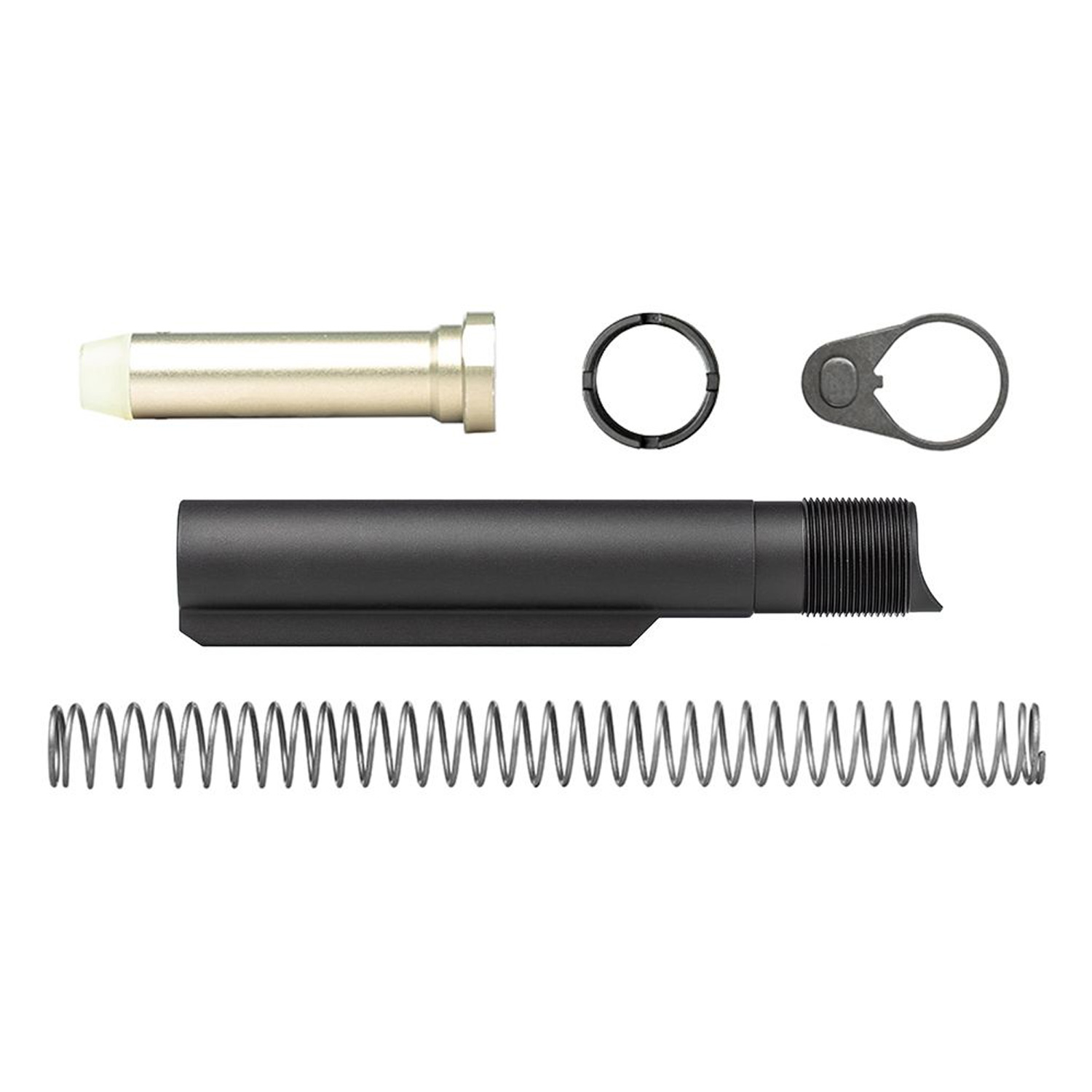 This allows for effortless installation of traditional carbine stocks. Aero Precision has removed the need for tools like screwdrivers to get equipment over the end of the buffer tube. All you have to do is hold down the adjustment piece and push your stock onto the Enhanced Buffer Tube. It doesn't stop there, next we have "Proper Thread Depth". The traditional buffer tubes feature extended unused threads that can cause your stock to become trapped when fully collapsed. While some turn these threads down, they've correctly machined the threads to the proper depth, providing a much cleaner look. Finally, it features Mil-spec Dimensions – Machined from a 7075-T6 Aluminum Impact Extrusion. All standard carbine stock options made to work with mil-spec buffer tube dimensions are compatible with their Enhanced Carbine Buffer Tube. Overall, when looking at new gun parts & accessories, this is an excellent kit to have.
The Geissele Ultra Duty Lower Parts Kit is the best for the most demanding operators and includes all the internal parts necessary to complete or rebuild your lower receiver. This top-tier LPK features proprietary Geissele designs, which always feature superb attention to detail. The key components feature Stainless Steel, which offers a much longer life-span and a much lower chance of rusting or failing in extreme conditions or under heavy use. This makes this kit an excellent choice for those using it in heavy weather conditions.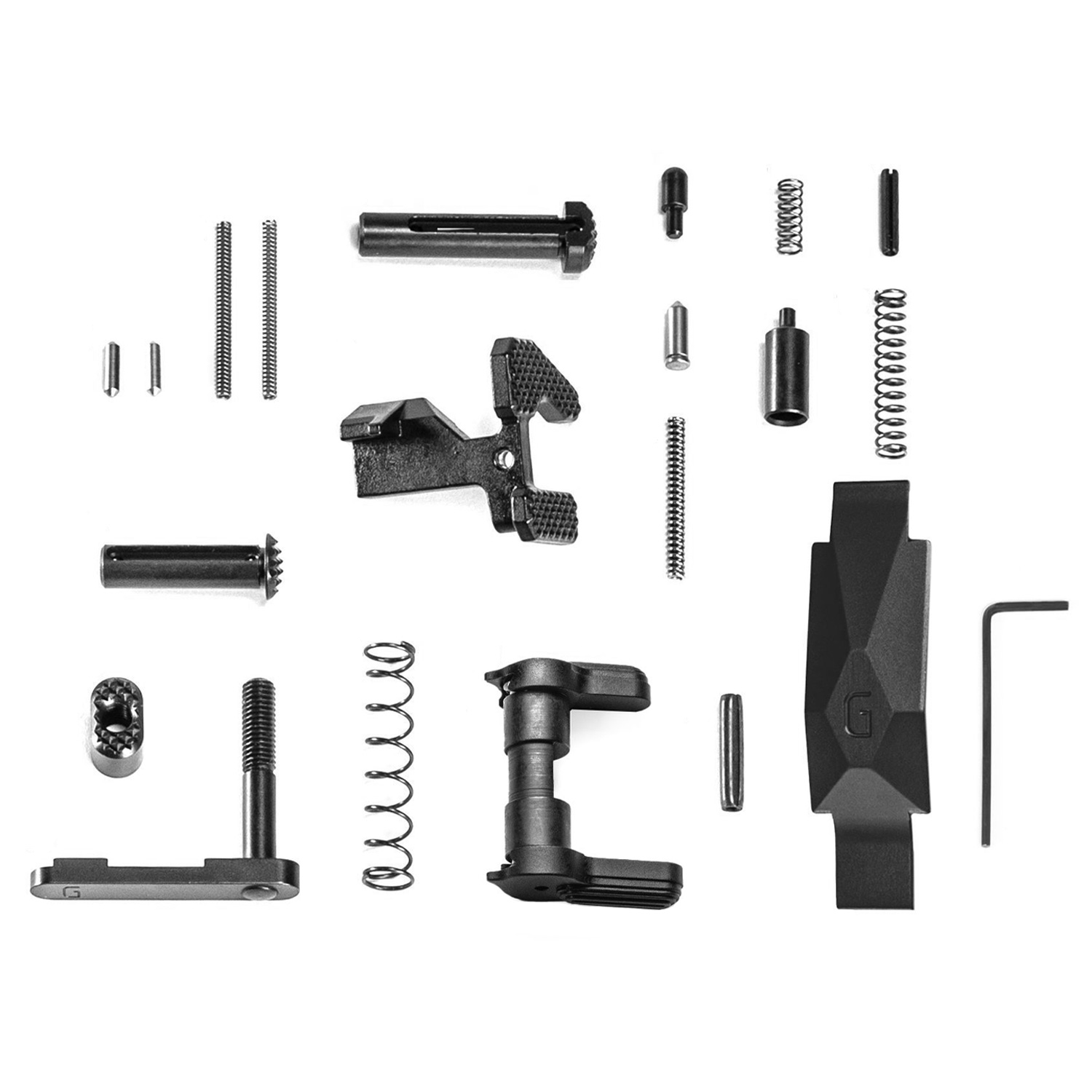 The Geissele Ultra Duty LPK includes their Maritime Bolt Catch, famous for its aggressive texturing and extended paddles, and the Ambidextrous Super Configurable Safety, which features the ability to easily and securely swap and exchange the safety levers. Plus, it provides the end user a satisfying and positive tactile feedback when engaging the safe or fire position. Moving on to the next parts, the takedown pins and mag release button feature the same tank treading as the Maritime Bolt Catch, which gives your firearm a tasteful and cohesive look. Included in the Ultra Duty LPK is Geissele's Ultra Precision Trigger Guard, 5-axis machined out of a solid block of billet 7075 -T6 aluminum and Type-3 hardcoat anodize to ensure that your build stands apart from any other.
For this last lower kit, we'll be taking a comprehensive look at this spectacular set from Bravo Company. What makes BCM one of the best in the business? To start, they feature all American made parts. Compared to some other vendors, this offers an automatic step up in quality and durability. Overall, BCM quality, with their modern manufacturing processes and aerospace coatings ensure parts last a lifetime, while performing far beyond requirements established nearly six decades ago. 
Starting with the trigger: The BCM PNT Trigger and PNT Hammer are Mil-Spec AISI8620 investment castings per the USGI TDP (Mil-Spec) for the M16/M4 family of weapons. The trigger's construction begins with 156/157 holes honed to assist in perfect alignment and a smooth trigger pull.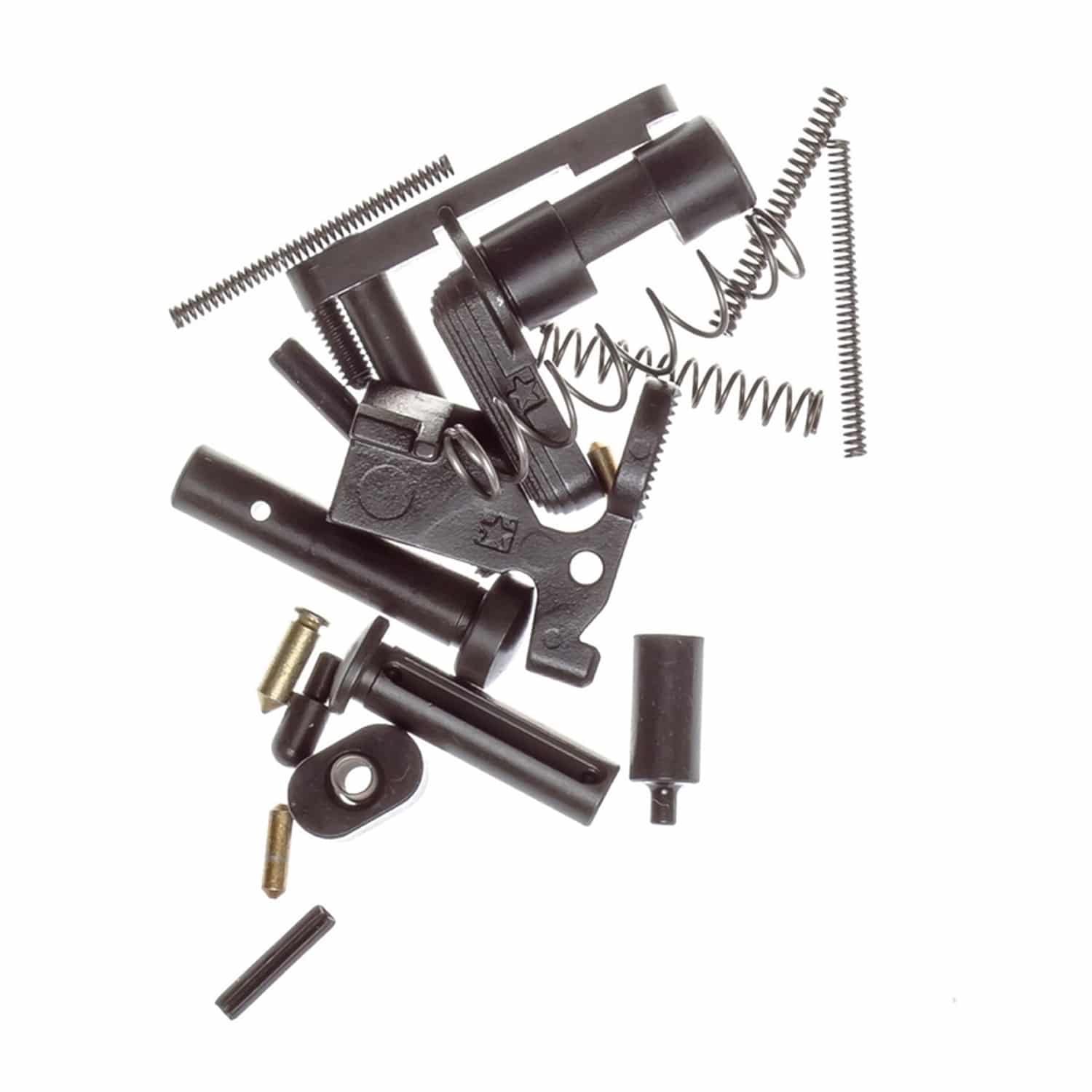 Afterwards, the BCM PNT Trigger and PNT Hammer then go through a 3 step heat treat and case hardening process for optimal grain structure alignment, yielding a stronger and more wear resistance product. 
Moving on to the texture: The sear engagement surfaces are ground, but then hand polished for an increased smoothness up to 300% beyond the Mil-Spec. An electroless nickel finish is applied for a smoother trigger pull with less grit and reduced felt creep. This material also provides a long-lasting finish that will not corrode, rust, or discolor due to oxidation. Additionally, teflon particles are in the nickel, further reducing the friction of the interface and ensuring a long-lasting coating. This is done on both the BCM PNT Trigger and Hammer in order to provide the maximum benefit by the nickel coating, with augmentation on the low friction and corrosion resistance.
This assembly also includes BCM's impact-resistant trigger and hammer pins. These parts are centerless ground to a fine finish and superior tolerances, all to ensure compatibility with all MIL-SPEC lower receivers per the USGI TDP. The BCM Disconnector is then stamped from a 1070 material and fine blanked for cleaner edges, double disc ground to a precise size. All hammer engagement surfaces are also ideal for a super clean reset. The processes and tolerances are matched in the BCM PNT Trigger Assembly to create a system better than the sum of its parts. Bolt Catch and Safety Selector: The BCM Bolt Catch and Safety Selector are a Mil-Spec AISI8620 investment casting per the USGI TDP for the M16/M4 family of weapons. (not MIM parts that are very common in the commercial market) The Safety Selector is centerless. 
The Selector and Bolt Catch feature machining to the Mil-Spec, as well as 3 step heat treat and case hardening process for optimal grain structure and wear resistance. Has a phosphate finish for corrosion resistance. BCM Magazine Catch: The BCM Magazine Catch Assembly (plate and the post) features precision machined Mil-Spec AISI8620 per the USGI TDP for the M16/M4 family of weapons.
All in all, this kit from Bravo Company makes a strong case for being one of the best lower kits out there, however all of these options make for a great choice. Whether you're just starting out, or an experienced vet, there's always upgrades one can make, and choosing the right lower kit for you is one of the best upgrades you can make.