Where to Start With Upgrading Stocks & Charging Handles
If you're an experienced AR-15 user, or someone new looking to improve, one of the best ways to do that is with your stocks & charging handles. Why? When it comes to charging handles, many overlook them since they can appear to be just another part of a rifle. However, the truth is that they are an extremely important piece that can influence your entire experience with your rifle. Additionally, the right stock will help eliminate discomfort and inaccuracies when shooting?   How is that? Both the charging handle & stock are important pieces for creating a build made just for you, and with a regular stock charging handle, you might be okay, but if you depend on your rifle for sport, home defense, or any other situation, risking malfunctions and faulty operation is simply not worth it. The same goes for stocks, having the right one will help you adapt your aim and precision in the blink of an eye. Luckily, there's a lot of great options available from trusted, reliable brands. Let's take a look at what makes these 2 charging handles & 2 stocks unique, and how you can pick the best ones for you.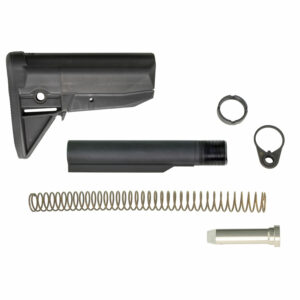 This stock kit changes the game with its snag free design, making it an excellent choice for both experts and beginners. With this stock, you can forget about sharp edges and tangling, as this stock kit keeps things efficient and clean. How? Its design allows it to stay clear of slings, molle gear, or any other kit. One of the top features on this stock kit is its Modular VBOST (Vehicle Borne Operations Sling Tab). This tab interfaces with the shooter's riggers' band or bungee to secure the shooter's sling against the stock when the carbine is not in use. Increasingly, this is the most common application when operating inside a vehicle. The stock kit includes 2 different types of ambidextrous sling mounting options, including QD swivel sockets. This stock stands out with its simple, modular design and innovative features like the VBOST. Overall, it's a very solid option for anyone looking for a stock upgrade.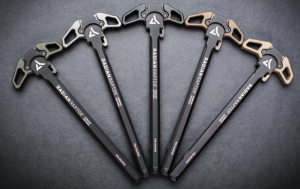 Radian is well known for their super high quality, durable, and reliable products. The Raptor is no exception, as it is truly revolutionary in design & function. The most defining feature of this charging handle is the durability, and reputation of the brand. This charging handle features rapid palm "blading" or finger thumb charges of the weapon. This motion is fluid and fast from either the strong or support side thanks to its ambidextrous design. These features make the Radian Raptor a truly great choice, and it simply gets the job done well. If you're looking for a very solid charging handle you won't have to replace for a long time, this is a solid choice. This charging handle is one of the most popular on the market – and for good reason. It's more expensive than others, coming in at $85.45 at Milspecretail.com, however it's worth every penny and can help instantly with making an impact.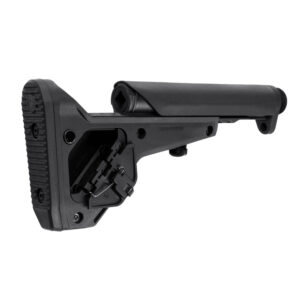 If you're looking for an adjustable stock, start here. The UBR GEN2 is an adjustable stock for AR15/M4 and AR10/SR25 platforms. If you want the portability of a collapsible AR stock, but still want the strength and stability of a fixed stock, this stock from Magpul is a great choice. Its design offers a consistent and comfortable cheek weld in any position. The UBR Gen 2 is an update on its previous version, and is super consistent in cheek weld positioning. Additionally, it comes standard with front and rear QD sling attachment points, two footman's loops, the ergonomic MOE SL angled-toe rubber butt-pad, and customizable storage compartment. This stock packs a ton of value, and is super portable and reliable.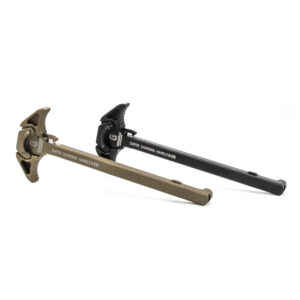 Geissele is another company that's very well known for their high quality products. Since its beginnings in 2004, they've continued to produce AR parts that keep every build running smoothly. The Super Charging Handle is yet another solid product from Geissele! This charging handle features an aircraft-grade 7075-T6 aluminum build, making it super durable. Moving on to its features, Its ambidextrous design allows for seamless operation from either side of the weapon. It's also highly efficient and made for light weight operation. The levers feature dual contouring similar to that of the charging handle of an M14, where not only the x-axis but also the y-axis receive radius cuts. 
The checkered handling surface of the lever adds a textured grip aiding to the use when operating with gloves. The heightened rear lip of the SCH aids in mitigating gas blowback to the shooter when shooting with short barreled and suppressed weapon systems. All parts have Type 3 Hardcoat anodizing and are available in black and DDC (Desert Dirt Color). This is another charging handle that is suitable for anyone to use. We recommend this handle to anyone who's looking specifically for a super light weight, ergonomic design, as well as the superb quality that Geissele is known for.
Conclusion: Choosing the Right Stock & Charging Handle For You
Ultimately, there's a ton of options for minimalist stocks & charging handles that weigh nearly nothing, and help you get your best shot. If you're building a rifle for home defense use, you should take a look at the collapsible stock option. These stocks are useful in these situations because you can shorten it up for indoor use. Additionally, you can open it back up when shooting at the range. The potential uses in all of these different kinds of stocks & charging handles are truly limitless, and the best part of customizing your own rifle is that you can optimize the parts for the way you want to use it. Additionally, the charging handles listed here are optimized so you don't even have to think about it, all you need to do is focus on your next shot. With all of these pieces, you're getting top notch quality & engineering that simply allow you to get your best performance without dealing with snags, discomfort, or anything else.