Use These Rail Covers & Sight Covers to Boost Your Firearm Performance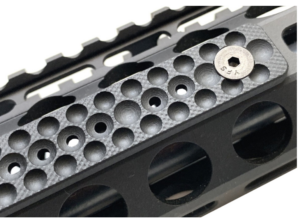 When you're looking to improve your performance on the field, there are a few key accessories that can make all the difference. Rail covers and sight covers are two of the most important items you can invest in to help you get an edge in all situations.
Rail covers protect your rails from damage and keep them free of debris, while also providing a more comfortable grip. Sight covers help you stay on target by providing a clear sight picture while you're moving and shooting.
Investing in quality rail covers and sight covers is a smart way to improve your performance and maintain your equipment for years to come. Here at Milspec Retail, we offer a wide selection of covers to choose from, so you can find the perfect option for your needs.
Whether you're looking for a simple forend rail cover or a more comprehensive kit that includes both front and rear covers, we have what you need. Our selection of magazine sight covers includes clear options that allow you to see your target while you're moving, as well as options with built-in magnification for long-range shooting.
Here are some great options that will make for a great addition to your weapon build.
For an excellent optic cover, check out this one by TangoDown. The TangoDown IO Optic Cover for Aimpoint T1/H1 & T2/H2 is new and improved! Protect your T-1 lenses, and keep them clear of rain, snow, mud, or dust. The iO cover has integral lens covers and a protective armor body that can't fall off or get lost. Additionally, the sleek design enables you to open the covers with one hand. Its covers nest together so they don't flop under recoil. Finally, this one is receptive to most spray paints and hydro dip processes.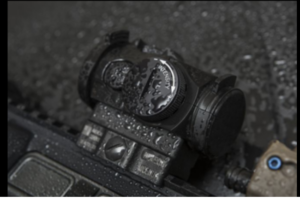 The Magpul Suppressor Cover – 5.5" is the first product of its kind able to stand up to the extreme temperatures caused by extended strings of semiautomatic and automatic fire and protect the user and equipment against burns, while also speeding up the cooling process. 
Constructed of a heat-resistant polymer sleeve overlaid onto a raised stainless steel heat shield that mounts directly to the suppressor body with steel clamps, the Magpul Suppressor Cover – 5.5" minimizes heat transfer to keep external cover temperatures up to 1000 degrees F cooler than the surface of the suppressor and allows cooling airflow across the can.
M-LOK Type 2 Rail Covers are low-profile, two-piece covers that install directly onto most M-LOK aluminum hand guards (non-polymer). 
These M-LOK covers are non-orientation specific, which allows the user to mount them in any direction desired without affecting function.
The RailScales HTP Scales have the same hardware & textures as their machined G10 RailScales line, but at 1/3 of the cost. By using high temperature, heat stabilized, glass filled nylon instead of G10 material, Railscales is able to achieve similar heat-resistant properties at a lower cost. 
Their HTP Scales boast a 20 percent heat rating increase over similar poly rail covers. Finally, the RailScales HTP Scales for M-LOK are two inches in length . Additionally, they are available in Black, FDE, OD Green, and Wolf Gray.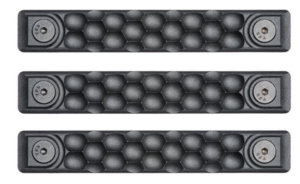 Combat optics, like the rest of the weapon system, need to be 'ready to go' at a second's notice. With the new iO MRO Cover, you can rest assured that your Reflex Sight is ready for anything. Trijicon's Reflex Sight comes with unique features, but it's important to keep the lenses shielded from dust, precipitation, and debris. 
The sleek iO protective armor body boasts integral snug-fitting lens caps that can be opened or closed with one hand. The solid lens caps nest together, to prevent flopping under recoil. Additionally, it helps stay clear of both eyes during optic viewing. iO covers feature an indestructible polyurethane material that takes most spray paints and hydro-dip processes.This product is only compatible with Trijicon™ MRO optics.
MCF (MLOK Cover, Forward Controls) is a collaboration between Railscales and Forward Controls Design. The G10 material on this rail cover provides ruggedness and durability, while the AA surface pattern helps with bolt catches (ABC/R), forward assists (LDFA), and ambidextrous magazine release (EMR-A). 
The AA concept was not developed for aesthetics, but as a versatile surface that offers equal traction from all angles of approach (thus the AA designation). This surface can hardly find a better application than hand guard rail covers, where a user's hand can have multiple angles of approach, and hold the handguard in different ways. The AA pattern on the MCF is made of two dimple sizes and depths; a series of large perforations/drain holes are drilled along its length in the middle row of dimples.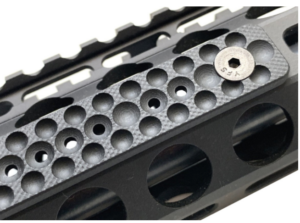 Finally, the MCF is 4.25" (108mm) long, and slightly longer than other covers on the market. This allows it to offer better coverage of the M-LOK slots. The MCF comes with all the necessary hardware for installation, one set of screws per rail cover.
Conclusion – The Best Rail Covers & Sight Covers
These are just some of the great options that you have when it comes to rail covers and sight covers. Investing in quality covers is a smart way to improve your performance and maintain your equipment for years to come. Visit Milspec Retail today to shop our selection of covers and find the perfect option for your needs. Thanks for reading!