The 6 Best Weapon Parts For Home Defense
When it comes to defending your home, you want the best of the best. What are some of the key elements when it comes to choosing weapon parts for home defense?
1. Sights
No matter what kind of gun you have, whether it's a pistol, rifle, or shotgun, good sights are important. You need to be able to see your target clearly in order to make an accurate shot, especially at night when there's less visibility. There are many different types of sights available on the market, so take some time to figure out which ones will work best for you and your gun.
2. Trigger
The trigger is another important aspect of any gun. You want a trigger that is smooth and easy to pull so that you can fire off shots quickly and accurately. Again, there are many different types of triggers available, so find one that feels comfortable for you to use.
So, let's take a look at some of the best AR15 parts & gun parts you can get for optimizing your home defense weapon build.
The FAST™ optic mounts and platforms provide end-users with a quicker sight picture than traditional, taller mounts. With a 2.26" optical centerline height, you won't have to struggle as much to see your reticle while wearing electronic equipment such as earpro/communications headsets and night vision goggles. The 2.26″ height allows for more rapid visual processing of the battlefield by promoting a heads-up posture.
Additionally, maintaining a heads-up posture also allows users to keep a neutral spine position. The FAST™ FTC Magnifier Mount is the first of its kind to feature a Flip-To-Center (FTC) mechanism (patent-pending). This allows for stowage completely within the footprint of the weapon's receiver, while not blocking the view from the host optic.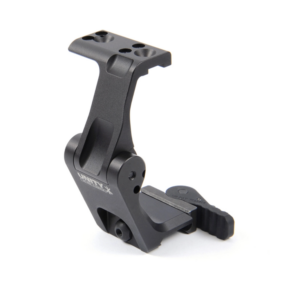 With this product, you will have the best possible optic vision with the lowest profile during all modes of operation. The innovative FTC function completely eliminates the problem magnifier mounts have faced in older models (when disengaged, the magnifier hangs off to one side of the gun, creating a major snag hazard).The FAST™ FTC Magnifier Mounts utilize a force-to-overcome mechanism for rapid transition, thereby completely eliminating this danger. The FAST™ OMNI Flip-To-Center Magnifier Mount is compatible with a host of popular magnifiers from EOTech, Vortex Optics, Trijicon, and Sig Sauer.
The new Trijicon RMR®cc has a slimmer, less noticeable design that reduces the likelihood of catching on things for a more quickly and easily accessible draw. The RMRcc may be smaller, but it still has all of the features that made the Trijicon RMR great. With its user-friendly buttons, standard 2032 battery for up to 4 years of usage, and a variety of mounts to accommodate many popular concealed carry pistols, the RMRcc is an easy choice for personal defense. You will have better aim when you use a single, clear targeting point superimposed on whatever you're trying to hit.
Once zeroed in, where you see the dot is where your bullet will impact. Your eyes never need to leave the threat which allows you to stay focused on the situation. Born from the industry-leading Trijicon RMR, the new RMRcc has the same reliability you expect, and is optimal for concealed carry & home defense. The slimmer design fits a variety of pistols providing comfort during everyday carry. With this sight, you can carry confidently knowing that your speed will increase, accuracy will improve, and your focus will stay squarely on the target.
Trijicon Bright & Tough™Night Sights are three-dot iron sights that increase night-fire shooting accuracy by as much as five times over conventional sights. Equally impressive, they do so with the same speed as instinctive shooting – and without the need for batteries.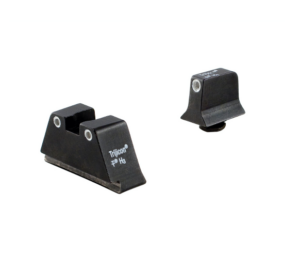 Bright & Tough Night Sights are encased in metal and set inside silicone rubber to create a shock-resistant design. A sapphire jewel adorns the top of each lamp to evenly disperse light and simultaneously safeguard the lamp from harmful solvents and punctures. The lamps are contained within aluminum cylinders and mounted on silicone rubber cushions to protect against shock and recoil. All green lamps come with a 12-year warranty from the date of purchase.
The Velocity Glock Trigger improves your shooting experience with a smoother pull, reduced creep, and positive reset- without having to worry about decreased safety or reliability. The flat, textured trigger provides more stability and control. The Velocity Trigger is a top-of-the-line product that is manufactured with the highest quality materials and made in the USA. You can rest easy knowing that this trigger will deliver when you need it most.
The Modlite PLHv2 light package contains the PLHv2-light head, 18650 body, tail cap, a KeepPower 1200mAh 18650 battery, and an XTAR MC2 charger. The lumen output for this light is almost the same as the Surefire M600DF head, however, the throw is much more appropriate for a rifle application–it's three times better. This light is a large step forward from the PLHv1 light. Lumen output and throw are greatly improved, making it the best balance of flood and throws available. If you desire both the best output and throw, this is the package for you.
The key to the OWL is its high candela rate. With over 50,000 candela (and 1,250 lumens), this weapon light has almost twice as much output as the nearest competitor according to Cloud Defensive. Even with its 400-yard throw, this flashlight still provides exceptional light without a strobe feature, which most people don't need anyways. The Cloud Defensive OWL is also very durable.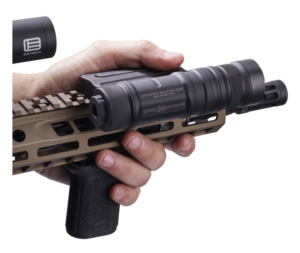 Though it may appear bulkier than other lights available, the light has undergone intensive testing to ensure that it meets or exceeds ANSI/PLATO FL-1 standards. Being virtually indestructible, the light comes with an excellent warranty from Cloud Defensive in case of any manufacturing issues.
The OWL incorporates quick disconnect head and tail sections that allow you to easily swap for left and right-handed use. There's also an integrated installation/removal tool built into the tail cap that is designed to provide the optimal amount of torque. It features a secure mount that is easy to install and remove.
The Cloud Defensive package includes a Nitecore Ui2 charger, two 18650 rechargeable batteries (one red Panasonic/Sanyo and one pink Samsung), and a carry case. The red color provides a longer runtime, and the pink delivers a higher output; thus, giving you two great options to choose from when outfitting your home defense firearm.
Conclusion
There are many great products on the market that can help improve your home defense weapon build, and these are just a few of the highlights. Be sure to do your research and find the right product for your needs. With so many options available, you're sure to find the perfect fit! Thanks for reading and check out more options here at Milspec Retail!