Esstac Pouches Review: Why We Love the Esstac KYWI
Whether you are in the military or in law enforcement, you know that speed and timing means everything. Simply put, there is no room for mistakes when it comes to your performance and duties, so why take the risk of not being prepared for whatever happens next? Often, it is easy to overlook gun accessories like magazine pouches in favor of lights, mounts, sights, and other AR 15 parts and gun accessories. While all of these other AR parts and gun accessories are important and necessary, it's important to not overlook the small adjustments that can not only improve performance, but be potential life savers.
In addition, we cannot just settle for any magazine pouch, as we all have experienced the common problems with many pouches, like lost magazines, noisey materials, cluttered parts and snagging. It's not enough to have a magazine pouch, it's imperative that this magazine pouch offers high quality performance and has a straight forward, user friendly design that focuses on efficiency and durability.
We thus decided to take a look at one of the best magazine pouch brands on the market, Esstac. You've probably heard of the Esstac KYWI line, for good reason, as it features several great variations for any user. We'll be going over the 5.56 Single Midlength KYWI Pouch, the Double Pistol GAP KYWI Pouch, and the Shorty Pouches.
What is Esstac?
Stuart Wilson first came up with Esstac, short for Essential Tactical, in 2003. In his garage in Camano Island, Washington, Wilson developed the first Esstac products before a horrific accident happened at his construction job. He was crushed by 2,500lb of sheet metal, and his doctor told him he had to find a new line of work. Faced with this harsh reality, Wilson invested fully into his passion project and began hand-making each pouch for buyers on Ebay.
As a competitive shooter himself, Wilson knew there was potential in his business and knew what the current products on the market were missing. He aimed for comfort, durability, and high performance. As his business partner Ryan Halwick is quoted saying in this article from the Stanwood Camano News, "We take immense pride in quality… For example, we melt the frayed nylon threads to lock them in place, burn them so they never fray, like many cheaper versions do". From their humble origins in Washington state, Esstac has emerged as one of the leaders in tactical gun accessories.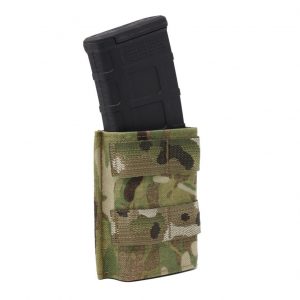 As with all Esstac KYWI products, there is a clear emphasis on a straight forward, user friendly and highly intuitive design. This Esstac pouch features a hybrid kydex and nylon design, providing all the rigidity and durability one would need while also eliminating the noise typically found on a nylon pouch. The "KYWI" term comes from the kydex wedge insert found on the pouch, which provides extra retention to secure magazines without the need for a bungee cord or other alternatives for rapid mag changes.
We love this "KYWI" feature because it offers a great combination of retention and quick magazine removal, ensuring consistent performance time after time. However, as with any pouch with an emphasis on speedy reload times, there are compromises. Anytime the reload is quicker, there is an increased risk of losing magazines. With that being said, the KYWI pouches stand out amongst other designs because of their minimalist approach and lack of external shock adjusters that can cause snagging. We believe that the Esstac KYWI is the best all around fast reload pouch, as it ensures fast performance with great retention.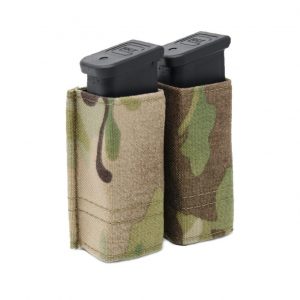 The Esstac KYWI Double Pistol GAP Pouch features all of the same great KYWI features included in the last product listed, with all of the same retention and high speed performance we've come to expect with Esstac products. If you are using a pistol, this double pouch will allow you to carry 2 magazines at a time. This pouch is compatible with 9mm, 40cal, 45acp double stack magazines. A Glock 19 magazine is the shortest you could use with this pouch. As it is a double magazine pouch, Esstac added an additional gap between the pouches to accommodate for magazine pouches with long baseplates, like M&P, CZ, and Gen 5 Glock Magazines.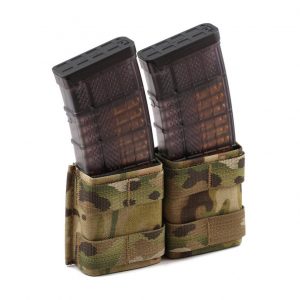 The Esstac KYWI 5.56 Double Shorty Pouch is essentially a double version of the 5.56 single mid length pouch, though this Esstac pouch's height is 3.5" tall. This allows for an even faster reload time, while the hybrid kydex and nylon design still offers the same retention found on other models. The Esstac KYWI 5.56 Double Shorty Pouch is the perfect fit for anyone looking for a high performing short magazine pouch with premium durability and retention.
Final Thoughts
We believe that Esstac is leading the way when it comes to weapon magazine pouches, be it for pistols or AR-15s, as they exemplify what it means to do things the right way. Esstac focuses on the essentials, and they leave out the unnecessary add-ons that end up causing more problems than creating solutions. The Esstac KYWI is in our opinion, the best compromise in the market for a magazine pouch that offers secure retention with high speed reload performance. For anyone working in the military or in law enforcement, we cannot recommend highly enough the Esstac KYWI line of pouches.