Top 2 Easy AR-15 Accessories Upgrades for Hunters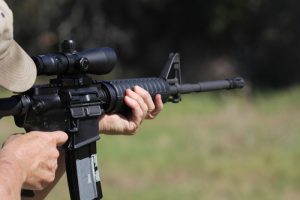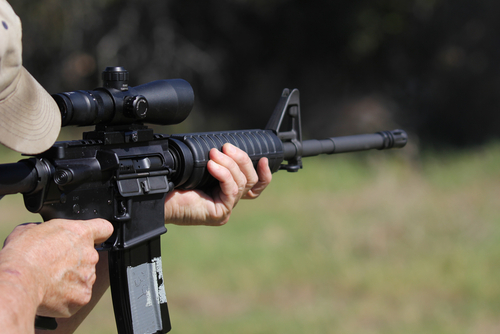 Having the right AR-15 accessories is a must if you're a hunter. It's necessary to have the right equipment, whether that's a good mount, light, or even a pouch. You may not have used an AR-15 while hunting, but they are definitely on the rise! Many hunters are turning to AR-15s due to their customizable features and accessories. When it comes to hunting big game, the AR platform is a great option. Additionally, the AR-10 is a great option due to larger calibers. While switching from a bolt-action rifle to an AR-15 may be initially confusing, it's easy to get the hang of. There are 2 main AR-15 accessories and parts we want to cover that can help you get started today.
AR-15 Accessories and Parts: Charging Handles
We all know the importance of a good AR-15 charging handle. A great one can improve your grip and control. A bad one will leave you missing your targets! If you are hunting, you definitely want to ensure that the charging handle isn't getting in the way of your accuracy and effectiveness. We've compiled a few of our favorite charging handle options, specifically for hunting.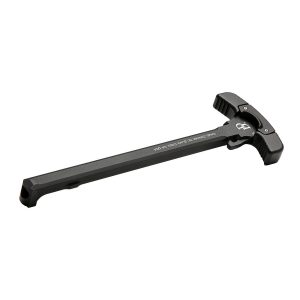 The Daniel Defense GRIP-N-RIP AR-15 Charging Handle is designed and manufactured with features and benefits suited to any hunter. Their features are focused on enhancing every user's comfort and performance. The GRIP-N-RIP AR-15 Charging Handle is engineered for suppressed fire, perfect for keeping a low profile while hunting. It also comes with anti-gas features that redirect gas flow upward and away from the face. This helps immensely while hunting, as gas can be a huge distraction.
Independently ambidextrous handles accommodate left- and right-handed shooters with each handle independently operating the latch. The AR-15 Charging Handle option fits all AR-15 pattern rifles, and the 7.62 option fits all DD5 GEN II (V3,V4,V5) firearms (not compatible with DD5 V1 or V2) and all DPMS Gen 1 length AR-10 rifles. In addition, this AR-15 charging handle is American made with durability in mind. It features lightweight enlarged ergonomic handles made from 6061-T6 aluminum. If you're not familiar with different kinds of aluminum, this one is as durable as can be!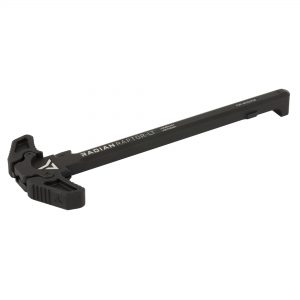 Here's one of our personal favorites, the Raptor-LT. Radian is an industry leader for their outstanding quality and performance. This charging handle uses the same patented ambidextrous functionality as its predecessors, and expands on its functionality. The charging handles are machined from 7075 aluminum, MILSPEC Type III hard anodized, then over-molded with high-strength, fiberglass reinforced polymer for the ultimate combination of strength, weight, and durability.
Not only is it compatible with AR15/M16 rifles, but also with AR10/SR25-pattern rifles! This is perfect for the big game hunter looking for different options. The Radian Raptor-LT charging handle is available in black, flat dark earth, and grey, all designed to match standard Magpul® color offerings. Like all Radian products, the Raptor-LT charging handle comes with a limited lifetime warranty, and is 100% designed and manufactured in the USA.
AR-15 Accessories and Parts:
Lights
We all know having a great light is important. You need to be able to see your target with 100% clarity for ultimate precision. When it comes down to it, every hunter knows they might only have one shot, and they have to be perfect. Let's break down our favorite weapon lights for hunters.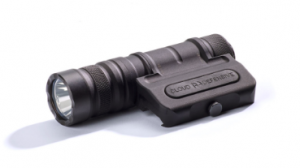 The Cloud Defensive OWL (Optimized weapon light) is one of the most popular lights on the market, and for good reason. They are extremely versatile, with integrated switching. This prevents cables snagging together, and no remotes to mount. The Cloud Defensive OWL is a one-piece light that focuses on ease of use. In addition, they have a highly-intuitive head/tail disconnect system. Using their patented lug system, there are no threaded components on the OWL. The OWL is ambidextrous, perfect for weak/transition side shooting.
It is also reversible, which works not just for hunting but also law enforcement purposes as well. The OWL can do things other weapon lights cannot do. Its warmer light temperature LEDs penetrate photonic barriers better, and it's more usable to your eyes. Coupled with their custom electroformed reflector and power supply, you have a level of performance never before possible on a production weapon mounted light. We definitely recommend checking out this light.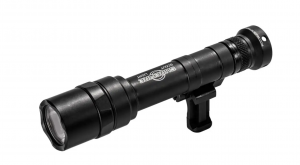 With its recoil-proof, ultra-high-output LED delivering 1000 lumens of blinding white light, the Scout Light Pro is ready for any hunting test. Its proprietary TIR lens shapes the light into a far-reaching beam with ample surround light for exceptional peripheral vision. SureFire's new Low-Profile Mount (LPM) delivers unprecedented versatility, allowing the hunter to optimize the light's position relative to the rail. The LPM easily and securely attaches to any MIL-STD-1913 or M-LOK rail.
Finally, you can activate the light easily by either clicking its push-button tailcap switch, or by pressing the pressure-activated tape switch on select models. Rugged and reliable, the Scout Light Pro features lightweight aerospace aluminum with Mil-Spec Hard Anodized finish to keep out the elements. It is able to endure in any situation without any compromise in maneuverability. At the end of the day, the Surefire Scout Pro light is one of our favorite AR-15 accessories on the market.
Conclusion
Ultimately, every hunter knows that precision and timing is everything. With a great charging handle and weapon light, an AR-15 or AR-10 is the perfect weapon choice for any hunter, for any type of game hunting. Ultimately, You'll find that the amount of AR-15 accessories and AR-10 parts on the market are endless, so you can get creative! Now that we've gone over the most important AR-15 accessories for hunters, take the time to familiarize yourself with these parts and see what works best for you. We know that these products are true game changers, and they'll work great for you as well.