The Best AR Parts and Accessories For Accuracy
Every weapon owner knows that one of the most important factors of any firearm is knowing it can shoot with precision. If you've recently bought an AR 15, you might be wondering what upgrades to consider going forward. At first, you may think gun accessories like lights, mounts, and grips add a slight benefit, but aren't worth the price (sometimes, they are definitely expensive!).
However, we firmly believe that if you are truly serious about your performance at the range, investing in proper accessories can be a game changer. For example, having mounts and grips that aren't optimized for lower weight and effectiveness, will result in your accuracy faulting by the end of any session. Let's take a look at some of our top picks for improving your AR 15 (or AK)'s accuracy.
Grips

Having a great grip is incredibly important when considering your AR 15's performance. Without the right texture and stability, dealing with recoil and shooting while moving becomes a huge problem. Luckily, there are some brands that have made some incredible grips. 
What Railscales has done so well is maximize the accessibility of their products. It features fast and easy installation, thin and lightweight construction, and functional and visually appealing options like Honeycomb, Matrix, and Mini-Dot. In addition, you don't just have to take our word for it, as they have nearly 100 five-star reviews on their page.
One user writes, "These grips are simply the BEST option out there. After having a couple different makes of rail grips installed I have since replaced them all with Railscales grips! Not only is the G10 material the perfect choice for functionality but the mounting hardware is superior to what the other makers use. Anyone who handles my rifles immediately asks "what are these grips and where can I get them!". Every rifle I own has them equipped and every rifle I will own is going to have them! Railscales are the best you can get!". We couldn't say it any better ourselves!
Mounts

While a sight seems like the obvious attachment to increase accuracy, one cannot overlook the benefits of a great mount. Having a mount that is able to withstand wear and tear is a huge factor. This will ensure precision from your sight with every use. 
When it comes to mounts, Scalarworks has truly changed the game with their LEAP line. The Scalarworks Leap mount features an incredibly strong base with a forward lean that allows room for magnifiers, and chamfered side pockets for thumbscrew access. The re-designed clamp features discreet hardened steel pins and a stopper that indicate to clear a Picatinny rail. 
One user writes "It's rock solid. Can't even tell it's on there it's so lite. A little expensive but you get what you pay for. Buy once, cry once". It appears the consensus so far is clear, spending a little extra goes a long way!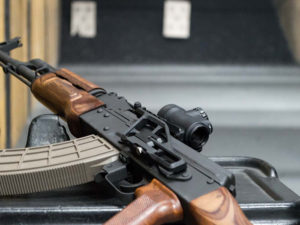 RS Regulate is the top option for AK users, as the company is known for its cutting-edge technology and designs. Since the release of the first RS Regulate mounts, the designs have gone through many different changes and refinements.
In 2012, RS Regulate released the first models of the AK-300 Modular Side Mount System, which now features six fully modular uppers and nine different lowers. These include a front-biased, a rear-biased, and a full-length lower for most Eastern European AK side rails. RS Regulate also has a front-biased and full-length lower for Yugo/Serbian rifles; a PSL and and Romanian M10/RH10 rifles; a Century Arms proprietary side rail; and even a rear-biased lower for Czech vz. 58s.
Truly, RS Regulate has established themselves as the leader in side mounts for AKs. In addition, RS Regulate's founder says this about the company's philosophy, "I don't want to impact the weapon's combat effectiveness". At the end of the day, we believe in the RS Regulate brand not just because of their demonstrated high quality performance, but their precision and passion they put into all of their products.
Lights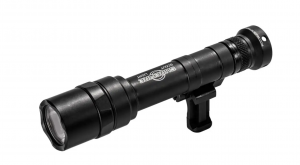 Of course, for anyone using their AR at night, accuracy is key, and thus having a great light is the only option. Are they worth the price? In our opinion, along with just about every industry leader, the answer is a clear yes, and especially for brands like Surefire. Surefire is known for their performance, durability and versatility.
In particular, the Surefire Scout Light Pro is one of our favorites. This light features an ultra-high-output LED that generates 1,000 lumens of blinding light. Not only is the light highly effective, it is extremely energy efficient. The Surefire Scout produces tactical-level light for 1.25 hours on two 123A batteries. Its Versatile Low-Profile Mount (LPM) allows the user to optimize the light's position relative to the rail, making it a good choice for any AR-15 build.
Finally, its Mil-Spec hard-anodized aluminum body and tempered window make it light rugged, durable, and ready for any situation.
To summarize, investing in high-quality AR parts and gun accessories aren't just a good idea, but they will also make a noticeable impact in your rifle's performance. While it might seem like a costly investment at first, the overall consensus is that once you begin to see the benefits of a great light, grip, or mount, these accessories will not just improve your accuracy on the range, but your experience overall.