Top 6 Scalarworks & Aero Precision Products [2022]
Scalarworks & Aero Precision are some of the most respected brands in the gun parts and accessories industry. Why? Let's start with some of the main selling points. Both brands produce high-quality, innovative products that are designed to improve the shooting experience. Their products are made in the USA and backed by a no-questions-asked lifetime warranty. They offer a unique mix of form and function, with a focus on minimalist design and maximum performance.
Now let's take a look at some of their most popular products you can buy in 2022.
The Aimpoint Micro T-2 mount on the LEAP/01 is a cutting-edge product. Its design is perfect for shooters who want the lightest, most durable, and least intrusive quick-detach optic mount conceivable. The Leap Mount always goes back to zero upon re-installation, and doesn't budge under the heaviest recoil. Its state of the art engineering makes it the lightest Aimpoint Micro T-2 QD mount, without compromising an ounce of strength. The Leap is Aimpoint's strongest Micro T-2 Quick-Detach mount yet.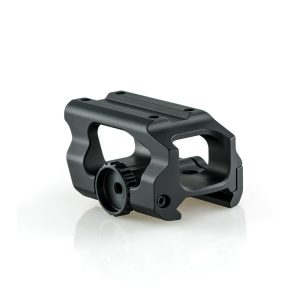 The quick-detach mechanism is easy to use, adjusts itself, and can withstand any amount of recoil. With ClickDrive, you don't need to use as much force, and it is more resistant to vibration than alternative products. The low-profile recessed thumbwheel deflects external impacts while allowing you to remove the mount in less than three seconds, even with or without gloves. The Scalarworks LEAP is an excellent product,  and perfect for anyone who wants the lightest and strongest Aimpoint Micro T-2 mount on the market.
The Scalarworks PEAK/01 Fixed Front Sight is quite possibly the world's finest fixed front sight. Its design works perfect for discerning shooters who want the familiarity of classic AR-15 fixed iron sights, while demanding modern features, refined styling, and world-class build quality. The Peak Sights design fits around a modern 15″ sight radius.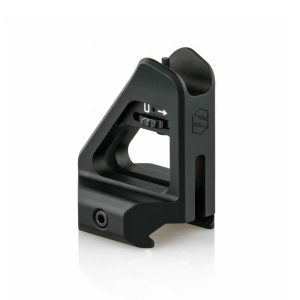 While carbine length rifles have become the norm, most fixed iron sights still use components designed for the M16A2's 20″ sight radius. It's also extremely durable, boasting meticulous attention to detail, making it one of the lightest fixed iron sights in existence, without sacrificing any strength.
The SYNC/03 is a cutting edge Trijicon RMR mount for Mossberg shotguns. If you're looking for a Trijicon RMR mount for your shotgun, this is an excellent choice. Enhance the effectiveness of your shotgun with the speed and precision of a red dot sight, while maintaining its factory shooting ergonomics. This mount is excellent in increasing performance right away, as it helps place your Trijicon RMR in the ideal shooting position.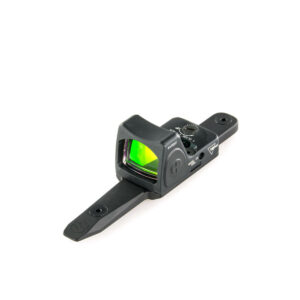 Additionally, the Sync's proprietary internal Key-Slot mounting system spreads side impacts across 4 anchor points. Finally, it's one of the lightest optic mounting solution for Benelli Tactical shotguns out there. Given all of the above benefits, it's one of our favorite mounting solutions for all Benelli shotgun users.
Looking for an excellent ambidextrous charging handle? Look no further than The Aero Precision 5.56 Ambidextrous Charging Handle for AR-15s. This ambidextrous charging handle features a profound design with left and right side activation levers to charge your firearm from either hand. This rugged handle is made in the USA from 7075-T6 aluminum, and features their laser etched Aero Precision logo.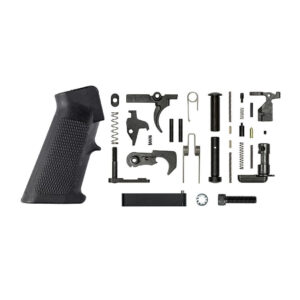 Aero's lower parts kit helps you to build a custom AR15 from the ground up. Mil-spec dimensions and coating ensure the highest quality and correct component interface. This kit Includes:
Takedown/pivot Spring, Takedown/pivot detent, Trigger/hammer pin, Takedown pin, Pivot pin – Having these parts in a kit saves time and money.

Bolt Catch, Bolt Catch Spring, Bolt Catch buffer, Bolt catch roll pin – Having the right bolt catch parts can be the difference between success and failure in a critical situation.

Safety Selector, Safety Selector spring, Safety Selector detent –  These are basic, but essential parts for your AR build.

4-40 Set Screw (for threaded takedown pin detent hole) –  This set screw is used to secure the takedown pin detent in the lower receiver.

Buffer retainer, Buffer retainer spring –   The buffer retainer and spring keep the buffer and action spring in place in the lower receiver extension (buffer tube).

Trigger guard, Trigger guard roll pin –  The trigger guard protects the trigger and provides a comfortable finger rest position.

A2 pistol grip, Pistol grip screw, Pistol grip lock washer –   These pistol grips parts will give you a huge edge over a standard AR-15 grip.

Trigger spring, Hammer Spring, Disconnector spring –   These springs are a critical part of the fire control group.

Magazine catch body, Magazine catch spring, Magazine catch button –   These parts work together to keep your magazine in place until you're ready to release it.

Hammer, Trigger, Disconnector –    These are also key components of the fire control group.
The upper receiver kit from Aero Precision comes with all of the parts you'll need to put your AR15 Upper Receiver together.
Forward Assist Assembly –  The forward assist assembly helps you to chamber a round in the event of a misfeed.

Forward Assist Spring –  The forward assist spring puts tension on the forward assist assembly to keep it in place.

Forward Assist Roll Pin –   The forward assist roll pin secures the forward assist assembly to the upper receiver.

Ejection Port Cover Door – The ejection port cover door protects the inner workings of your AR15 from the elements.

Ejection Port Cover Rod with c-clip – The ejection port cover rod with c-clip secures the ejection port cover door in place.

Ejection Port Cover Spring –  The ejection port cover spring puts tension on the ejection port cover door to keep it closed.
Overall, both Aero Precision and Scalarworks make excellent products for both experienced users and novices. Whether you're looking to start from the ground up with a new lower parts kit or enhance your build with a new mount or sight, these are all superb products to work with.