Top Accessories For A Custom Pistol Experience
If you're an experienced pistol user, you know your preferences. Over time though, you might want to try some new pistol accessories. The more you get to know your pistol, the more you know exactly what kind of performance you look to get out of it. Today, we'll be covering a few excellent choices for making your pistol accessories more custom to your liking.
As people get more experienced with their pistols, they start to find their own shooting style. That's why it's important to find the parts that let you perform at your best, no matter what your style is. This is why we love what they've done at Angry Bear Arms, with their idea of the adjustable fixed sight set. The sight set consists of two or three different height front sights that adjust elevation of the firearms point of impact. This can make a big impact right away with the increased adjustability. Looking at this kit, there's one fixed rear sight that can be drifted left or right in the firearms slide.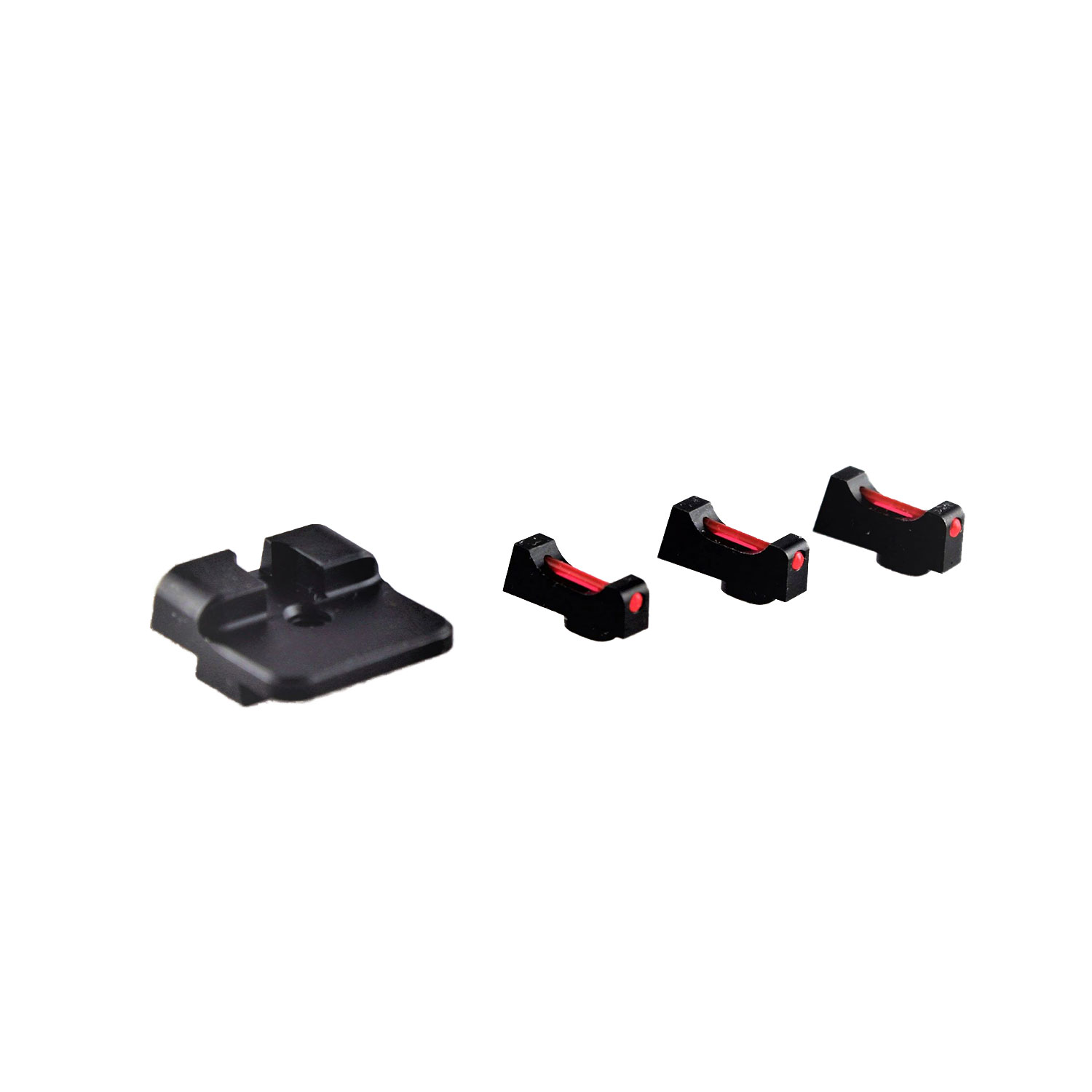 This allows the user to adjust the left and right point of impact. What sets Angry Bear Arms apart? They offer 2 or 3 different height front sights to adjust the up and down point of impact. Most of their competitors only offer 1 front sight in their set. In addition, other sight sets limit you to just one option for your firearms point of impact. Ultimately, if your firearm does not hit where you want it to, you are forced to buy another front sight to get your firearm on target. That's not ideal! All of their sight sets include everything you need to get started. This includes 2 or 3 different height front sights, 1 rear sight, 2 colors of fiber optic rod, 1 front sight hex driver, 1 allen wrench, and a rear sight pusher. And the best part? No gunsmith required!
Now, what if we told you could make reloading easier? Let's talk about the Reptilia Black Hole™ Polymer Magwell for GLOCK® pistols. First off, it's super durable. It features a build of reinforced polymer, which is very reliable and lightweight. Looking at the Black Hole's enlarged magazine well opening, you'll notice it helps facilitate more efficient reloads. It does this even without adding unnecessary bulk to your carry or duty sidearm, which is super handy. It's compatible with 9mm & .40-caliber GLOCK pistols, and even utilizes a unique rear spacer to ensure seamless fit and compatibility with both Gen 3 & Gen 4 frames.
When you want a more customized feel to your pistol, don't forget about a 10 round magazine. Not only will you want the convenience of it, but choosing one like this Magpul PMAG guarantees durability and reliability. The Magpul® PMAG 10 GL9, Glock 17 is perfect for flawless reliability and durability over thousands of rounds. They provide the same quality and performance of the proven Magpul PMAG series of Glock magazines, while also providing a viable product solution to those in locations and situations where a 10-round capacity restriction is required or desired.
It includes a high visibility controlled-tilt follower, a stainless steel spring, an easily removable floorplate for cleaning, paint pen dot matrix for mag marking, ridged floor-plate edges for better grip, and 10-round indicator windows.  Additionally, the magazine drops free when loaded or unloaded. 
With any Glock, you need to make sure your barrel is in top shape. Using exceptionally high-grade material and precision machining every feature in one proprietary process, Killer Innovations barrels deliver unparalleled accuracy and performance. Every barrel features an 11° target crown for greater accuracy and coated with high-quality finishes, ensuring the most accurate, reliable barrels available on the market today. These are "Mod 2" barrels with the Threaded versions that pair perfectly with the Velocity Glock Compensator. If you're looking for a barrel upgrade, this is an awesome choice.
The ZEV V2 PRO Compensator enhances the performance of your Glock pistol by reducing muzzle rise and felt recoil. The V2 features contoured porting, an enlarged guide rod channel, and a new mounting system. This allows secure installation and removal without the need for thread locking compound.
The ZEV V2 PRO Compensator works best on the G19, but will work on any 9mm Glock with a corresponding threaded barrel. Due to its compact size, when installed on a G19 with ZEV threaded barrel, it has the same overall length as a G34 slide. Additionally, it is compatible with most G34 holsters. The V2 PRO Compensator will generally function with standard power 9mm ammunition and factory recoil assemblies. However, best performance will be obtained through matching the recoil spring weight to your particular pistol and ammunition.
Overall, there are some amazing options out there for pistol accessories, whichever model it is! We hope this quick guide has given you some good options to choose from!