Charging Handles: Radian vs BCM vs Geissele 
Surprisingly, not everyone realizes the true importance of a great charging handle. Many people see these as just another tool that helps a rifle work. However, without a great charging handle, you risk faulty operation and dangerous malfunctions. If you're a casual shooter, a stock charging handle might be okay, but if you depend on your AR and have serious needs for it, it's extremely important to know that your charging handle is going to work reliably, one hundred percent of the time. 
Luckily, companies like Radian and Bravo Company (BCM) have come out with some innovative charging handles that make our lives much easier. How do you pick which one is right for you? Let's take a look at them and find out!
Radian is well known for their super high quality, durable and reliable products. The Raptor is no exception, as it is truly revolutionary in design & function. This charging handle features rapid palm "blading" or finger thumb charges of the weapon. This motion is fluid and fast,from either strong or support side thanks to its ambidextrous design. Radian's products are 100% USA made, and from aircraft grade 7075 aluminum.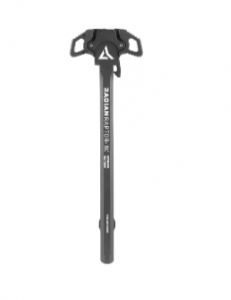 This charging handle is one of the most popular on the market, and for good reason. It's on the pricier side, coming in at $85.45 at Milspecretail.com, however you know your money is being well spent. The most defining feature of this charging handle is the durability, and reputation of the brand. If you're looking for a very solid charging handle you won't have to replace for a long time, this is a solid choice.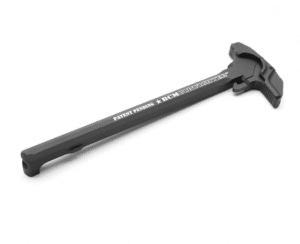 One of Bravo Company's best qualities is that their products are designed around real world situations and needs. Driven by over a decade of feedback from real-world combat operations, BCM has made continual design refinements and structural improvements to the charging handle in the M4 and M16 to address the current manual of arms for the weapon system. Optimizing the contours into a snag-free profile that facilitates immediate manipulation with an end-user's reaction side grip. The range of BCM Gunfighter Charging Handles is available with both ambidextrous and MIL-SPEC controls. This makes it perfect for lefties and righties.
The BCM Gunfighter was designed to eliminate load on the pivot pin (like a USGI handle fitted with an extended latch). Instead, it keeps the energy from charging close to the centerline of the carbine/rifle. This design provides a larger uninterrupted engagement surface with a smaller silhouette. With all these features, you'd think this charging handle would come in at a super high price. However, this handle is currently priced only at $43.95! As far as value buys go, it's going to be very difficult to find a charging handle at this price point that packs in more value. Especially coming from a company like BCM, this is a solid purchase that would last anyone a long time.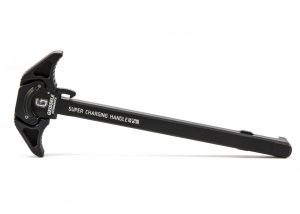 Geissele is another company that's very well known for their high quality products. Since its beginnings in 2004, they've continued to produce AR parts that keep every build running smoothly. The Super Charging Handle is no exception! This charging handle features a aircraft-grade 7075-T6 aluminum build, making it super durable. Moving on to its features, Its ambidextrous design allows for seamless operation from either side of the weapon. It's also highly efficient and made for light weight operation. The levers are dual contoured similar to that of the charging handle of an M14, where not only the x-axis but also the y-axis receive radius cuts. 
The handling surface of the lever is also checkered, adding a textured grip aiding to the use when operating with gloves. The heightened rear lip of the SCH aids in mitigating gas blowback to the shooter when shooting with short barreled and suppressed weapon systems. All parts are then Type 3 Hardcoat anodized and are available in black and DDC (Desert Dirt Color). This is another charging handle that is suitable for anyone to use. We recommend this charging handle to anyone who's looking specifically for a super light weight, ergonomic design.
How They Stack Up
Overall, it's hard to say that any one of these charging handles is a clear cut winner. There's great features on all of them that makes them unique, and that's the best part. It really comes down to preference. However, we would be remiss if we didn't hand out some awards here.
Durability
if you're looking for durability above all, we'd suggest the Radian Raptor. The Raptor is one of the most popular charging handles on the market due to its reliability, so it's going to be super hard to beat in this category.
Lightweight & Efficiency
Having a lightweight build is super important, and you want your build to be as efficient and ergonomic as possible. Due to its checkered grip and contoured levels, we're giving the victory to Geissele's charging handle. Geissele has really stepped up in the innovation department here, and their handle simply makes life a breeze!
Overall Value
This is a close one, but after all is said and done, we have to give it to the Bravo Company BCM Gunfighter Charging Handle. With its super low price point, and super high value in features and durability, it's hard to find an alternative that packs in this much value at such a great price. If you're looking to replace your stock charging handle without worrying about breaking the bank, this charging handle from Bravo Company is an awesome choice. When all is said and done, these are all great charging handles, however, everyone has different preferences and needs, so it all comes down to you and what you're looking for! However, no matter which handle you choose, you'll be in safe hands with any of these options.