May Sale! 5 Huge Deals on Ar 15 Accessories and More
If you're in the market for some new AR-15 Accessories or AR parts, you've come to the right place. At Milspec, we offer some pretty incredible deals on all of our products, and we wanted to highlight these 5 parts that pack a ton of value with a great price. We've included a mix of mounts, braces, muzzles, and lights, all parts that can make a huge difference with your performance and accuracy.
Oftentimes, we overlook these parts because they don't have the same kind of appeal as something like a new scope or even a new rifle, but try these out and you'll see your overall performance skyrocket. With all that said, let's check out these amazing deals for the month of May that'll make a huge difference for you today!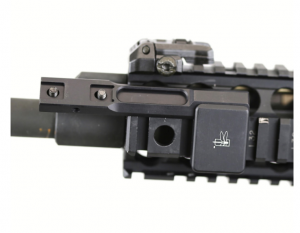 Have you had trouble with hand placement on your rifle? Many shooters find that being able to move their hand farther down their rifle makes a big difference in comfort and precision. Enter the IWC Haley Strategic Thorntail Scout Light Offset Mount. The Haley Strategic Thorntail Scout Mount is designed to extend the weapon light several inches beyond the end of the forend or rail system. This allows the shooter to place the support hand farther forward on the weapon, improving the shooter's control, speed and accuracy. Not to mention, this extra length allows for increasing usable space for attaching IR devices, lasers, grips, and more. Overall, the Haley Strategic Thorntail Mount is an easy fix to adding some more length to the end of your AR, and help out in a variety of ways.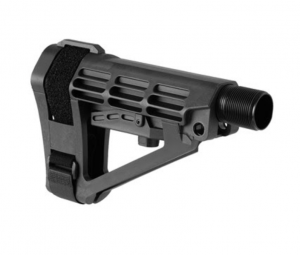 Using a SB Brace can truly be a gamechanger. If you're trying to shoot one-handed, you'll need to check out this SB Tactical Brace. The SBA4 Brace is designed for all platforms capable of accepting a mil-spec carbine receiver extension. The SBA4™ is 5-position adjustable, offers the user enhanced cheek weld ergonomics, and features an integral, ambidextrous QD sling socket. SB Tactical has led the way in this field, as they invented the Pistol Stabilizing brace, which greatly enhances control for large format pistols. This SBA4 brace is the best overall for increasing accuracy and reducing recoil during single handed firing.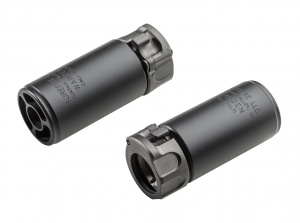 Of all the priorities we place on our weapons, number one is safety. Dealing with concussive blasts is an extremely important part of any weapon build, and the Surefire Warden Blast Regulator is an amazing tool for this problem. The SureFire Warden Blast Regulator for 5.56 and 7.62 mm weapons is engineered to direct the concussive blast of the fired round forward of the weapon system without venting gas to the side, as seen with standard muzzle brakes. This aids in reducing the overpressure felt by others immediately to the left and/or right of the shooter's firing position. It also limits any dust signature from the weapon when fired from a prone position.
This version of the Warden quickly and easily mounts to any SureFire SOCOM Fast-Attach® 5.56 or 7.62 muzzle device through the same patented system found on SureFire SOCOM Fast-Attach® Series suppressors. Unlike sound suppressors, Wardens are not NFA devices and are available wherever SureFire products are sold, without any of the restrictions associated with suppressors. The Surefire Warden is one of our favorites, and an amazing deal for this month, because not only is it super effective, it's also incredibly reliable. The Warden features  rugged stainless steel and a durable Cerakote finish. Overall, it's a versatile, easy to use and mount, super safe and reliable piece that any AR user can appreciate.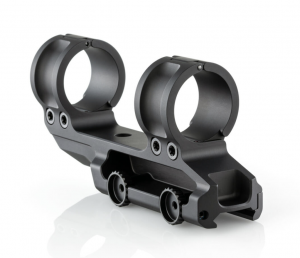 Looking for the very best in optic mounts? Well, it's time to stop that search. The Scalarworks LEAP is famous for its unbeatable performance. This Scalarworks LEAP mount is super lightweight, and highly durable. On top of that, it's extremely easy to use, and is the least obtrusive quick-detach mount available on the market. When your order the LEAP mount, you'll also get Scalarwork's proprietary leveling screw. This will help you easily square your scope with the mount. After installation, you'll immediately notice the super lightweight engineering. 
In addition, the tubular boom and I-beam bridge maximize their rigidity and impace resistance, all while minimizing weight. The Scalarworks Ring was designed from the ground up to be stiffer, lighter, and easier to use than traditional rings. It's also narrower than most bolt-on mounts. The Leap has no protruding levers or knobs that rap your knuckles, or catch on clothing, gear, and surroundings. Overall, this mount is one of the very best AR 15 accessories on the market for a reason. Try this one out and see how much your performance improves overnight!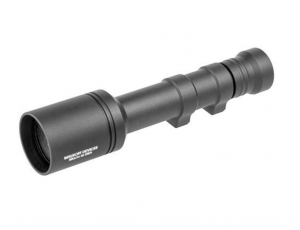 Arisaka Defense makes some of the best weapon lights available, and the 600 series is no exception! The Arisaka Defense 600 Series E2XTD Light is an illumination package consisting of the Arisaka 600 Series Light Body, Tailcap, and Malkoff Devices E2XTD Scout head. Arisaka Defense has made this light easy to use and versatile. Simply add an aftermarket Scout mount of your choice for a complete lighting solution. First off, the new Malkoff E2XTD heads utilize a TIR lens that focuses the beam. Additionally, it produces 70,000 candela and 650 out-the-front lumens. This provides a tightly concentrated beam for maximum distance. Not only that, it provides a small amount of spill for close range and peripheral lighting. For comparison, the latest Surefire 1500 lumen M600DF is puts out 16,000 lux. Simply put, Arisaka Defense has been crushing the competition with this light.
Final Thoughts
Overall, there's a ton of great deals on all kinds of products at Milspec Retail. Whether you're looking for a new SBA4 Brace or weapon light from Arisaka Defense, you'll definitely find some great deals. If you're looking to make some upgrades at a great price, check out these AR 15 accessories!