Rifle Stocks: The Best For Your Rifle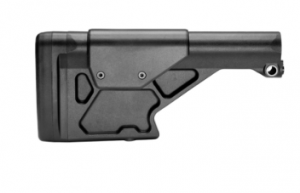 Over time, rifle accessories have evolved to be more and more advanced. Just by making a search for "AR 15 Parts", or "AR Accessories", it's easy to see how having the right gun accessories have become such a large part of owning a rifle. Rifle stocks are no exception to this pattern, and have changed considerably over the past few decades. Originally, rifle stocks were made of wood almost exclusively, most commonly walnut. 
Today, on the other hand, stocks are made of a variety of modern materials but very rarely wood, drastically improving their function, and showing why they are one of the most important parts of a rifle. 
Some of the first firearm stocks were designed for the simple purpose of supporting the firearm and protecting the shooter from injury. For those purposes, the wooden material was technically sufficient. With their improved design, however, rifle stocks today provide several other benefits other than just support and protection. We will discuss a few of these. 
Before we get into the specific advantages of a rifle stock, we should first consider what a rifle stock really is. A rifle stock is a device that provides an interface between the shooter and the rifle. The primary function of this component is to allow the shooter a repeatable point of contact in relation to the rifle's aiming device so they may aim their shots more precisely.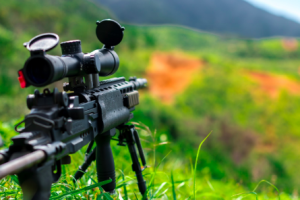 The rifle stock's cheekweld is primarily responsible for this repeatable accuracy benefit. The cheekweld is the location where you rest the stock against your cheek, so if it did not allow you to position your cheek in the same spot each time, you would have a hard time replicating your sight picture. As a result, your bullet impact would be different from shot to shot, which is never desirable. 
The rifle stock's cheekweld will eliminate this problem, ensuring repeatable accuracy so you can hit the target every time. Additionally, the rifle stock gives the shooter enhanced ability to control the rifle, allowing them to hold the rifle perfectly still for a more accurate shot. This increased level of control combined with the repeated shock accuracy will vastly improve your target practice! 
Finally, rifle stocks supply steady support of the rifle's receiver. Typically, they either have just enough support of the barrel to dampen its accuracy-depriving vibrations, or allow the barrel to vibrate freely and repeatedly. 
Now that you are familiar with the functions and benefits of rifle stocks, let's get into our top picks!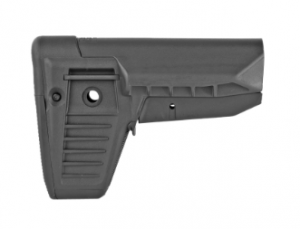 This Bravo Company rifle stock is strong and lightweight for your mil-spec receiver extension! It features a more pronounced cheekweld for optimal repeatable accuracy. The stock has a snag free design, with no sharp edges to prevent tangling of the rifle with other components. 
It also contains a sling tab that interfaces with the shooter's riggers' band or bungee in order to secure the shooter's sling against the stock when the carbine is not being used. 
The Bravo Company BCM rifle stock also includes two different types of ambidextrous sling mounting options, a storage compartment, and a built in rubber butt pad for secure shoulder placement.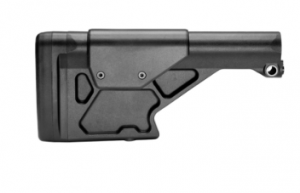 Another one of our latest innovations is the Professional Composites by Seekins Precision! This rifle stock is usable on all Milspec AR15 and AR10 platform rifles, easily mounting to rifle length receiver extension tubes. 
This stock has a rigid and lightweight adjustment cheek and a recoil pad with solid lock up. This rubber recoil pad comfortably absorbs recoil, allowing for faster follow up shots. In addition, all the steel parts are coated with ArmorBlak coating. If you are looking for a new rifle stock, we highly recommend looking into this design.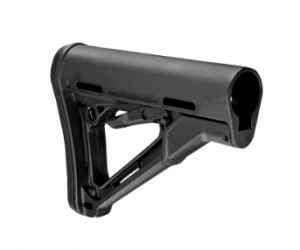 Our final favorite rifle stock is the Magpul CTR Carbine Stock. This stock is designed for light, fast action. The streamlined A-frame profile prevents snagging while shielding the release latch to prevent accidental activation.
 It also features a supplemental friction lock system to minimize excessive stock movement, enhancing weapon stability. The Mil-Spec model includes a rubber butt pad to provide an anti-slippage surface and increase impact protection. 
This rifle stock is incredible in increasing comfort for the shooter and control of the rifle, which is why it is another one of our top picks.
Clearly, there is no shortness of options when looking for the perfect components for your automatic rifle. Depending on your intended use, certain components or accessories may stand out more to you than they might to someone who intends to use their rifle for a different reason. 
Whether you typically use your rifle for hunting or recreation, however, a good rifle stock is always a good idea. The repeated accuracy and enhanced precision and control over the firearm that a stock provides will be valued by every shooter. And when it comes to creating quality pieces you can trust, Milspec always hits the target!