Mounts and Silencers: Why Add These to Your Firearms
Most people who have ever fired an AR-15 can agree that there are there are some parts of the rifle you loved, and other parts of the rifle you wish were modified or found unnecessary as a whole. Of course, different shooters prefer rifles with different designs because no two bodies are exactly the same.
Fortunately, the AR-15 is an extremely customizable rifle; there are endless ways you can personalize your weapon. With just slight upgrades and modifications, you can build the rifle that is best suited to your personal shooting preferences based on how you intend to use it. This way, you get a more accurate and therefore more optimal shooting experience.
Even though people have different preferences and different desired uses for their rifles, there are some components that everyone can agree are a must have for your firearm. Let's discuss why you need to add mounts and silencers to your firearm.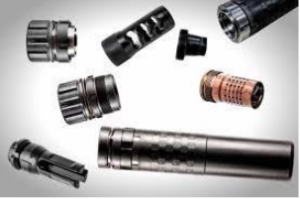 When most people are asked what the key to getting accurate rounds on target is, they tend to come up with the obvious answers such as a well-made rifle, or solid ammunition.
While this is true, people are forgetting the glue that holds the rifle to the scope: the scope mount! People tend to underestimate the importance of mounting your scope correctly, but it is extremely essential to fire off precise rounds.
If your mount is not right, you will not have a great zero, and without a great zero, your chances of hitting the target every time get lower and lower. Regardless of the purpose of your firearm and despite your personal preferences, every shooter wants to hit the target, so no one can undermine the importance of a scope mount. It is simply a must! 
Another essential for your rifle is a suppressor. Suppressors have taken on a slightly bad reputation, as many people immediately think of mobsters trying to keep their violent crimes under wraps. However, the average rifle owner also has many uses for a suppressor that involve nothing of the sort!
For example, suppressors serve the obvious function of protecting your ears from the harmful loud noise of firing your weapon. A suppressor is also a must if you are a hunter. Firing just one shot can scare off all the animals in hearing distance from you, making it much harder to find targets. With a suppressor, you can fire off a few shots without alerting all the nearby prey. 
Now that you are more familiar with the benefits of scope mounts and suppressors, let us introduce you to some of our top picks!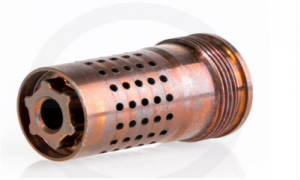 One of our favorite products is the Cherry Bomb by Q. This accessory is a Quickie Fast-Attach muzzle brake. If you already own some other Q products, you are in luck, because this muzzle brake is compatible with the Thunder Chicken and Trash Panda silencers by Q. The muzzle break includes a taper mount shoulder to align with these products.
The Q Cherry Bomb features a half inch socket on the front, making installation and removal easy. It also has 360 degree circumferential ports, eliminating the need for timing and shims!
Finally, this muzzle brake is backwards compatible with standard 0- degree shouldered barrels. If you looking for a new muzzle brake, this is the one for you!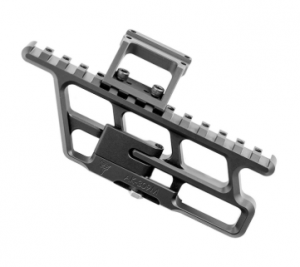 We love the ground-breaking, proprietary technology RS Regulate has brought to the AK world. Their cutting-edge designs allow every AK owner to achieve their vision of the perfect rifle! Among our favorite of their products is the RS AK-301 Modular Side Mount System.
It is the world's first modular side rail system, allowing users to change upper optic mounts as needed. Also, users can adjust both over-bore and front-to-back position of the upper, ensuring their optic is perfectly placed. With the RS Regulate mount, you will surely hit your target!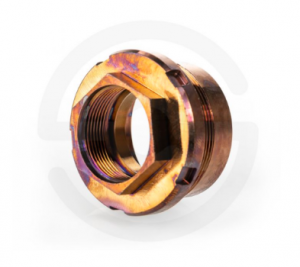 To go along with the Q Cherry Bomb we mentioned earlier, you might consider getting this Q Plan B Silencer. The two are often purchased together because of their compatibility. The "Plan B" by Q is designed to replace the mount on an Omega 300, Harvester Big Bore, or Hybrid 46, allowing you to run those silencers on the Q Cherry Bomb devices. These two serve as the perfect duo!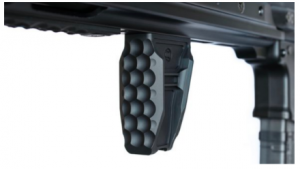 Looking for help in aiming and recoiling control for your AR 15? Look no further! The Railscales Anchor is a bi-directional vertical foregrip. It fits both M-Lok & KeyMod rails with their patented COG Multi-Mount system, including hardware for both!
This Anchor foregrip is reversible, enabling either a 90 degree or a more relaxed 70 degree angle. The Anchor forend grip has a honeycomb texture for maximum non-slip grip. The advanced design makes this foregrip lighter than nearly all other polymer vertical hand grips 
 Don't be fooled, the reduction in weight does not correspond to any reduction in function! The Railscales Anchor foregrip will do wonders for your control.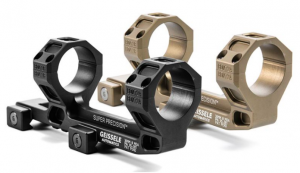 The Geissele Super Precision Mounts are made from 7075-T6 High Strength Aluminum.  The entire mount is purposely machined from a single piece of billet aluminum to create the best possible return to zero. Pockets and ribs are added throughout the mount for additional strength and rigidity.
Geissele will line bore the caps to each other and serialize the caps to the body, creating the best possible fit to the body of your scope so that you can apply proper torque without fear of crushing or damaging the body of your scope! Clearly, machining the entire mount from a single piece of aluminum gives countless advantages to this particular mount. It will be the perfect fit for you!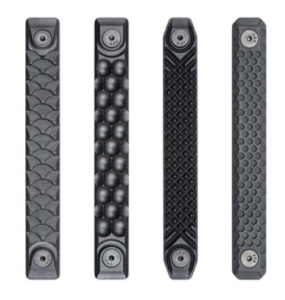 You read that right, Railscales is the name of the brand AND the product. This is because Railscales singlehandedly innovated the machine scale concept, and remain at the forefront today! Their premium machined G10 handguard rail scales offer patented textures and hardware.
This allows for superior grip and heat protection to your MLOK rails. Their MLOK rail panels are also the thinnest G10 rail grip scales on the market by a margin of 50 percent! If you are interested in Railscales, where better to go than to the creators themselves. They will live up to your expectations! 
Last Thoughts:
There are many accessories you can choose to forego when building your dream automatic rifle. When it comes to scope mounts and suppressors, however, you simply cannot pass them up. But not to worry, like everything in the firearms world, you have an endless stream of options, whether that's a Q Cherry Bomb muzzle brake or a new Railscales Anchor!
These options involve different companies as well as different options for mount designs. By taking into account your personal preference, the way your rifle is currently set up, and what purpose you intend your gun to serve, you can narrow down which is the best for you!