AR-15 Accessories Shake Up: October 2021
As we all know, putting together our AR-15s is a labor of love. It can sometimes seem like by the time you've gotten your perfect build ready, it's time to change something else. With so many different ways to customize your AR 15, we could all use a shake up sometimes. Why's that? Well, why not? Chances are, even if you're totally happy with your build, there's something new you might want to try or learn more about. For this upcoming month of October, let's take a look at a few easy ways you can upgrade your AR 15 accessories.
Pistol Grips:
When you use a traditional stock AR-15, you are most likely using the standard A2 grip. While some people don't mind them, they can often feel skinny and cheap. That's why for people who'll be using their ARs a lot, we recommend upgrading to a more comfortable grip. This is where the pistol grips come in. Pistol grips are more ergonomic feeling, and honestly boast a more aesthetically pleasing look. Compared to the standard A2 grip, many users much prefer the pistol grip.
Magpul MOE+ Grip for AR-15, M4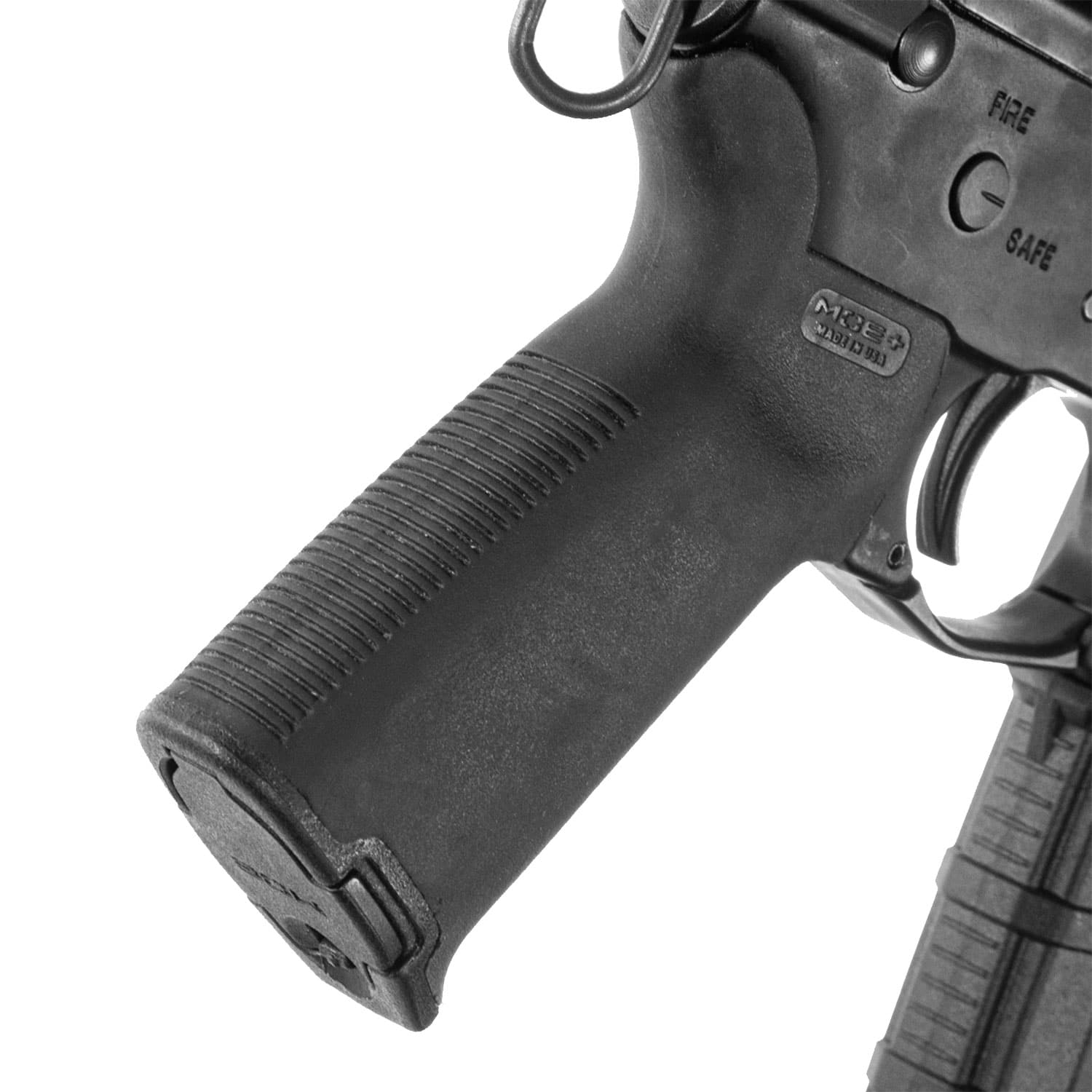 The Magpul MOE+ Grip is an awesome choice for anyone looking to switch their grip. For one, it's super durable. It combines reinforced polymer body construction with comfortable, wrap-around rubber overmolding. This make it superior for maximum weapon control, even in adverse environments. With a similar shape to a 'medium' sized MIAD, this AR15 / M4 drop-in design features a hard-polymer bottom edge. This bottom edge helps to reduce the possibility of equipment snags or grip damage. Additionally, the Magpul MOE+ Grip accepts optional Storage Cores for gear stowage, and includes a basic grip cap.
Magpul MOE SL "Slim Line" Grip for AR-15, M4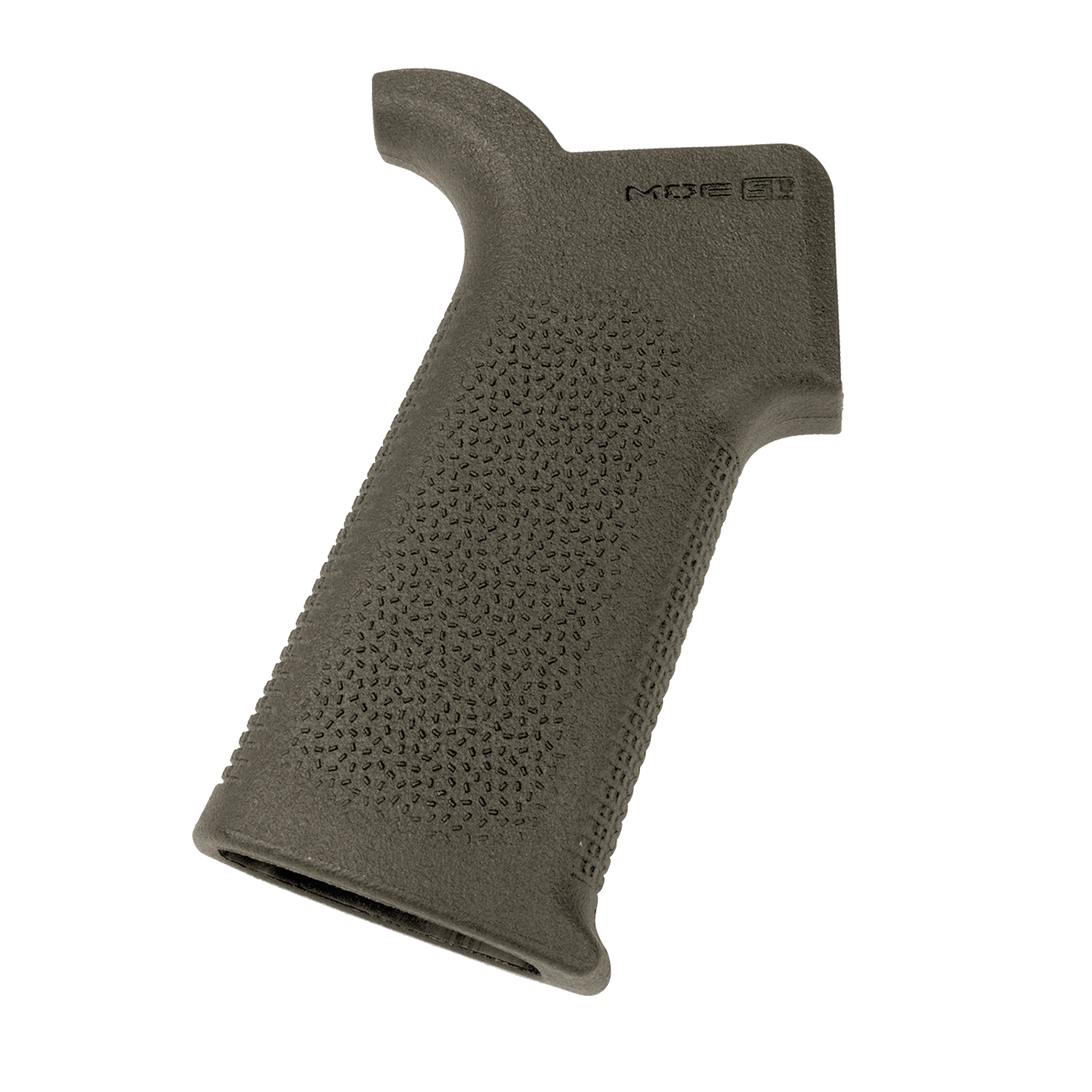 The grip so nice, we listed it twice! Just kidding. Similar to the MOE grip above, the MOE SL Grip (MOE Slim Line) is a drop-in upgrade for AR15/M4 pistol grips with a more vertical grip angle optimized for short LOP weapons. This helps in particular to bring the primary hand in closer to the shooter's body. This grip version includes an aggressive TSP texture for positive weapon control. Overall, with its excellent ergonomics and design, the SL Grip provides a slightly smaller size and slimline feel.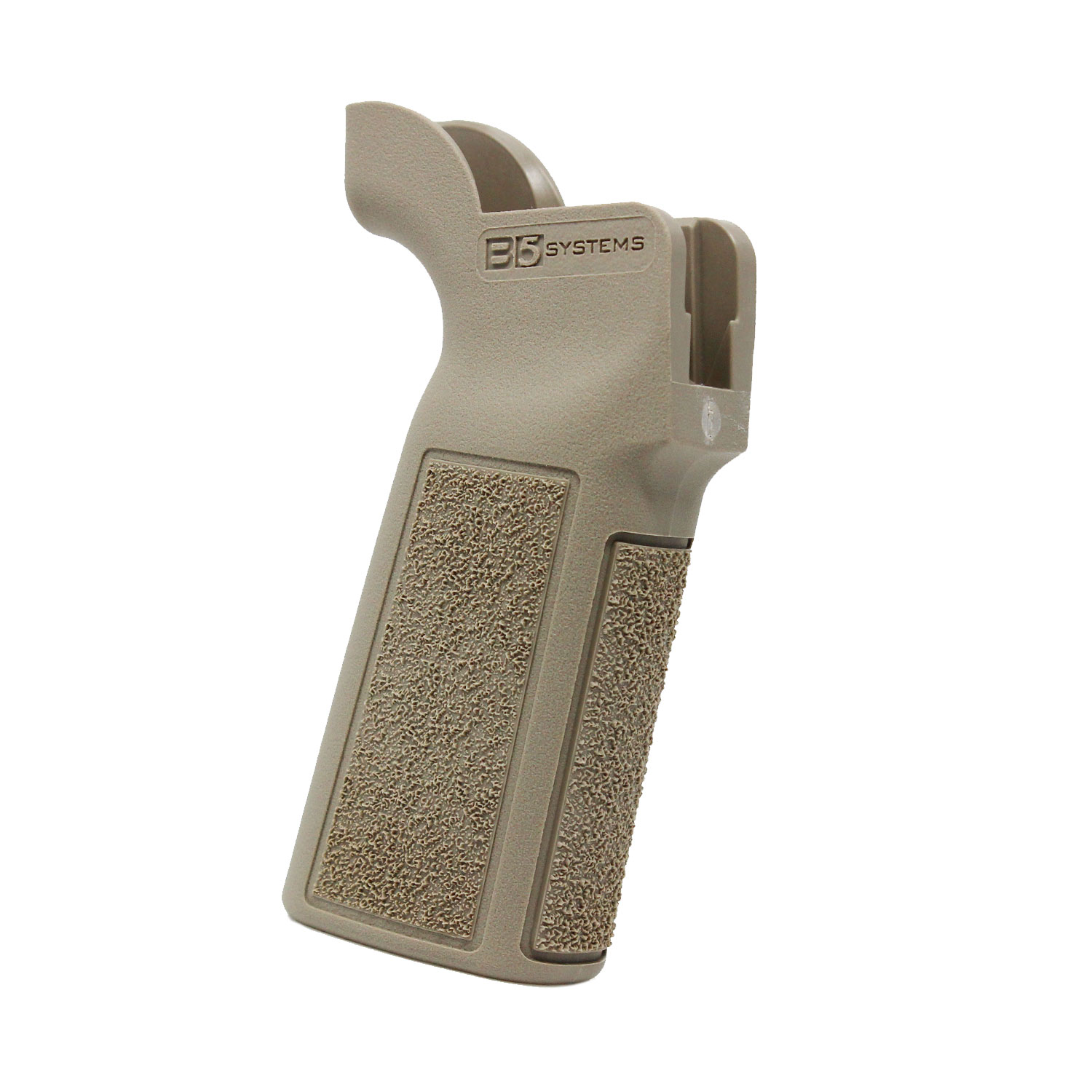 As we mentioned earlier, many people prefer the pistol grip for its feel. Ultimately, you want a grip that's positioned most naturally so you can always feel comfortable when using. The B5 Systems grip might be the most natural grip for taking a squared-off stance. Your hand will naturally find its optimal position on the B5 Systems Type 23 P-Grip, thanks to its steep angle, extended tang, and palm-filling design. By ensuring proper trigger finger placement, this grip has been shown to improve shooting speed while correcting for any tendency to drift into a "chicken-wing" arm placement.
Stocks & Braces
While everyone has different preferences for buttstocks, there's a couple things everyone can agree on. A good stock needs to have reliable durability, and an ergonomic design. When you have to use a bad stock, it feels clunky, and gets caught on everything. When you use a good one, you'll find it to be a seamless experience.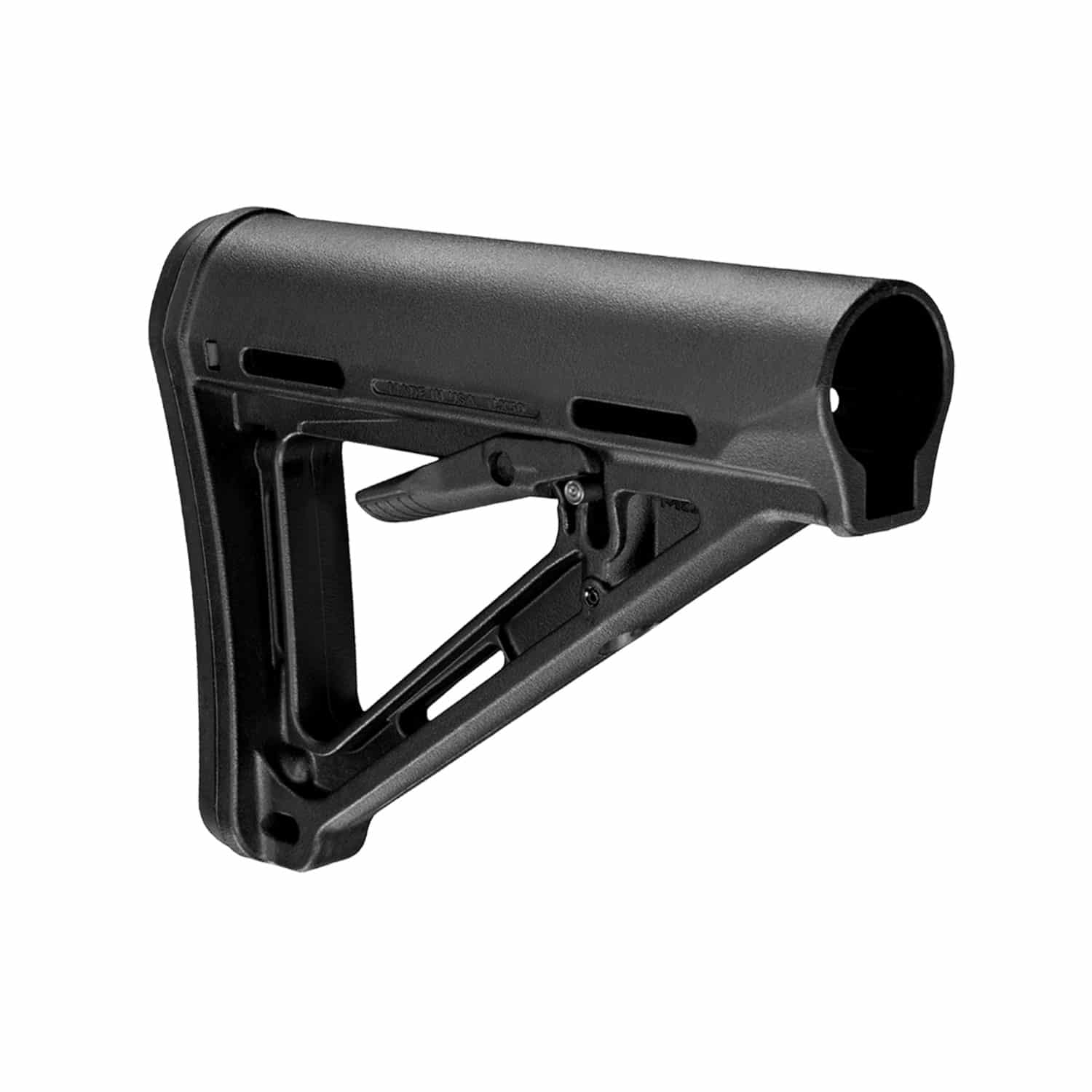 The MOE Carbine Stock – Mil-Spec model (Magpul Original Equipment) is a drop-in replacement buttstock for AR15/M16 carbines using Mil-Spec sized receiver extension tubes. The MOE Carbine Stock features a design made for light, fast action. Its streamlined, A-frame profile avoids snagging and shields the release latch to prevent accidental activation. This goes with what we just mentioned about snagging. This stock takes that issue away with its innovative design. Beyond the fast action design, it also includes a standard 0.30″ thick rubber butt-pad. This helps provides positive shoulder purchase to prevent slippage, even with body armor or modular gear.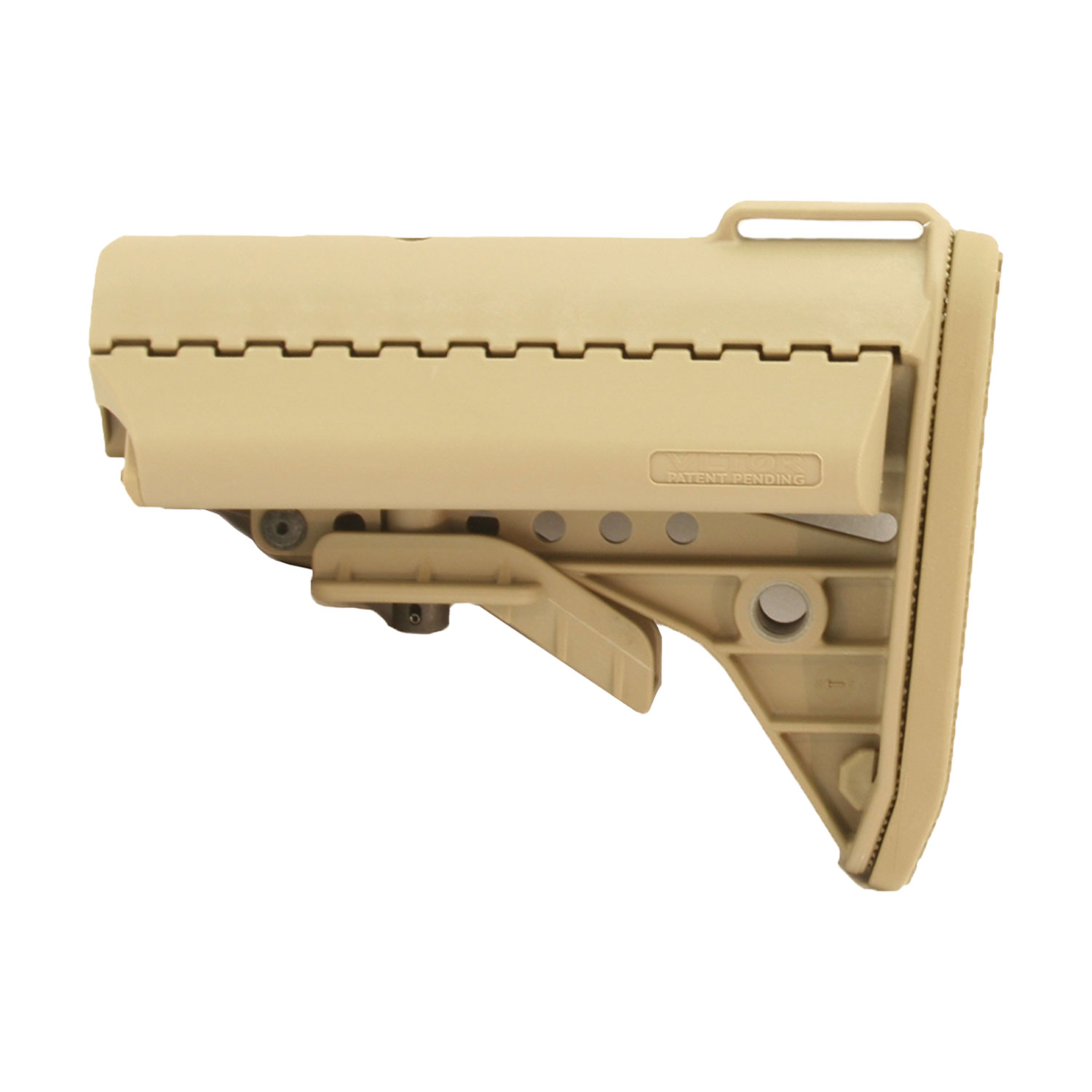 Like the Magpul MOE stock, this VLTOR IMOD stock also focuses on highly practical, functional features. Its design is inspired from lessons taken from the modern battlefield, and is made to be super reliable in any situation. When it comes to its construction, it's second to none. The stock features the finest materials, making it capable of withstanding the most rugged demands. Tons of our customers love this stock, and for good reason. The IMOD stock kit is the perfect start to any AR-15 build.
Handguards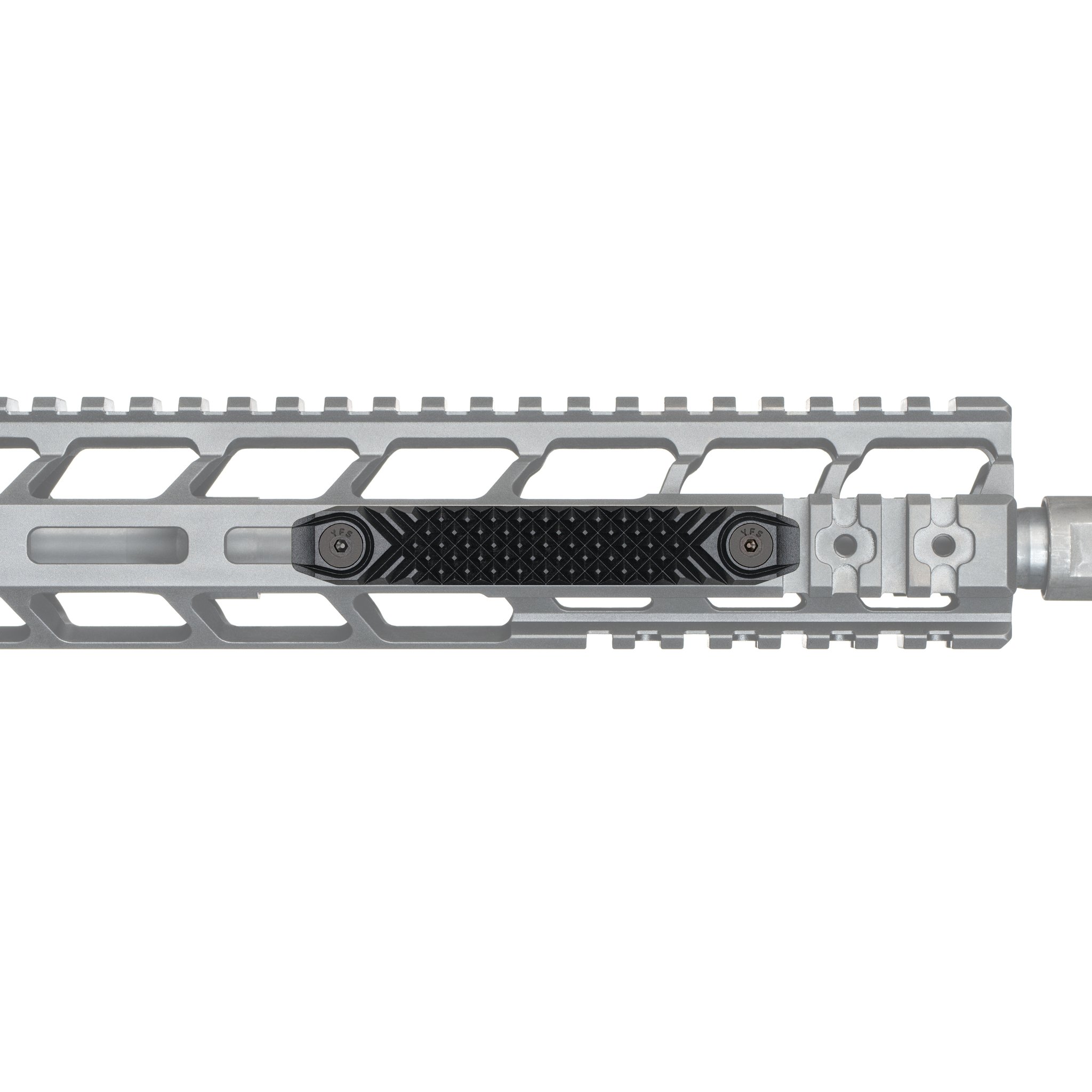 We love the HTP Scales because they are a great, affordable alternative to the G10 scales. The HTP Scales feature the same patented textures and hardware as the machined G10 line of rail scales, but in a more affordable heat-stabilized nylon. Why choose Railscales to begin with? They are, incredibly, only 0.125 of an inch thin, which is only 43 percent of the thickness of other alternatives. They're also able to do this while still maintaining great durability and price points. Overall, they're a great option if you're looking for new hand guard rail covers.
Ultimately, there's a ton of options out there if you're looking to change things up with your AR15. Buying AR 15 Accessories is a fun experience in itself, and there's so much to learn from. Whether you're new or experienced, shaking things up can be an awesome way to get better, and have more fun. We'll do some more of these in the future with our top picks, so stay tuned for our next recommendations.