New Arrivals Spotlight: Modlite, Bravo Company, Aero Precision
With our new arrivals finally here, it's time to take a look at what makes each of these new selections so great, and why anyone looking to upgrade their current weapon build, whether you're using an AR 15, Glock, or other weapon, can benefit from these accessories.
Stocks
This folding stock sticks out with its ease and accessibility. This SIG Sauer factory replacement M4 stock simply put, makes life easier. It features a super easy install on MCX/MPX  via the receiver's 1913 interface. Additionally, this stock option gives you the ability to install standard AR-15 types buttstocks on your MCX/MPX. Looking at the durability, the biggest highlight is its aluminum construction. This allows for a surprisingly lightweight stock, without having to compromise for durability. Finally, it's optimized for comfort with its rubber butt-plate. Not only does this help with overall comfort, but it ensures zero slippage on the end-users.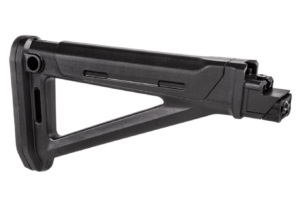 If you use a stamped-receiver rifle, you need a stock that provides optimal construction and reliability. This Magpul MOE stock is an optimized fixed stock that not only provides top construction, but also ingenuity to the AK platform. What makes this AK stock different? Let's take a look. One of its top features is its unique wedge block fitment of the Zhukov-S stock. This fitment provides more internal storage, and optimized QD sling swivel placement. Additionally, it provides a shock-absorbing rubber butt pad for positive anti slip placement, and impact protection. It also has user-selectable snap on Cheek Risers (sold separately). Looking at the durability and weight, it's made with reinforced polymer A-frame construction. This minimizes the weight, while still maintaining top durability.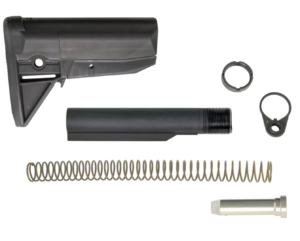 Looking for the strongest, most lightweight polymer stock for your rifle? Look no further than the Bravo Company BCM Gunfighter Stock kit. This stock kit changes the game with its snag free design. Say goodbye to sharp edges and tangling, this stock kit keeps things efficient and clean. Its design allows it to stay clear of slings, molle gear, or any other kit. One of the top features on this stock kit is its Modular VBOST (Vehicle Borne Operations Sling Tab). This tab interfaces with the shooter's riggers' band or bungee to secure the shooter's sling against the stock when the carbine is not in use. Increasingly, this is the most common application when operating inside a vehicle. The stock kit includes 2 different types of ambidextrous sling mounting options, including QD swivel sockets. This stock stands out with its simple, modular design and innovative features like the VBOST. Overall, it's a very solid option for anyone looking for a stock upgrade.
Lights
Modlite Systems PLH5K – PL350 Pistol Light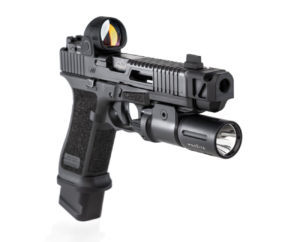 With this light package from Modlite, you're getting some awesome features. Starting with the numbers: 5000 Kelvin color temperature. 1500 Lumens. 29,000 Candela. Let's break that down. With the 5000 Kelvin temperature, you're getting a warmer color that's easier on the eyes during indoor/urban use. Additionally, it provides more flood light than other models. These specific features make it very specialized, and very useful in city/urban or indoor situations. Its modular design makes it compatible with all Modlite heads, allowing for total customization for specific needs.
It also includes a full set of PHLSTER ARC enhanced WML Switches. This also lets the end-user tailor the light to fit their hands and shooting methods. The PL350 is designed to be compatible with current and future Modlite heads, ensuring long life and future upgrade paths. If you find yourself needing a less taxing Kelvin color, and could use more flood output, this is the light package for you.
Sights
EOTech HWS 518 Holographic Weapon Sight – Red Dot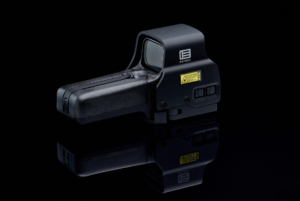 EOTech has taken their top features, and made them even better. With this model, you get the best features on the EXPS, but with easy to find AA batteries. Additionally, this sight stands out with its minimal design. It features buttons on the side that allow the user to position it close to the magnifier to reduce rail space. Moving on to the reticle: EOTech provides the MOA dot with 3 usable aiming points. The aiming points above are based on the following load: .223 cal. 62 gr. 2,900 vel. When using other loads and calibers, the operator will have to establish the ranges associated with the aiming points. When using a shotgun, the 68 MOA ring can be used to represent shot patterns but will vary based on choke and shell selection. This is an awesome sight option if you're looking for top performance, with easy to find AA batteries.
Holosun HS403C Red Dot w/ Lower 1/3rd Mount

This Holosun Red Dot sight is another great sight option. It features a whopping 50,000 hours battery life, with 12 different brightness settings. Additionally, it's parallax free and offers unlimited eye relief. It also features super convenient tray battery compartments, making it easy to use.
Upper Receivers
Grey Ghost Precision Stripped Forged Upper Receiver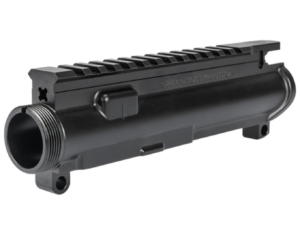 Finally, you can grab what Grey Ghost considers the best forged upper in the industry, and it is a perfect companion for your Grey Ghost Cornerstone Lower receiver. After all, accuracy comes from tight, precise tolerances that minimize all variables from the moment the hammer strikes the firing pin until the round leaves the muzzle. By perfecting the critical tooling dimensions to the smallest degree, a forged receiver can punch the same hole downrange.
Aero Precision Assembled Upper Receiver for AR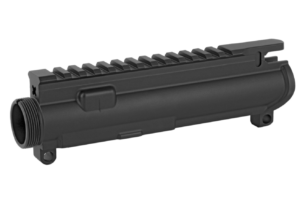 This upper receiver from Aero Precision is a great, easy to use option. The AR15 Assembled Upper Receiver comes with the port door and forward assist already installed. It's super durable, as it's made from 7075-T6 aluminum. Additionally, this assembled upper is precision machined to mil- spec M16/M4 specifications and features M4 feedramps. If you're a fan of Aero Precision's lower receivers, this makes for a great match.