Top New Accessories From Geissele Automatics
It goes without saying, that Geissele Automatics is one of the best. With their superior quality, long lasting durability, and reliable effectiveness, Geissele remains a true fan favorite. As one of our featured brands, we wanted to focus on a few of their newest releases available at Milspec Retail.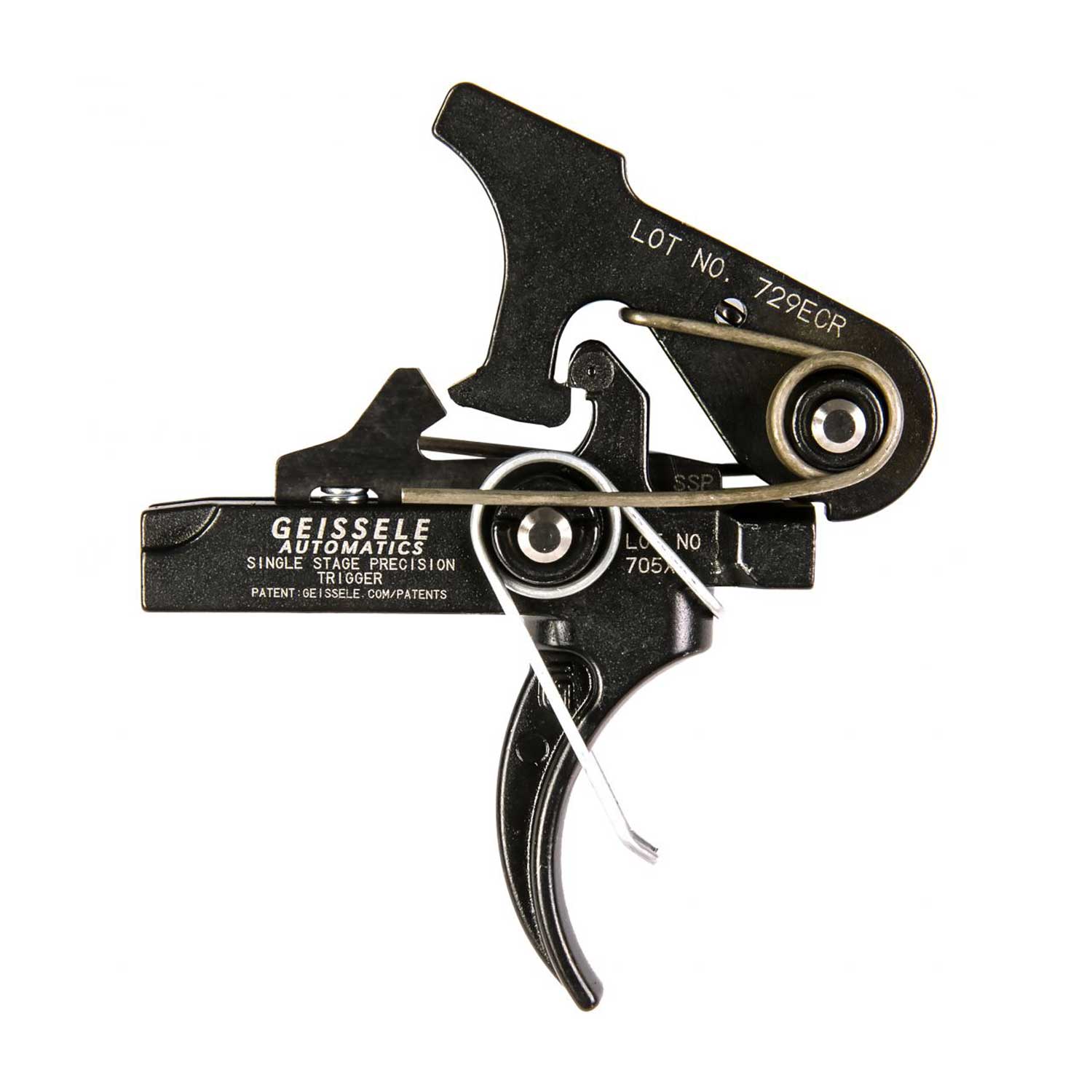 One of the most popular products Geissele has to offer is their SSP Trigger. The Single-Stage Precision (SSP) is Geissele Automatics' first true single-stage trigger for the AR Platform.  What stands out about this trigger? You'll notice this drop-in trigger has no take-up and a super clean break. Additionally, the reset is short but distinct, which gives excellent feedback during target engagement. Combining these two capabilities provides the shooter with the confidence necessary for when you need precision and accuracy most.
Let's take a look at the build quality. The SSP features superior materials, as well as the most modern manufacturing techniques. The SSP trigger is made from S7 Tool Steel and precision machined from the latest wire EDM technology.  Not only that, all parts are finished in durable corrosion-resistant black oxide. The Geissele SSP is a precision trigger, with maximum reliability and repeatability while engaging targets at long distances. It's simply the perfect trigger, whether it's being used for active duty, hunting, or target shooting.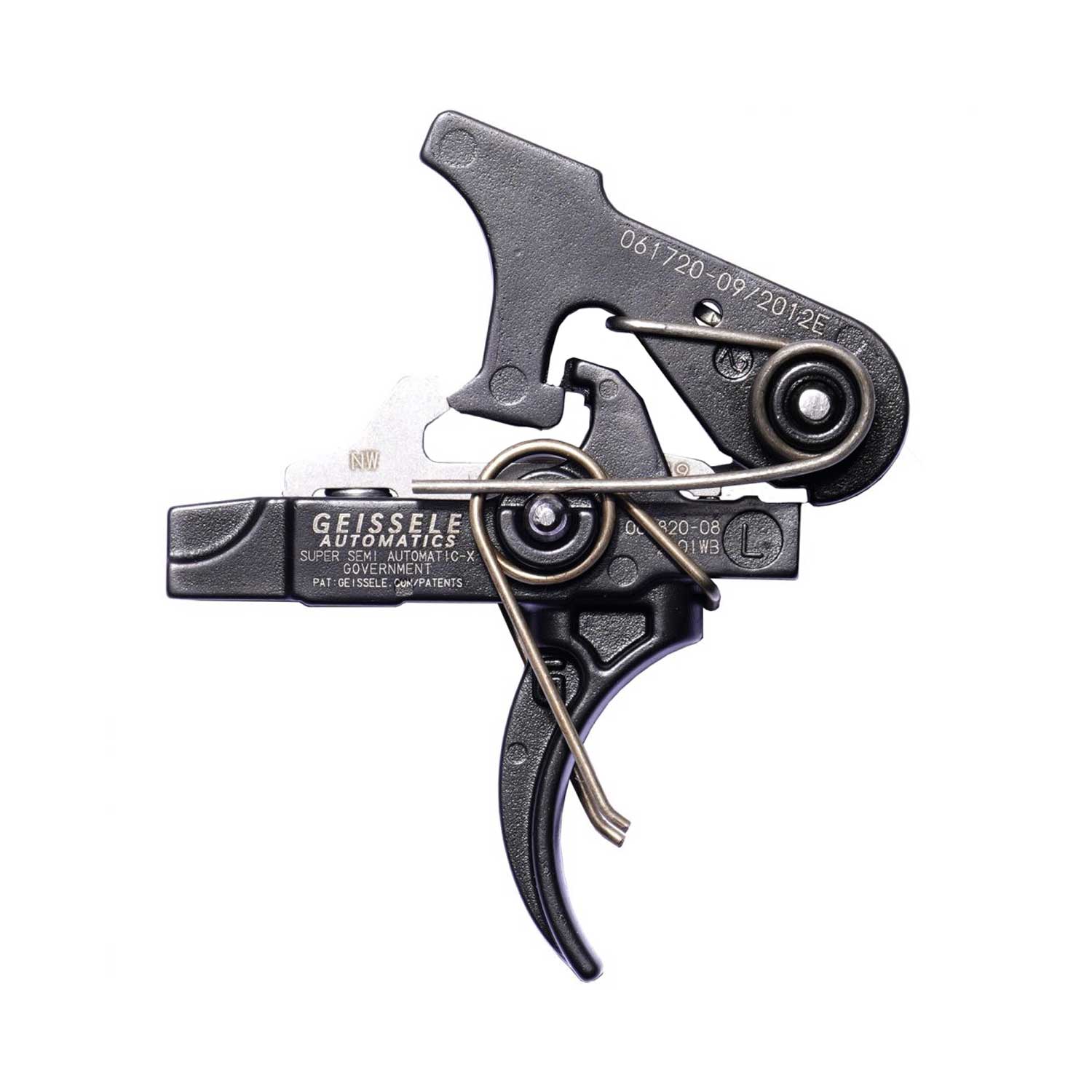 The SSA-X Government trigger is a two-stage trigger that has some pretty amazing features. First, a Nanocoated wide-body trigger and Nanocoated Hammer, with a special Chrome Nitride disconnect. These combine advancements in coating design to bring about the next evolution of the venerable SSA. These coatings dramatically enhance wear and corrosion resistance. Additionally, it helps keep the trigger running smooth and breaking clean, even after heavy use with minimal lubrication. The SSA-X Government trigger is a non-adjustable trigger with a familiar M4 bow.
This allows the trigger to be light enough for accurate and precise shots, but also forgiving enough for dynamic close in work as well. While the SSA-X Government Trigger comes assembled with a heavier Mil-Spec pull weight, Geissele is also including a lighter trigger spring to bring the 1st stage down to 2.75 – 3 lbs., and the overall pull weight down to 4.25 – 5.0 lbs. if so desired.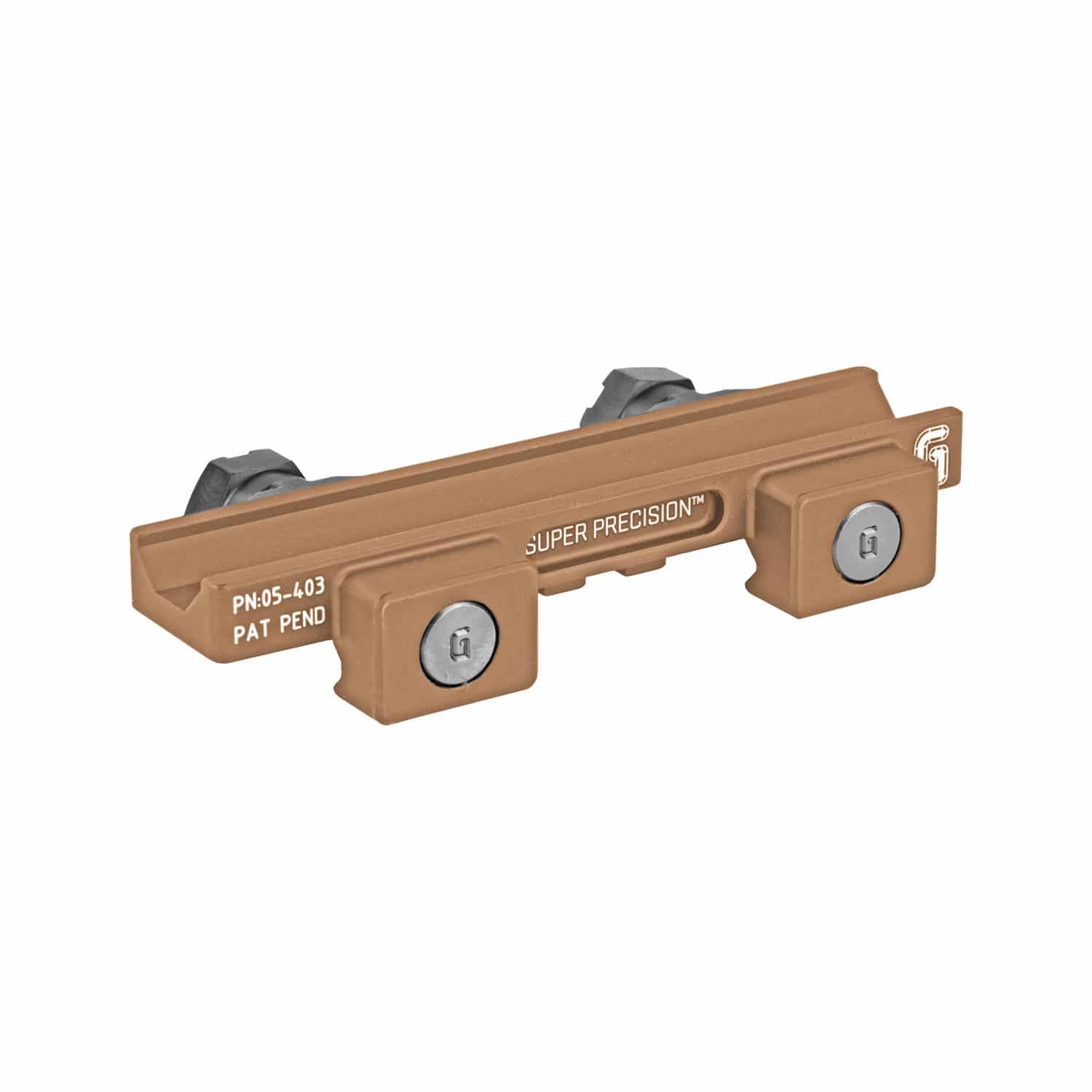 If you're looking for a super light mount, look no further. The Super Precision Optic mount is milled down to an insane 2.6 ounces! What's amazing about this mount isn't just the weight, but its durability. Geissele makes these out of single block aircraft-grade aluminum, so you know you're set with these. Each Geissele Super Precision Optic Mount features two precision-machined shear lugs. This helps make sure the optic stays in place during recoil and bolt carrier counter-recoil. If you're worried about a good interface between optic and base, you'll love this mount. Geissele worked closely with optic manufacturers to precisely mate their mounts with each individual optic. This relationship guarantees a solid interface between the optic and base. The Geissele mounts are locked in place utilizing the classic, battle-proven, nut and clamp system. This system provides over 1,000 pounds of clamping force.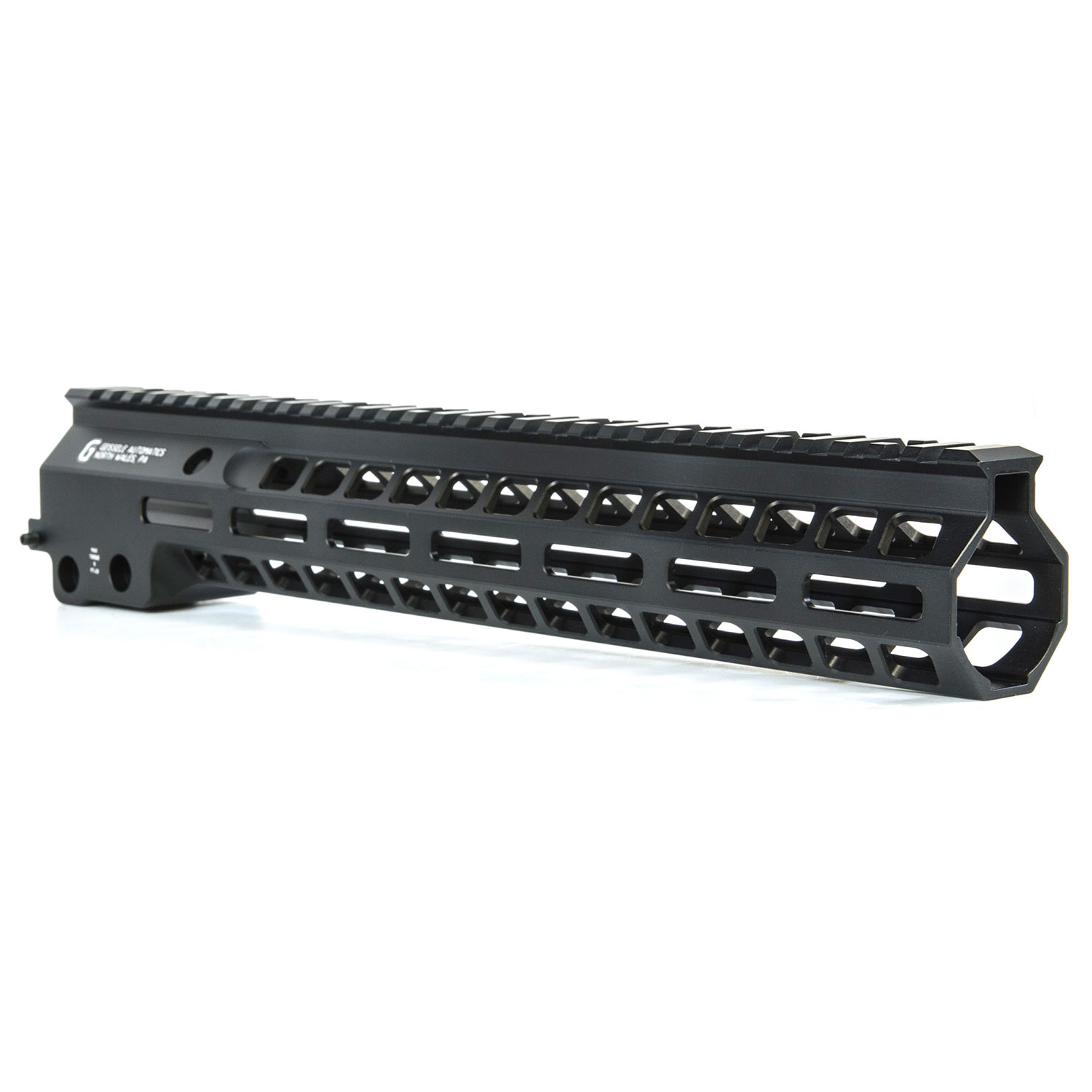 If you're a fan of the previous Super Modular Rails, you'll love this one. The MK14 is the latest entry to the Geissele line up of Super Modular Rails. You'll notice the new handguard design, which offers a smaller diameter and overall height to create a slimmer package. Included with the MK14 Super Modular Rail is an updated version of the proven Geissele Barrel Nut design. This not only provides ease of installation, but also superior rigidity. In addition, the long surface contact of the 2.25" barrel nut interfaces with the receiver. This creates a platform that can be trusted to be straight and true the entire length of the free float rail.
The MK14 has a 3d machined build, with 6061-T6 Aluminum due to its strong, rigid and lightweight properties. Utilizing Magpul's M-LOK technology in the 3, 6, and 9 o'clock positions allow the end user full customization and modularity of their rifle to securely mount lights, bipods and other firearm accessories. The Geissele MK14 Super Modular rail is finished in a durable and long lasting Type 3 Hardcoat Anodized available in either Black or Geissele's DDC finish.
The AR-15/M4 Super Precision series of scope mounts are perfect for use with an AR-15/M4 upper. Looking at the mounting surface, you'll see it spans 7 picatinny sections and utilizes 4 shear lugs. These mounts use Geissele's update of the classic nut and bolt method for clamping the mount to the picatinny rail. This is the most secure method of attaching your scope to your weapon. Each nut and bolt combination provides 1,400 pounds of clamping force, much more than any lever mounting arrangement.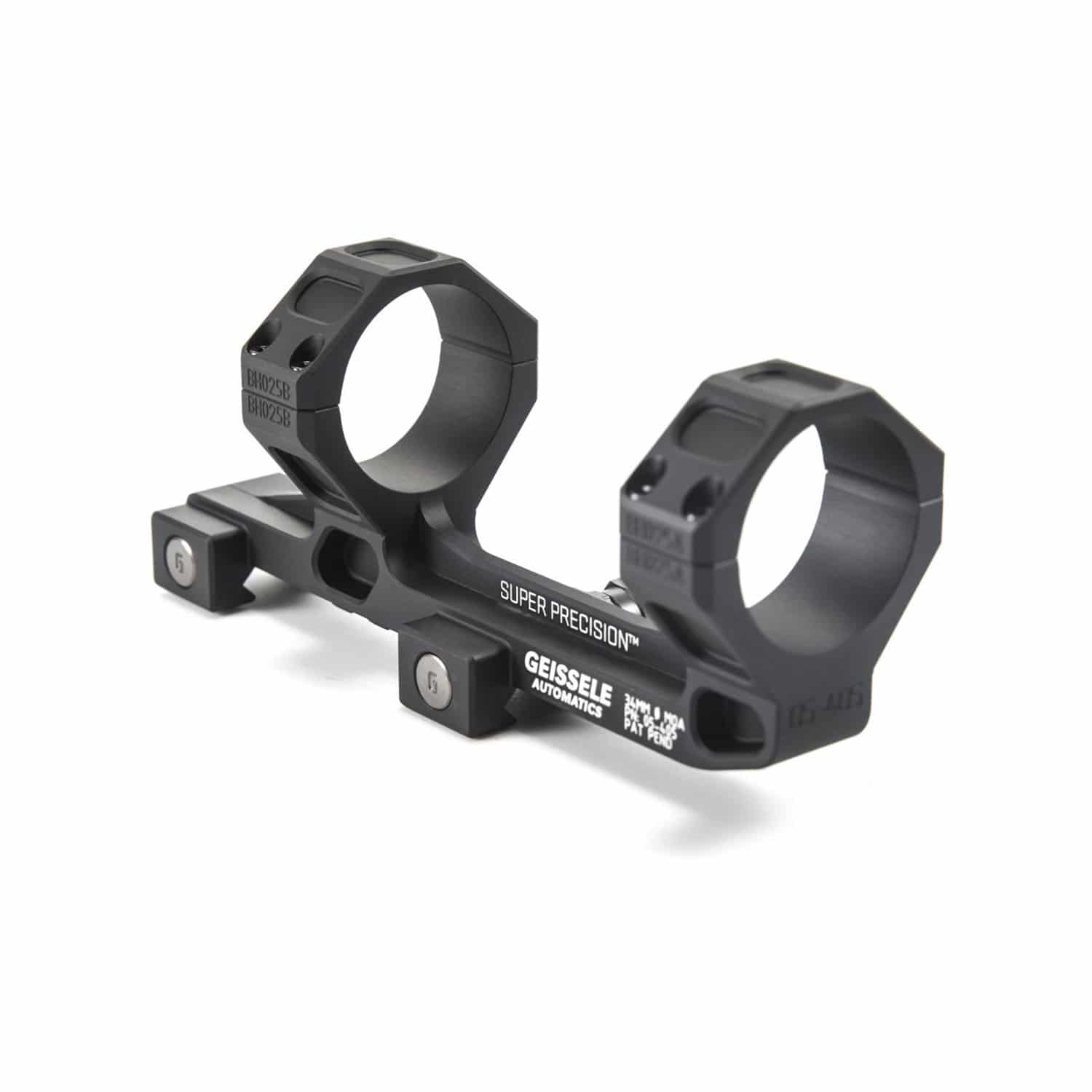 To create a mount with the best possible return, Geissele machines the entire mount from a single piece of billet aluminum. This allows for added pockets and ribs throughout the mount. This is instrumental in adding strength and rigidity. In addition, it helps line bore the caps to each other, and then serialize the caps to the body. The line bore operation creates the best possible fit to the body of your scope. When you go to shoot, you'll see that you can apply proper torque without fear of crushing or damaging the body of your scope. Another advantage of machining from a single piece of aluminum is having a mount with cap locations that will suit a wide variety of scopes. Truly, this mount from Geissele is a super versatile option that packs a ton of value.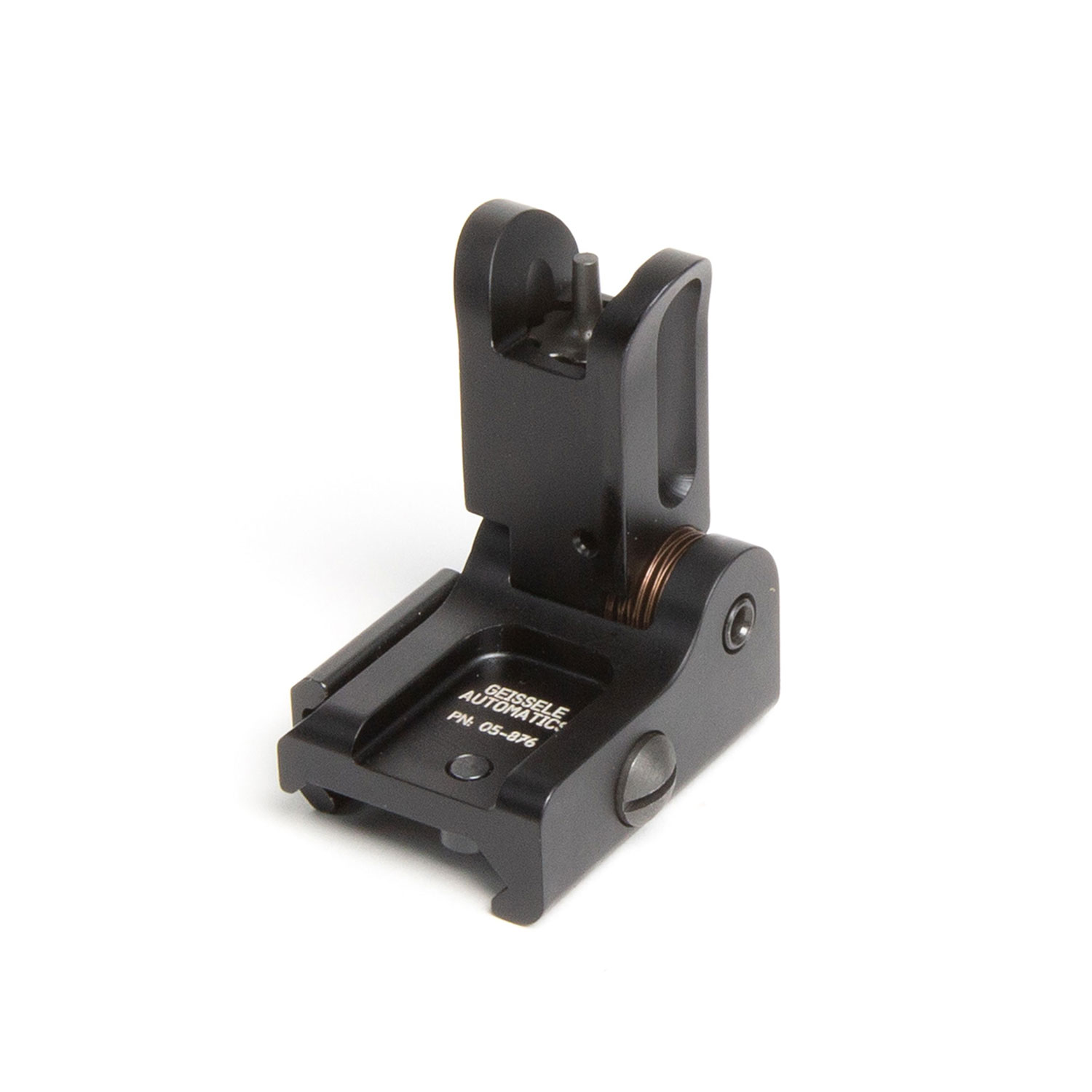 Folding sights can be a true difference maker in dire situations. Whether running them as your primary aiming system, or relying on them as a back-up in case your main optic goes down, the Geissele Folding Sights will give you the performance you need. The Geissele Folding Sights feature 6061-T6 aluminum materials and Type 3 hard coat anodizing to ensure extreme durability. For optimal aiming precision, the sights can be adjusted at ½" increments at 100 yards. The adjustments for the front and rear sights are captive to ensure that once sighted-in, there won't be any adjustments not intended by the user.
You don't have to worry about accidentally activating or folding the sights. There are no buttons or mechanisms to accidentally bump, simply move them up to lock into position, or apply sideward pressure to the vertical tower to lock them down. The peep aperture is .072" and the front post measures .080". These sights are accurate enough for precision use during competition, and rugged enough for duty and personal defense use. We love these sights as an alternative to normal sights, and many of our customers love the versatility that these offer.
Geissele's latest products offer some pretty amazing features. Though they've always offered great products, we're super excited about this latest round of new accessories. Have you upgraded your weapon yet? Check out the rest of the Milspec catalogue for the perfect accessories for you!