Should Your Change Your AR15 Grip?
Ever wonder why so many people decide to change up their AR15 grip? Turns out, loads of people choose to change their grips. But why? One of the biggest, yet easiest improvements you can make on your AR15 is changing to an alternative grip, for example a pistol grip. This is because these grips come with a steeper angle than the standard A2 style grip, or even the standard Magpul grip that many stock AR-15s come. What you'll find with the stock grip is that the angle is very, very shallow. This forces the wrist to sit at an uncomfortable angle, or to compensate with a non-optimal grip. Proper hand alignment is simply a must for efficient trigger pull.
Now, here's one of the best parts of all of this. It's inexpensive to change, and super easy to do. It will definitely help improve your performance on the trigger, while also decreasing any fatigue while shooting. With all of the following grips, you'll find that the angle will help your wrist stay in a more neutral position. It also will help to relieve the strain of bending it in an uncomfortable position. Without further ado, here are some of our favorite AR15 grips.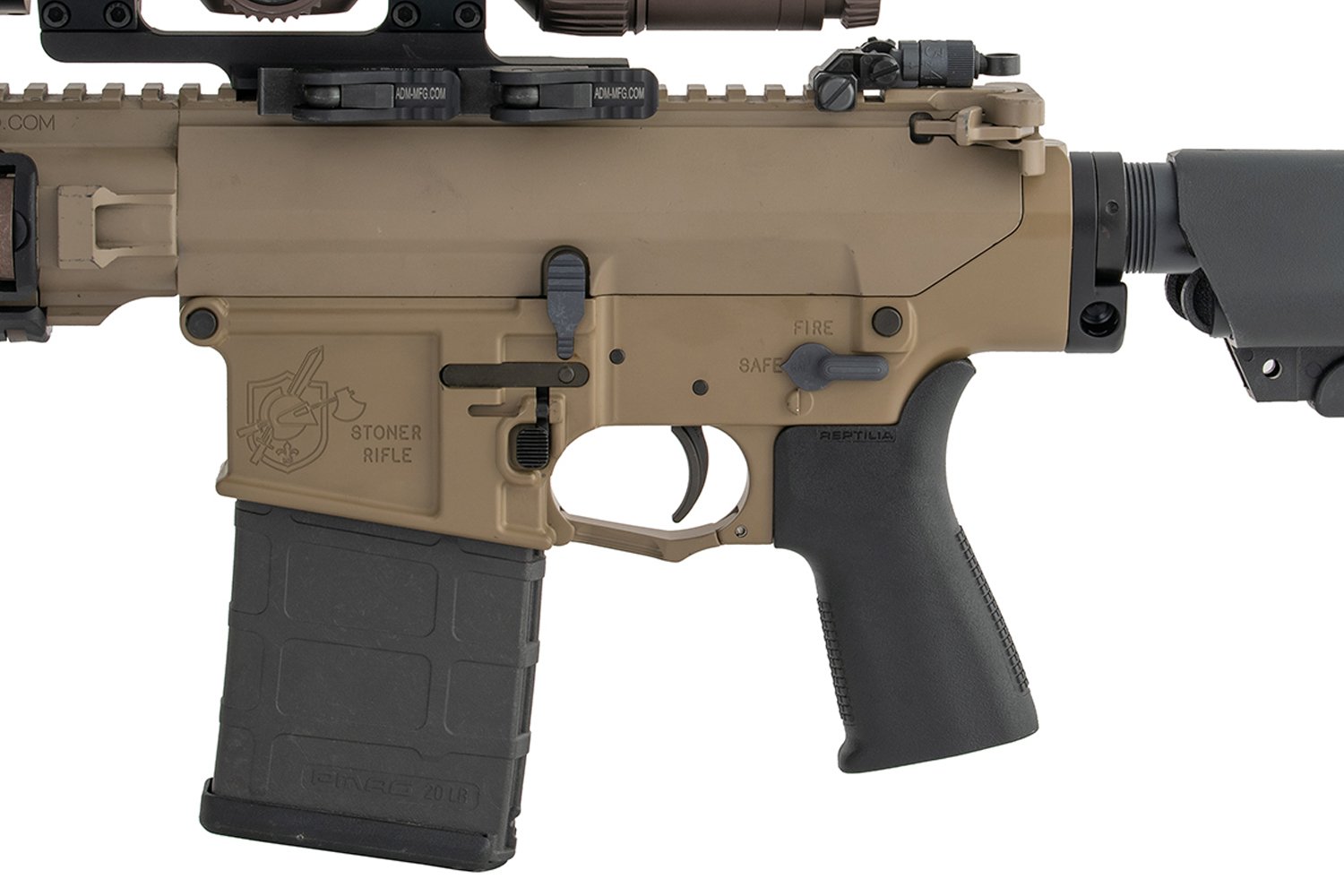 This grip from Reptilia stands out with its ergonomic design. It specifically helps to enhance user comfort and performance of compact sized short-barreled rifles, AR15 pistols, pistol caliber carbines, and PDWs. It's also very versatile, and is compatible with the AR15/M16, AR10/SR25, SIG MPX/MCX, and FN SCAR platforms. It supports a wide range of hand sizes and weapon configurations, featuring a more pronounced vertical grip angle, anti-slip front and rear texture, and an enhanced beaver tail design. Finally, the CQG encourages the shooter's hand to be positioned higher on the grip, for greater control and improved comfort.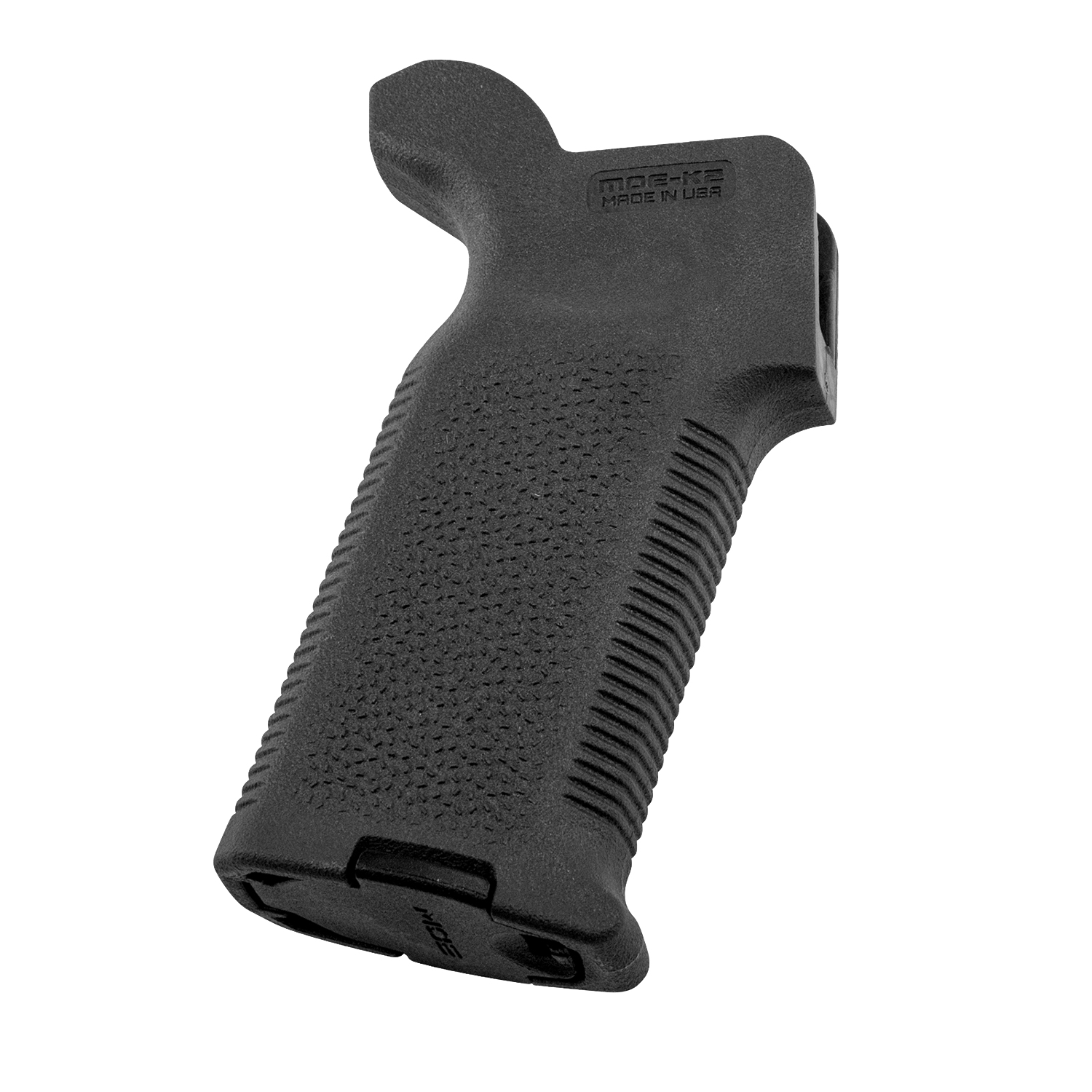 The MOE-K2 is a drop in upgrade for AR15/M4s that offers a more vertical grip angle, but in a full-size grip design. The steeper vertical grip angle is optimized for use on PDW (Personal Defense Weapon) configurations. This helps to improves comfort and control on short LOP rifles that bring the primary hand in closer to the shooter's body. With an aggressive TSP texture for positive weapon control, as well as compatibility with optional Storage Cores for gear stowage, and a unique backstrap design for proper trigger finger placement, the K2 brings modern styling and ergonomics to the AR platform. All mounting hardware and a basic grip cap included. If you're looking for a replacement for your AR/15 or M4 grip, this is an awesome choice. It also offers one-piece reinforced polymer construction, and a unique backstrap design for proper trigger finger placement. Finally, it's USA made, so you know the quality will be top notch.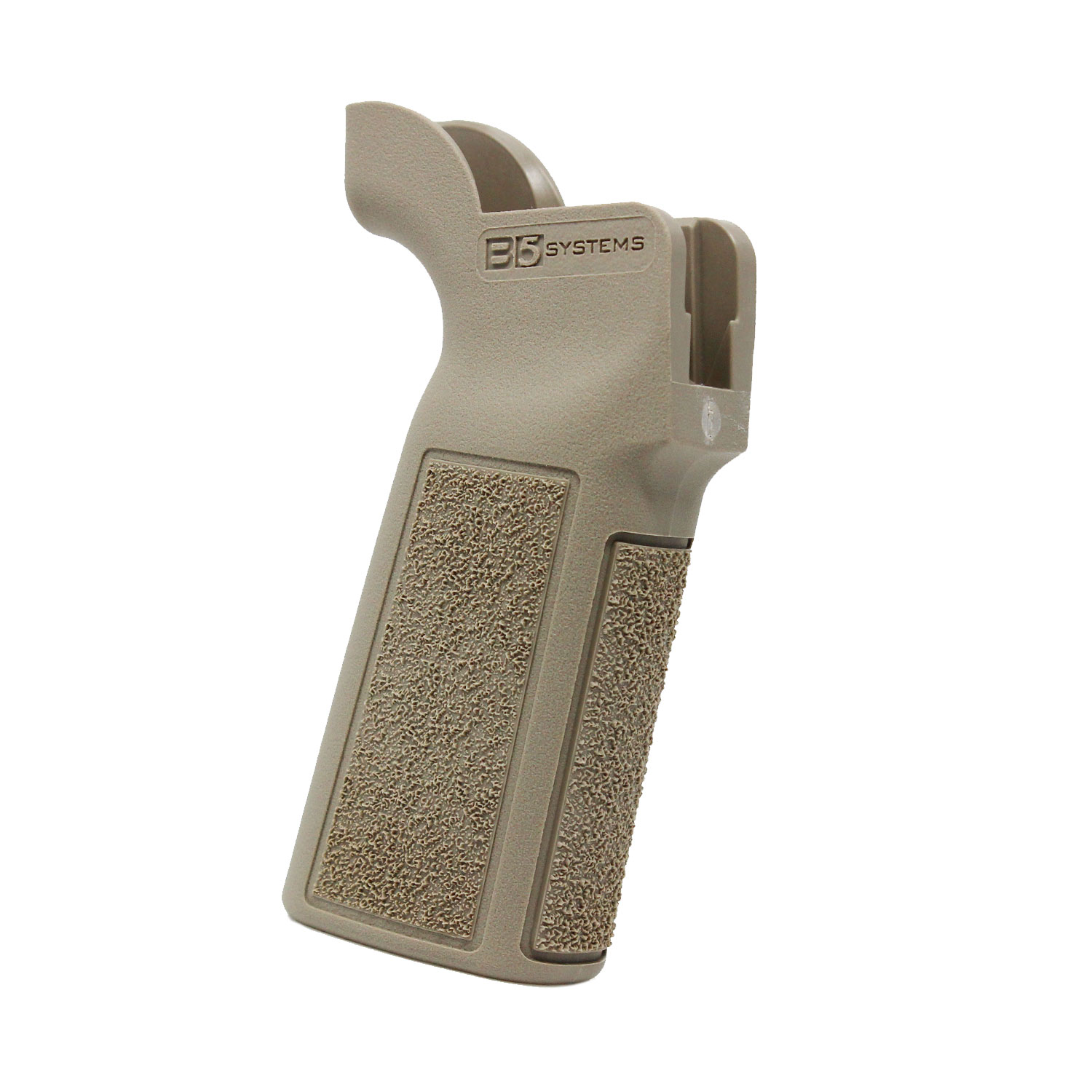 The B5 Systems Type 23 P-Grip is the most natural grip for taking a squared-off stance. You'll notice that hand will naturally find its optimal position on the B5 Systems Type 23 P-Grip, thanks to its steep angle, extended tang, and palm-filling design. By ensuring proper trigger finger placement, this grip has been shown to improve shooting speed while correcting for any tendency to drift into a "chicken-wing" arm placement. The grip's advanced and aggressive texture provides extreme grip purchase. This is an excellent choice grip for anyone wanting to improve their performance.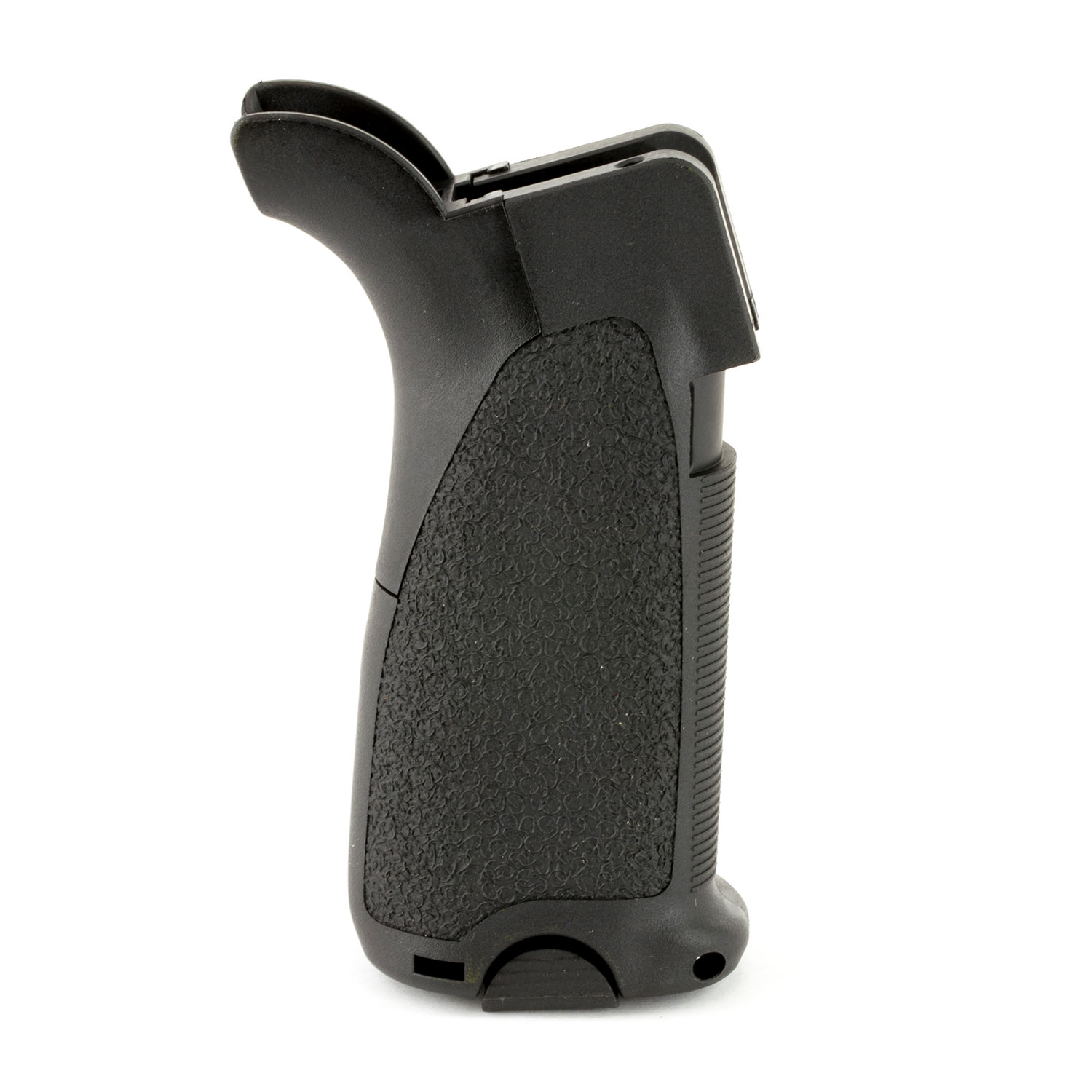 With the introduction of the M16 in the 1960s, the manual of arms for shooting positions included a bladed stance with an extended elbow on the fire control side. Because of numerous changes in the dynamics of the current fighting techniques, we now virtually square off with the bad guy when engaging the target. The Gun Fighter's Grip by BCM allows for a reduced angle and improved ergonomics when shooting in the modern gun fighting stances. You'll notice that this grip is up to a quarter of an inch wider than the BCM Gunfighter Mod 0 and Mod 1 grips. However, it does have the same wider profile as the BCM Gunfighter Grip Mod 3.
We love the reduced grip angle on this model, as it helps keeps the wrist in line with trigger for improved ergonomics and trigger control. It also has interchangeable inserts for either a smooth front strap, or a duckbill to cover trigger guard gap. Additionally, it has interchangeable backstraps for various hand sizes, weapons, and grip positions. We also love the convenience that this grip brings, with a hinged trap door with interior storage compartment and water-resistant rubber gasket. Finally, it's also U.S.A. made, and features high-quality impact resistant polymers.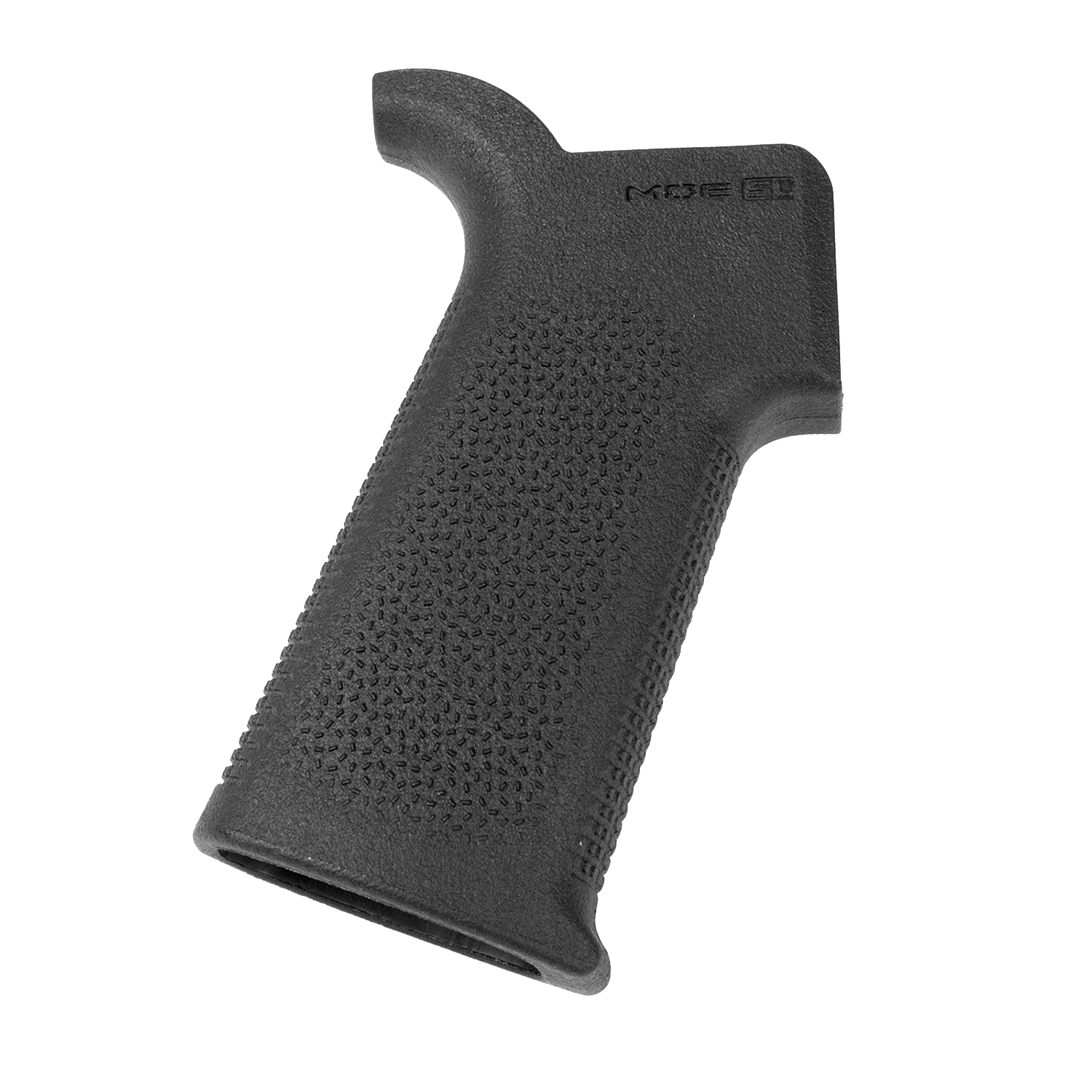 Compared to the other Magpul MOE AR15 grip, the SL Grip provides a slightly smaller size and slimline feel. This grip also provides a more vertical angle than the standard A2 grips. Additionally, it features the beavertail backstrap for enhanced ergonomics. What you'll notice most on this grip compared to others is the feel. It has slimmer thickness for a slightly smaller feel. This comes down to preference, but if you love a smaller feeling grip, this one is perfect for you. Finally, it features Aggressive TSP texture (Trapezoidal Surface Projections) for positive weapon control in all environments.
Conclusion
Ultimately, there's some great choices available for you if you decide to change your grip. Whichever one you decide to try out, you'll love the angle change. Say goodbye to uncomfortable grips, and hello to increased performance at a super affordable cost!