Best Rails, Rail Covers, and Rail Parts For Increased Performance
Why Upgrade Your Rails and Rail Covers?
Everyone has a different use for their AR-15. Whether you are a recreational shooter or part of the armed forces, you'll likely have your own specific rifle needs. This is what makes owning an AR-15 such a personal, customizable experience, as every aspect of it can be modified to suit the user. For all users though, having the right rails is crucial for top performance, and rail covers are an important part of having optimal heat protection and added comfort and grip. However, not all rails and rail covers are the same. Let's check out some of our top picks for 2021.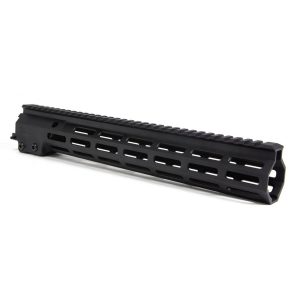 While this rail from Geissele is a bit on the pricier side, it packs a ton of value that warrants the price. The Geissele Super Modular Rail MK16 offers unmatched performance for the most demanding shooters. Mounted to your AR-15 upper using the updated version of the proven Geissele Barrel Nut design, the MK16 is not only easy to install and maintain, but offers superior rigidity. Its Anti-rotation tabs and set-screws ensure that your rail will won't rotate, even under the most extreme conditions of use.
M1913 picatinny rail on top and M-LOK™ slots on every quadrant ensures maximum customization for all your accessories. The Geissele SMR MK16 is precision machined using 6061-T6 Aluminum due to its strong, rigid and light properties, and is finished in durable Type-3 Hardcoat anodized.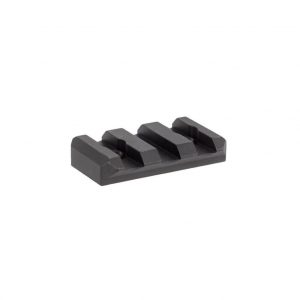 The Arisaka Low Profile Picatinny Rail is a 5 or 3 slot Picatinny rail for KeyMod handguard systems. It offers a reduced height to pull any Picatinny accessories closer to the handguard. This reduced height is a subtle, but highly effective feature, which is one of the reasons why this rail has so much value. The 5 slot model connects with three of BCM's patented reverse threaded KeyMod screws which will spread the increased stress of large Picatinny accessories like bipods or vertical grips over more KeyMod slots. The 3 slot version is useful when less rail space is required.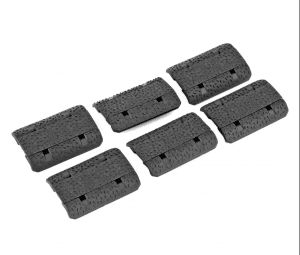 Talk about amazing value! At just $12.95, these M-LOK covers from Magpul are an absolute steal. The M-LOK Type 2 Rail Covers are low-profile, two-piece covers that install directly onto most M-LOK aluminum hand guards (non-polymer). These M-LOK covers are non-orientation specific, which allows the user to mount them in any direction desired without affecting function. At this price level, having the non-orientation versatility is an awesome benefit.
These covers also feature beveled contours to minimize potential snagging, and a TSP texture for additional grip, and with a protrusion only slightly more than 1/8″ from the mounting surface to maintain its low-profile. The pre-scored center locking tab allows the user to snap off sections and mix and match colors for a customized look. Important to note is that these rail covers however are not compatible with MAGPUL MOE M-LOK, MOE SL, and SGA forends, and may not be compatible with free-float handguards that have a wider and flatter profile, as they will not seat deep enough to allow the center portion to lock-in.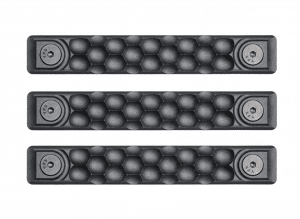 Railscales is one of the most well known brands when it comes to rail covers. As their name suggests, RailScales innovated the machined scale concept and remains at its technology forefront. They are one of the top leaders in delivering super high quality products at affordable price ranges. Super thin, and super heat resistant, these HTP rail covers are truly some of the best on the market. The HTP Scales have the same hardware & patent-pending textures as the machined G10 RailScales line at a fraction of the cost. By utilizing high temperature, heat stabilized, glass filled nylon, RailScales achieves almost the same heat-resistant properties as the more costly G10. The HTP Scales boast a 20 percent heat rating increase over similar poly rail covers from other brands.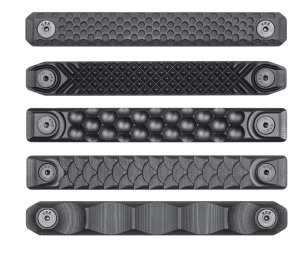 These RailScales are pricier than the HTP Scales, but offer a ton of value for its price. RailScales premium machined G10 handguard rail scales offer patented textures and hardware in order to add superior grip and heat protection to your Keymod and MLOK rails. Their M-LOK and KeyMod panels are the thinnest G10 grip scales on the market by 50 percent. If you're looking for the very best RailScales, you will absolutely love these scaled covers.
Final Thoughts
One of the most important gun accessories a user can buy is one that improves performance at a foundational level. Having the right rails, covers, and parts can make a big time difference at a low cost. That's why we encourage every user to check out these AR parts when looking to upgrade your rifle.