Top 5 Black Friday AR Upgrades
Black Friday is indisputably one of the biggest shopping events of the year in just about every market and industry around. If you're looking for new clothes, new home accessories, even a new car, you're bound to be able to find amazing deals on what's known as BFCM (Black Friday Cyber Monday). What if you're less interested in cars however, and looking for some new AR upgrades? Maybe you've been looking for a new pouch or a new suppressor to try out. There's plenty of deals all over the internet for AR parts and accessories, so let's go over some of our top picks for Black Friday/Cyber Monday.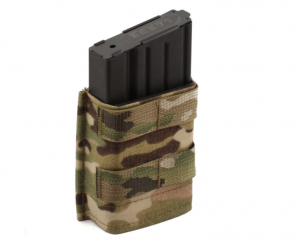 For our first pick, we believe the Esstac KYWI is a great choice for anyone who's looking for a great solution for loose magazines and rapid mag changes. The Esstac KYWI pouch features a kydex wedge insert (KYWI) that is what provides the extra retention that keeps your magazines secure, without needing any extra accessories like bungee cords to keep it together.
It's one of the most straight forward, user friendly pouches we've seen on the market and its build quality is unmatched. If you haven't already, check out our blog post on why we love Esstac's work as a company, and their pouches. Be sure to grab one of these on your Black Friday sales hunt!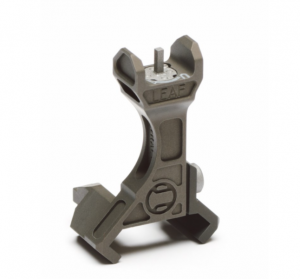 We've talked about Railscales a lot here, and for good reason. Railscales is known for their exceptional quality in all of their products, and their innovative design. Take a look at the LEAF Iron sight for ATPIAL/PEQ15/LA5, you'll notice how it's designed to decrease the mounting footprint for lasers. PEQ – LEAF places the PEQ unit 6 picatinny slots closer to muzzle. This creates a 60% smaller footprint allowing an extra 2.364 inches of top rail space for optimal pressure pad placement.
This gives the user's pressure pad ideal placement for increased ergonomics and activation. This also pushes the laser to the forward most position allowing the Infrared apertures to clear the beam lenses eliminating all beam splash from the front sight. This sight is truly innovative as it is effective, and we definitely recommend you checking one of these out!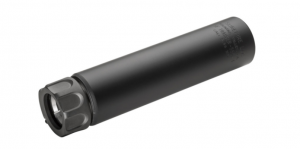 During this time, why not train with some new tools? Surefire has always been known for their user friendly, and highly intuitive products, so it makes sense that their training suppressors are as great as the rest of their line up. If you are someone who works in law enforcement or in the military, you should definitely consider checking out this suppressor. The SureFire Trainers mimic the length, weight, and attachment of SureFire SOCOM Fast-Attach suppressors, allowing warfighters to train as they would fight when participating in force on force training scenarios. Every SureFire Suppressor Trainer a.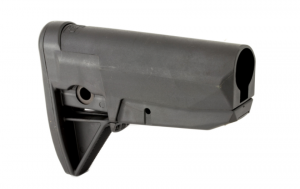 Hands down, the Bravo Company BCM Gunfighter Stock is one of the very best available. With over a year in development and testing, this BCM stock is be reliable, innovative, and fun to use. The BCM Gunfighter stock features a Modular VBOST (Vehicle Borne Operations Sling Tab). This tab interfaces with the shooter's riggers' band or bungee to secure the shooter's sling against the stock when the carbine is not in use.
Increasingly, this is the most common application when operating inside a vehicle. It also features a simple modular design. 5 parts, and 1 screw allow for modular adaptation of future stock options and configurations. Finally, it features a great Snag free Design. No sharp edges prevent tangling of the rifle with the shooter's sling, molle gear, or other kit. This stock is simply one of the best available.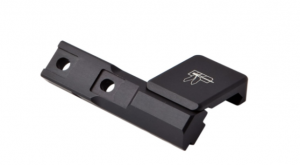 We love the IWC Haley Strategic SBR light mount because it's highly versatile. It's designed to accept Surefire M300/M600 Scout, Streamlight Rail Mount 1/2 & HL-X Weapon lights and Backbone Replacement M300/M600 Scout Bodies and other Replacement M300/M600 Scout Bodies. It's also fully ambidextrous, and provides 8 unique mounting solutions on a single rail system. At the same time, its forward mounting design is low profile, lightweight and does not impede weapons manipulation. Finally, its 100% Lifetime Warranty makes it a super safe investment. If you're looking for an adaptive light mount, the Haley Strategic Thorntail is an awesome choice.
Conclusion: BFCM – Perfect For AR Upgrades
At the end of the day, there's many AR upgrades to choose from on Black Friday/ Cyber Weekend. Whether you're looking for a substantial upgrade or a small piece, it's always smart to do your research beforehand and decide what you're looking to get. Whether it's a new light mount, stock, or pouch for your AR, AK, or any other weapon, this is one of the best times of the year to get some awesome new AR upgrades. Feel free to browse our catalogue and deals for your next upgrade, and reach out if you have any questions!